Volatility Ahead of Interest Rate Decision! - Post-Market Analysis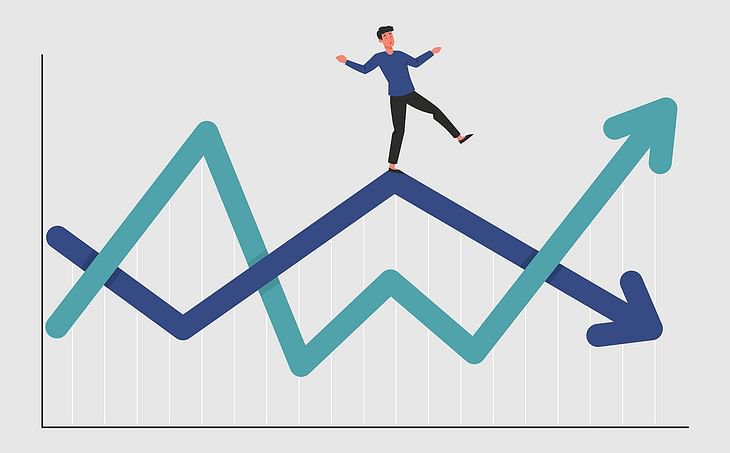 NIFTY started the day flat at 19,578. Initially, the index broke yesterday's low of 19,520 levels and fell sharply to 19,470. It then consolidated near those levels till 1 PM. In the second half, the index started moving back up and gave an insane rally of nearly 180 points (aided by Reliance and ITC). Nifty closed at 19,632, up by 61 points or 0.32% 
BANK NIFTY (BNF) started the day flat at 44,973. Similar to Nifty, BNF also continued the down-trend, fell by nearly 400 points to 44,530 levels, and consolidated. In the second half, good buying kicked in, and the index shot back up 400 points. However, it couldn't cross the day's high. BNF closed at 44,880, down by 83 points or 0.19%.
Nifty Realty (-1.24%) and Nifty PSU Bank (-0.1%) also closed in the red. Nifty Media and Nifty Metal jumped >2%!
Major Asian markets closed mixed. European markets are currently trading up to 1% in the green.
Today's Moves
Dr Reddy's Labs (+3.7%) was NIFTY50's top gainer. The stock hit a record high of ₹5,883.75 today. As per reports, market participants are looking for opportunities created by potential shortages caused by damages at Pfizer's injectable plant in the US.
RattanIndia Enterprises (+19.93%) surged on the back of strong volumes. The stock has jumped nearly 36% over the past month.
V-Guard Industries (+10.3%) rallied after the company posted robust financial results for Q1 FY24. Its revenue from operations rose 19.3% YoY to ₹1,214.76 crore in Q1, while net profit stood at ₹64.22 crore, up 20% YoY.
Divi's Labs (-2.8%) was NIFTY50's top loser.
Hikal (-4.05%) fell after the pharma company said it has moved back to profitability in Q1.
EPL (-4.2%) fell up to 5% after reports said analysts are worried about the pace of the packaging company's revenue growth.
Markets Ahead
Ahead of RBI's interest rate decision and weekly expiry for NIFTY and BANK NIFTY tomorrow, the indices made huge intraday moves today. Strong buying was seen at lower levels. So we can expect more volatility and news-based movement tomorrow as well.
Nifty: The immediate support levels to watch out for in Nifty will be 19,600 and 19,560. The important resistance zones will be 19,680 and a gap-filling zone of 19,720. A breakdown from 19,600 levels will push the market down further. And for the up-move to sustain, the index has to come down to 19,600 levels, take support, and move up to the targets of 19,680 and 19,720.
Bank Nifty: Now, the important resistance in Bank Nifty is the round level of 45,000-100, and the important support will be 44,500-600 levels. The index can be volatile between these levels. If the index gives a breakout from 45,100, we can expect a target of 45,400 and 45,600 eventually. A breakdown from 44,500 can give us targets of 44,300 and 43,900.
Reduce your positions or follow a proper system tomorrow, as the markets are volatile!
We have U.S. inflation data coming out tomorrow. On the other hand, China slipped into deflation for the first time in more than two years in July as the country struggled to revive demand.
What levels are you watching out for expiry tomorrow? Let us know in the comments section of the marketfeed app.
Don't forget to tune into The Stock Market Show at 7 PM on our YouTube channel!
Post your comment
No comments to display