Supports Not Held! Bearish Monthly Expiry? - Post-Market Analysis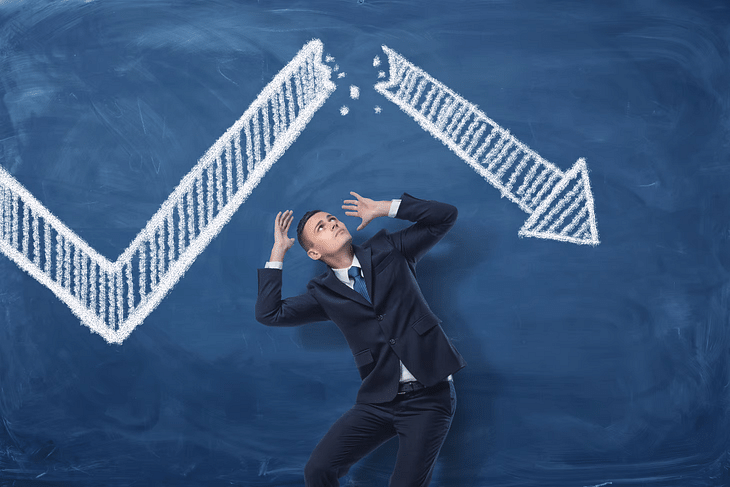 NIFTY started the day at 19,433 with a gap-up of 90 points (near the resistance zone of 19,420 levels). The index tried to hold those levels by consolidating within a very small range of nearly 30 points. But after 2 PM, the index broke down from 19,420 levels, filled the gap made at opening, and closed near the support zone of 19,350. Nifty closed at 19,347, up by 4.8 points or 0.02%.
BANK NIFTY (BNF) started the day at 44,706 with a gap-up of 211 points. After a small up-move, the index took rejection at 44,780 levels and gradually fell around 630 points to 44,150 levels. BNF closed near the important support level at 44,232, down by 262 points or 0.59%.
All other indices except Nifty PSU Bank (-0.3%) closed flat-to-green. Nifty Realty (+1.42%) moved up the most.
Major Asian markets closed flat-to-green. UK's FTSE100 is trading in green, while Germany's DAX and France's CAC40 are trading in the red.
Today's Moves
Tata Steel (+2.13%) was NIFTY50's top gainer. The stock has hit a 7-month high.
Uflex (+19.99%) zoomed on the back of strong volumes. The company recently appointed Rashmi Verma as an independent and non-executive director for 3 years.
BSE (+6.36%) announced that all futures & options contracts of BSE Bankex will expire on Monday instead of Friday. The new rules come into effect on October 16.
10 crore shares of Zomato (+5.39%) traded in 6 block deals during the pre-market session today.
PowerGrid (-1.61%) was NIFTY50's top gainer.
Shares of Brightcom Group (-5.04%) hit lower circuit again. The company announced the resignation of Chairman Suresh Reddy and CFO Narayana Raju amidst a crackdown by SEBI.
Markets Ahead
Bank Nifty is looking very weak compared to Nifty. The indices could still be in a down-trend till the major resistance of 19,500 in Nifty and 45,000 in Bank Nifty are crossed.
Nifty: The index gave a closing near 19,350 zones. A flat opening and a down move or a gap-down opening could take the index down to 19,300 and 19,240 levels. Meanwhile, a flat opening and up-move or a gap-up opening will take Nifty back up to 19,420 levels. And if that resistance is broken, 19,500 can be tested.
Bank Nifty: The index has taken support from a trendline and also the horizontal support of 44,200. If 44,200 is breached, the index could fall to 44,000 and 43,750 levels. The important resistance level to watch out for will be 44,500.
Being a monthly expiry tomorrow, we can expect the index to be volatile and give moves on both sides as the indices are near important levels. So trade with caution!
Today, positive global sentiments initially boosted the Indian market. Weak monthly job openings data raised expectations of a pause in interest rate hikes by the US Federal Reserve. Moreover, Chinese banks' decision to lower mortgage rates has favourably impacted Indian metal stocks.
However, weak economic data from Europe has led to weakness in the global markets, which caused the Indian market to fall as well in the second half.
What levels are watching out for expiry tomorrow? Let us know in the comments section of the marketfeed app.
Post your comment
No comments to display