Selling from ATH! Small-Cap, Mid-Cap Stocks Fall - Post-Market Analysis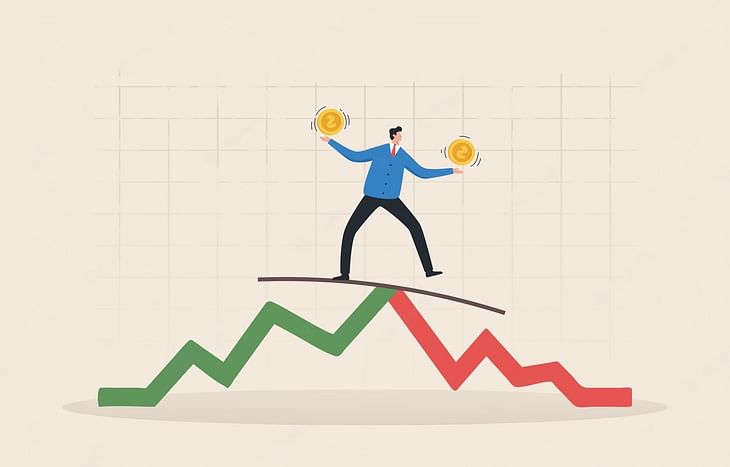 NIFTY started the day at 20,110 with a huge gap-up of 113 points. Right after opening, the index fell 195 points to 19,900 in the first 45 mins. It immediately bounced back over 100 points to 20,000 levels. The index was very volatile in this 100-point range throughout the day, making intraday moves of more than 650 points! Nifty closed flat at 19,993, down by 3.15 points or 0.02%.
BANK NIFTY (BNF) started the day at 45,893 with a gap-up of 323 points. Similar to Nifty, BNF fell 500 points to 45,400 levels initially and immediately bounced back another 200 points to 45,600 levels. The index was volatile in this range— making intraday moves of 1,700 points. BNF closed at 45,511, down by 59 points or 0.13%.
All indices except Nifty IT (+1.03%) and Nifty Pharma (+0.12%) closed flat-to-red. Nifty Media (-4.3%) fell the most. Nifty Smallcap 100 (-4.1%) and Nifty Midcap 100 (-3.05%) closed deep in the red.
Major Asian markets closed mixed. UK's FTSE100 is currently trading in the green, while Germany's DAX and France's CAC40 are in the red.
Today's Moves
TCS (+2.8%) was NIFTY50's top gainer. The stock hit a 52-week high of ₹3,589.90 today after the IT major partnered with Dassault Systems as part of the Living Heart Project.
ITI (+12%) continued its strong up-move after the company said it has developed a laptop and micro PC in association with Intel Corporation.
Brightcom Group (+4.8%) gained after the troubled company announced a reduction in its pledged shares.
PowerGrid shares turned ex-bonus today. The company had declared the issuance of bonus shares in a 1:3 ratio, which means 1 bonus share for every 3 shares held by shareholders as on the record date (Sept 12).
Sugar stocks Shree Renuka Sugars (-5.3%), Dalmia Bharat Sugar (-6.4%), EID Parry India (-5.1%), Balrampur Chini Mills (-4.5%), Bajaj Hindustan Sugar (-10.5%), and others fell sharply after the govt asked sugar mills to provide details of sales between May and August by today.
Markets Ahead
The Indian markets have faced rejection after the gap-up opening— exactly like how we discussed in yesterday's post-market report. This is just a retracement, and markets can still be bullish till important support zones are breached.
Nifty: Now, the immediate support to watch out for is 19,900 levels. A breakdown from 19,975 levels (the previous swing) could take the index down to 19,900 and 19,820 levels. Meanwhile, immediate resistance is at 20,000 round levels, and the next important resistance is today's high or all-time high (ATH) of 20,100 levels. A breakout from 20,000 may take the index to 20,100 and above (the targets can be trailed).
Bank Nifty: The immediate support in Bank Nifty is near 45,300 levels. A breakdown from there could give us a target of 45,000. The immediate resistance is near 45,600; a breakout from this level can give us a target of 45,850 again.
FIN NIFTY: Being Fin Nifty expiry today, the index was also volatile. It created spikes on the put sides initially, but the premiums cooled down later. The index was trading in a 100-point range with volatile moves after the initial fall of 200 points from the opening.
Make sure directional trades are taken only after confirmation and re-test of the levels.
How did FIN NIFTY expiry go? Let us know in the comments section of the marketfeed app.
Don't forget to tune in to The Stock Market Show at 7 PM on our YouTube channel!
Post your comment
No comments to display