Nifty Falls Below 20,000! HDFC Bank Down 4% - Post-Market Analysis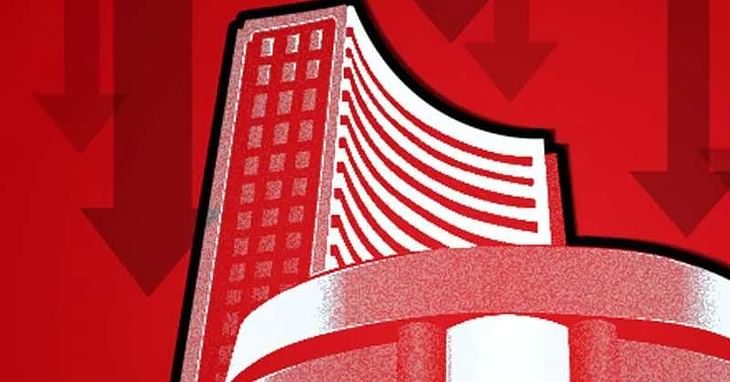 NIFTY started the day at 19,980 with a gap-down of 152 points. It initially tried to move up, but 20,050 levels acted as good resistance. The index fell throughout the day to 19,880 levels. Nifty closed at 19,901, down by 231 points or 1.15%.
BANK NIFTY (BNF) started the day at 45,493 with a huge gap-down of 486 points. After opening, the index recovered nearly 300 points to 45,750 levels. But selling pressure kicked in, and the index fell nearly 470 points from the day's high. BNF closed at 45,384, down by 595 points or 1.29%.
All indices closed in red. Nifty Metal (-1.63%) and Nifty Finserv (-1.49%) fell the most.
Major Asian markets closed in the red. European markets are currently trading in the green.
Today's Moves
PowerGrid (+2.27%) was NIFTY50's top gainer. The stock hit an all-time high of ₹205.95 today.
Blue Star (+13.4%) surged to hit a record high of ₹946.8 after the company launched a qualified institutional placement (QIP) issue to raise ₹1,000 crore.
SJVN (+6.65%) moved up after the company and Power Finance Corp signed an agreement worth ₹1.18 lakh crore for renewable energy and thermal power projects.
HDFC Bank (-4.01%) was NIFTY50's top loser. The bank has warned that its merger with HDFC would hit key financial metrics, including margins and bad loan ratios. Several brokerage firms have reduced target prices on the stock.
Heavyweight stock Reliance (-2.23%) fell sharply today. Around 1.9 crore shares (0.3% equity) of RIL changed hands in a block deal.
Public sector banks UCO Bank (-5.7%), IOB (-5.5%), Central Bank (-5.4%), and others closed deep in red.
Markets Ahead
After the huge rally, major indices have come under selling pressure. The Special Session of the Parliament happening this week could also add volatility to the markets.
Markets can be volatile to sideways in the coming days. So traders need to be cautious!
Nifty: The index closed below 20,000. So that level can act as a strong resistance. But the immediate resistance is near 19,950 levels. A breakout on the upside could make the index volatile and sideways. Meanwhile, the important support is near 19,800 levels. A breakdown below today's low can give us targets of 19,800 and 19,730 as the second target.
Bank Nifty: The index is now currently taking support from 45,300 levels. A breakdown from here can take the index down to 45,150 and 45,000 eventually. On the other hand, a breakout from 45,460 can take the index to the 45,750 levels (with volatility).
Being Bank Nifty expiry, the option premiums and implied volatility (IV) didn't cool down on the call option (CE) side till even the second half of the day. So option sellers might have been in some confusion there. But spikes on the put option (PE) side were also manageable. So it was a good day for both option buyers and sellers.
The US Federal Reserve will make its interest rate announcement today (11:30 PM IST), with prevailing expectations pointing towards a decision to maintain the current interest rates without any changes.
Nifty's expiry tomorrow can be tricky. So watch out for the levels mentioned above and manage your risk.
What levels are you watching out for expiry tomorrow? Let us know in the comments section of the marketfeed app.
Don't forget to tune in to The Stock Market Show at 7 PM on our YouTube channel!
Post your comment
No comments to display