Nifty Falls Ahead of Jackson Hole Meeting. Bearishness to Continue? - Post-Market Analysis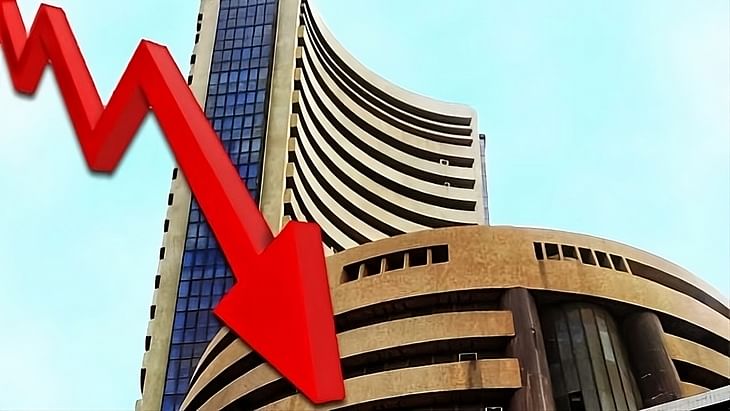 NIFTY started the day at 19,535 with a gap-up of 91 points (above the important psychological round level resistance of 19,500). It moved with a lot of strength to 19,580 levels, where the index made an evening star pattern, and gave a fall of nearly 200 points to 19,370 (day's low)— not respecting any supports in between and gave a very bearish closing below 19,400. Nifty closed at 19,386, down by 57 points or 0.29%
BANK NIFTY (BNF) started the day at 44,704 with a gap-up of 225 points. Similar to Nifty, Bank Nifty also moved up with a lot of strength initially to 44,950 levels. That level acted as resistance, and the index fell 500 points from the day's high to 44,430 levels. BNF closed at 44,496, up by 17 points or 0.04%.
Nifty PSU Bank saw a decline of 0.65% today, while Nifty IT (+0.6%) gained the most.
Major Asian markets closed up to 2% in the green. European markets are currently trading in the green.
Today's Moves
BPCL (+1.87) was NIFTY50's top gainer. 
Indiabulls Real Estate (+10.45%) surged on the back of strong volumes.
Coforge (+9.72%) zoomed after 1.54 crore shares (26% stake) of the company changed hands in a block deal.
Stocks of companies related to the Chandraayan-3 mission Paras Defence & Space Tech (+6.07%), MTAR Tech (+3.8%), and others moved up with strength.
Reliance (-1.68%) was NIFTY50's top loser. However, reports indicate that experts are optimistic about RIL stock in the wake of QIA's investment in Reliance Retail.
Brightcom Group (-4.98%) continued its sharp fall. Yesterday, SEBI barred the company's CEO and CFO from the Board of Directors due to alleged financial fraud. The stock has crashed ~15% in 5 days.
Markets Ahead
As said in our earlier post-market reports, Bank Nifty is looking stronger than Nifty. Today, while Nifty was crashing, Bank Nifty was holding strong. However, both indices have given a closing below major support zones— 19,400 in Nifty and 44,500 in Bank Nifty.
Nifty: Today, the index took support near 19,350-360 levels, and that can be viewed as immediate support. Breaching of these levels can give us targets of 19,300 and 19,250 on the downside. The immediate resistance to watch out for will be 19,400-420 levels. The upside move can be slow after the huge sell-off. But if 19,400 is crossed, 19,500 can be re-tested and the down move could continue.
Bank Nifty: The bearish head and shoulder pattern in Bank Nifty is intact, and the index couldn't give a closing above it. BNF has been under selling pressure. Now, the immediate support/resistance will be 44,500 levels as the markets have closed just near it. If the market stays below 44,500 levels, 44,200 will be the first target, and 44,000 will be the second target. On the upside, BNF can face multiple rejections. So, wait for confirmation for bullish trades.
Being an expiry today, 19,500 put sellers who sold after the gap-up opening got trapped as markets reversed from there and fell. For non-directional option sellers, it was comparatively easier to manage as puts were gradually increasing. But a directional market is never good for non-directional option sellers, so they must have been a slight loss.
All eyes will be on Federal Reserve Chair Jerome Powell, who is headlining the Jackson Hole conference on Friday. He is expected to outline the US Fed's positions on rate adjustments and inflation in the near term, among other things.
How was expiry day trading? Are you in net profit or loss? Let us know in the comments section of the marketfeed app.
Post your comment
No comments to display