Nifty Closes Above 19,600 Amid Volatility - Post-Market Analysis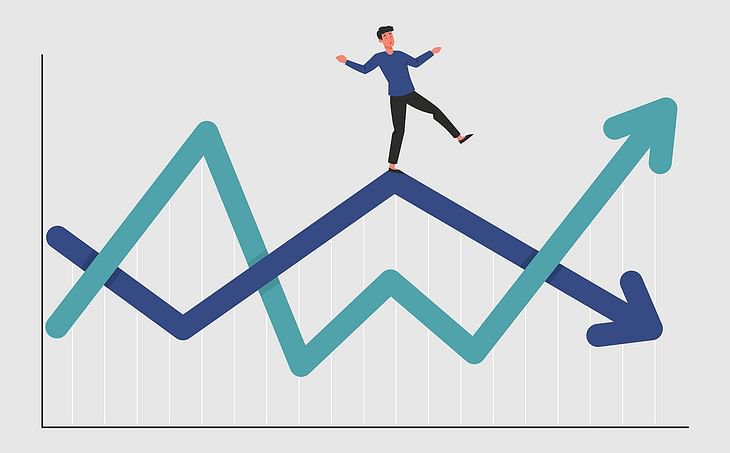 NIFTY started the day flat at 19,581. Initially, the index consolidated in a 50-point range till 11:30 AM, broke down from the consolidation, and gradually fell to 19,490 levels. Then, it gave a sharp rebound of nearly 145 points, thanks to a 3 PM move. Nifty closed at 19,611, up by 36 points or 0.18%.
BANK NIFTY (BNF) started the day at 44,494 with a small gap-down of 37 points. Similar to Nifty, Bank Nifty consolidated initially in a nearly 150 range. Then, the index fell gradually to 44,205 levels. After taking support there, BNF rebounded around 325 points! BNF closed at 44,409, down by 123 points or 0.28%.
All other indices except Nifty FMCG (+1%), Nifty Pharma (+0.9%), and Nifty Media (+0.2%) closed in flat-to-red.
Major Asian markets closed mixed. European markets are currently trading in the red.
Today's Moves
Tata Consumer Products (+3.85%) was NIFTY50's top gainer. Reuters reported that Tata Group's consumer unit is in talks to buy at least 51% of popular Indian snack food maker Haldiram's.
FACT (+18.8%) surged on the back of strong volumes. The stock has rallied more than 350% over the past year.
Sugar stocks Balrampur Chini Mills (+2.03%), EID Parry (+8%), Shree Renuka Sugar (+5.34%), Rana Sugars (+5.52%), and others moved up after Avlean, the world's largest sugar trader, said it expects a year of sugar shortages.
Vodafone Idea (+10%) moved up in the final minutes of trading.
Axis Bank (-1.67%) was NIFTY50's top loser.
IRFC (-4.8%) fell sharply today after zooming more than 55% in the seven previous trading sessions.
Markets Ahead
Nifty: The index is currently testing a major resistance around 19,600. We can't confirm today's 3 PM breakout as a major one, and a day candle close above 19,650 can be watched. In the upcoming days, we can watch 19,500 as an important support.

A good breakout from 31,500 happened in Nifty IT. Let's see if it will sustain or not.
Bank Nifty: The index is presently in a phase of consolidation, and a breakout can be expected in the coming days. The 43,750-44000 is acting as a demand zone. Also, 44,280 can be watched as an intraday support.

HDFC Bank is trying to make a bounce back from the 1578 level, but ICICI Bank continues to face resistance from the downtrend line.
A sudden jump in crude oil prices has had a ripple effect across the globe— reviving concerns regarding inflation and the U.S. Federal Reserve possibly raising interest rates. This made U.S. bond yields go up, and foreign investors stopped buying in the Indian market. However, our markets are resilient today. Investors still believed things would get better, and that helped the market recover from the initial shock.
How did Bank Nifty expiry go? Let us know in the comments section of the marketfeed app.
Don't forget to tune in to The Stock Market Show at 7 PM on our YouTube channel!
Post your comment
No comments to display