Markets Take a Pause Due to ITC, Reliance - Post-Market Analysis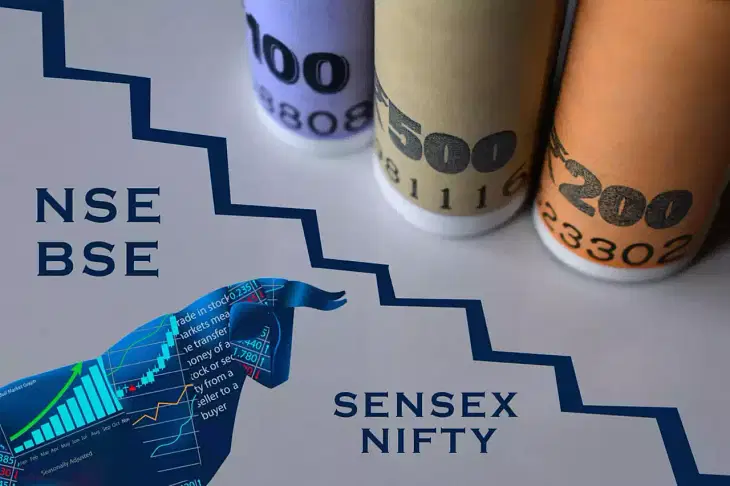 NIFTY started the day flat at 19,748. The index was volatile within a 100-point range between 19,780 and 19,680 with a bearish bias. It has been moving in a downward channel since Friday. Nifty closed at 19,672, down by 72 points or 0.37%.
BANK NIFTY (BNF) started the day at 46,131 with a small gap-up of 56 points. Similar to Nifty, BNF fell sharply after 11:30 and consolidated in a 230-point range for the remainder of the day. The index has also formed a triangular pattern. BNF closed at 45,923, down by 152 points or 0.33%. 
All indices except Nifty Pharma (+0.4%), Nifty Realty (+0.2%), Nifty PSU Bank (+0.1%), and Nifty Auto (+0.17%) closed in the red. Nifty FMCG (-1.7%) fell the most.
Major Asian markets closed mixed. France's CAC40 is currently trading in the red, while UK's FTSE100 and Germany's Dax are in green.
Today's Moves
SBI Life (+2.05%) was NIFTY50's top gainer on the back of strong volumes.
Aarti Drugs (+18.6%) surged after the company approved plans for a buyback of 6.65 lakh fully paid-up equity shares. The floor price for the buyback is set at ₹900 per share, which is over 72% higher than the stock's closing price on Friday.
ITC (-3.89%) was NIFTY50's top loser. The company's board has given in-principle approval for the demerger of its hotel business.
Kotak Bank (-3.7%) fell sharply despite reporting better-than-expected Q1 results.

Tejas Networks (-8.1%) crashed after the company's net loss widened sequentially in the April-June (Q1) quarter.

Hikal (-7.28%) moved down after the Gujarat Pollution Control Board (GPCB) asked the pharma company to close down its plant in Bharuch for alleged violation of environmental norms.
Markets Ahead
Both Nifty and Bank Nifty are at crucial support zones and can give good moves on either side tomorrow.
Nifty: The index is now below its support of 19,700. But if there's a flat or gap down opening, the index can further come down to the 19,560 level. If there's a gap up and further up-move, the index can go back into the consolidation zone of 19,800 and 19,700.
Bank Nifty: 45,900 in Bank Nifty is a very important support zone. A breakdown from here can give us the target till the round levels of 45,500 and then eventually to 45,200 zones. But looking at the triangular pattern Bank Nifty has formed, a breakout on the upside is more likely to happen and if the market goes up tomorrow, we can expect a target of 46,400.
Meanwhile, Reliance Industries shares fell over 2% today after the company reported lower-than-estimated Q1 earnings. The US will report its manufacturing PMI data tonight.
Being FIN NIFTY expiry tomorrow, major indices can be volatile. Since it's the monthly expiry also, we can expect some directional moves tomorrow. So trade cautiously if you're a non-directional player!
Which levels are you watching out for FIN NIFTY expiry tomorrow? Let us know in the comments section of the marketfeed app.
Post your comment
No comments to display