Bullishness Confirmed in Nifty!  - Post-Market Analysis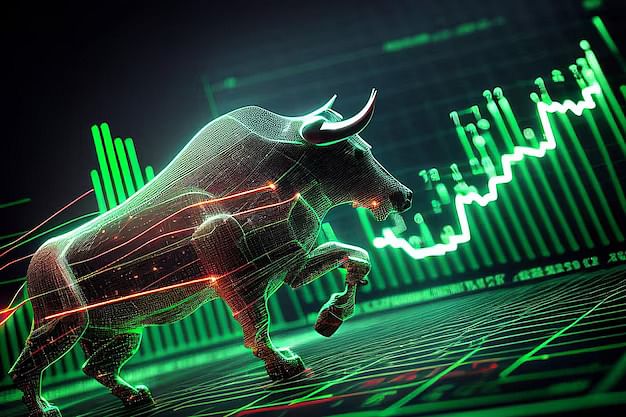 NIFTY started the day at 19,598 with a small gap-down of 12 points. After an initial fall of 50 points to 19,550 levels, the index made a strong uptrend rally of nearly 200 points to 19,750 levels. Nifty closed at 19,727, up by 116 points or 0.59%.
BANK NIFTY (BNF) started the day flat at 44,418. The index moved up nearly 350 points till 44,700 zones, took rejection, and fell till the opening levels. But then, similar to Nifty, BNF also showed bullishness and rose to 44,900. BNF closed at 44,878, up by 469 points or 1.06%.
All indices except Nifty FMCG (-0.4%) and Nifty Pharma (-0.32%) closed flat-to-green. Nifty Realty (+1.48%) moved up the most.
Major Asian markets closed up to 1.3% in the red. European markets are currently trading mixed.
Today's Moves
Coal India (+7.1%) was NIFTY50's top gainer. The stock hit over a four-year high of ₹274.75.
Cochin Shipyard (+20%) hit a 52-week high of ₹1,146.15 on the back of a strong business outlook.
Other defence stocks like Mazagon Dock Shipbuilders (+9.5%) and Paras Defence (+4.08%) closed with strong gains today.
Tata Consumer (-2.3%) was NIFTY50's top loser. Yesterday, the FMCG company denied reports that it was in talks to buy a stake in Indian snack food chain Haldiram's.
GSFC (-7.3%) fell sharply today.
Brightcom Group (-5.04%) fell for the eleventh consecutive session. The stock has been in a free fall as the company battles an investigation regarding the impairment of assets worth ₹868 crore via its international subsidiaries.
Markets Ahead
We knew about the importance of 19,600 levels in Nifty and talked about how if this level was crossed, we could expect a turnaround in the markets. And we witnessed this in both Nifty and Bank Nifty today.
Now, we could consider buying during dips in Nifty. In Bank Nifty, focus on the 45,000 round level. If it holds, it's important to watch for the resistance level to be crossed for confirmation in the banking index as well.
Nifty: The major resistance level has been broken and the index gave a breakout. Now, the important support for Nifty will be the 19,620-640 zone. A breakdown from there can give us targets of 19,560 and 19,500. The immediate resistance to watch out for will be 19,740. A breakout from this level will take the index to 19,780 and 19,840 levels.
Bank Nifty: Reversal levels and important round level resistance is at 45,000. If there's a breakout from 45,000, we could consider a buy-on-dips strategy with a target of 45,120 and 45,370 levels. The immediate support level to watch out for is 44,550-600. A breakdown from there can give us targets of 44,200 and 44,000.
Thursdays are now dedicated to Nifty expiry. As a result, the open interest (OI) per strike has doubled. Today, there were an astonishing 10 lakh open contracts. This surge is because Bank Nifty traders have shifted their positions to Nifty after closing their positions in Bank Nifty expiry on Wednesday.
When a large number of contracts go into trouble, it can trigger a rapid short-covering rally. This is precisely what happened today. The low volatility (low Vix) market today created problems for non-directional option sellers as call premiums surged 10 to 20 times within a short period in the second half of the day. This forced all call sellers to book losses. On the other hand, it was a favourable day for directional traders who accurately predicted the upside and held their positions until the end.
How did expiry day trading go? Are you in net profit or loss? Let us know in the comments section of the marketfeed app.
Don't forget to tune in to The Stock Market Show at 7 PM on our YouTube channel!
Post your comment
No comments to display