5th Bearish Weekly Closing in Nifty! - Post-Market Analysis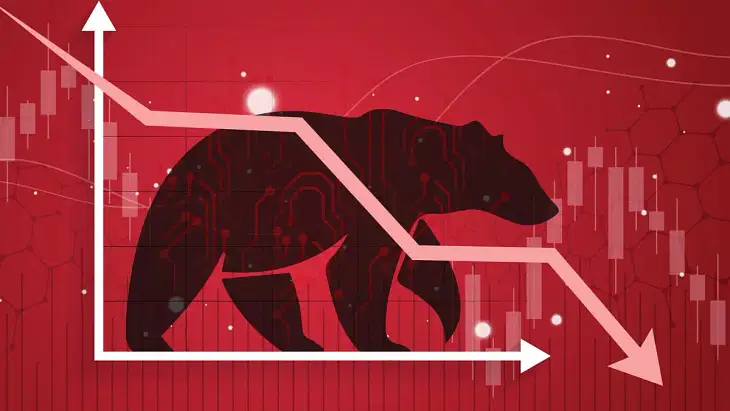 NIFTY started the day at 19,297 with a gap-down of 89 points (below the important support zone of 19,300). Throughout most of the day, the index consolidated in a 70-point range. But in the end, it gave a bearish closing— breaching the previous weekly low. Nifty closed at 19,265, down by 120 points or 0.62%.
BANK NIFTY (BNF) started the day at 44,276 with a gap-down of 220 points. The index initially gave a sharp fall to 44,000 levels, made a double bottom, and tried moving up. But the opening levels of 44,300 zone acted as resistance. BNF closed at 44,231, down by 264 points or 0.59%. 
All indices closed in the red today. Nifty PSU Bank (-1.51%) and Nifty Realty (-1.31%) fell the most.
Major Asian markets closed up to 2% in the red. European markets are currently trading in the green.
Today's Moves
Bajaj Finserv (+2.4%) was NIFTY50's top gainer. Nomura has double-upgraded the stock to 'Buy'.
KFin Tech (+11.29%) surged on the back of strong volumes. Brokerage firm Jefferies has initiated coverage on the stock with a target price of ₹500.
Shares of Vodafone Idea (+9.4%) rallied amid reports that the struggling telecom operator has received term sheets from several potential investors.
Dr Reddy's Labs (-2.17%) was NIFTY50's top loser.
Shoppers Stop (-12.7%) crashed after the company's MD and CEO Venugopal Nair announced his resignation.
Markets Ahead
As discussed in the earlier post-market reports, the targets of 44,000 in Bank Nifty and 19,250 levels in Nifty are achieved, which gives us confirmation that indices have turned bearish.
Nifty has closed below a very important long-term support zone of 19,300. It has also breached the previous week's low, where the index has taken support near 19,250 levels. And if Bank Nifty also joins the party, both indices may turn into near-term bearishness and continue to move further down.
Nifty: In the next trading session, bearishness can be confirmed if the index opens flat and crosses below today's low of 19,230 levels. Look out for sell-on-rise opportunities! If there's a huge gap down, the index can retrace and continue the fall again. If there's a gap-up, Nifty can be choppy. So on the downside, the targets will be 19,000 and 18,900 levels. On the upside, the index has to give a closing above 19,300; so wait for confirmation.
Bank Nifty: The index took support from the round levels of 44,000. But the overall trend is bearish. So if the index falls below today's low of 44,000 levels (after opening flat), the first target of 43,700 can be achieved. On the other hand, the index has to cross 44,350 levels for an up-move.
But as the indices are bearish, if there's a huge gap-up on gap-down after proper price action, look for sell-on-rise opportunities till 44,500 is crossed back again.
Global markets are awaiting comments from Federal Reserve Chairman Jerome Powell at the Jackson Hole symposium (7:30 PM IST) to understand the potential direction of US monetary policy.
How did this week go? Are you in net profit or loss? Let us know in the comments section of the marketfeed app.
Post your comment
No comments to display