The Atmanirbhar Bharat Abhiyan 3.0 Explained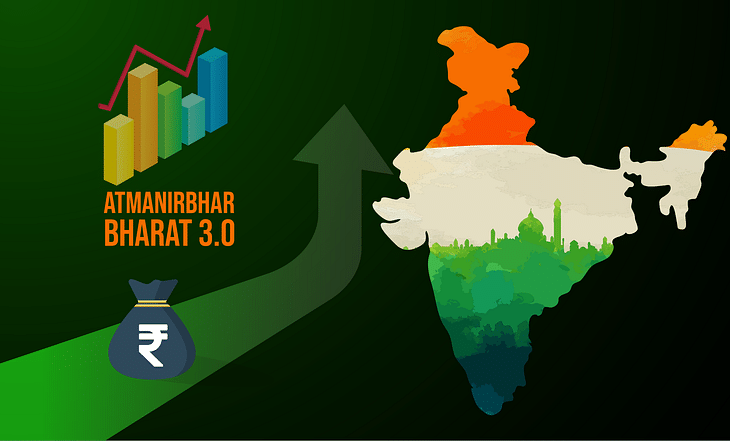 The Finance Ministry on Thursday (November 12) made a series of announcements with respect to a new stimulus package. Named as the Atmanirbhar Bharat Abhiyan 3.0, the package has allocated significant amounts to vital sectors of our economy. The total package has been estimated at Rs 2.65 lakh crore. With a focus on boosting production and becoming self-reliant, the latest economic package has addressed concerns regarding the sectors which need the most support. Let us look at the 12 important announcements that were made by the Finance Minister, Smt. Nirmala Sitharaman.
1. The Atmanirbhar Bharat Rozgar Yojana
In order to boost employment in India, a new scheme by the name of Atmanirbhar Bharat Rozgar Yojana (ABRY) has been created. The main aim of this program would be to create new employment opportunities during the Covid-19 recovery phase. An amount of Rs 6,000 crores has been allocated towards ABRY.
Under this scheme, benefits would be given to any new employee that joins an establishment that is registered with the Employees' Provident Fund Organisation (EPFO). The employees' monthly salary should be less than Rs 15,000. Any member who had lost their job due to the Covid-19 pandemic between 1st March and 30th September, and is now entering into a new job would also benefit from the scheme. The ABRY scheme would be operational till 30th June 2021.
2. Launch of the ECLGS 2.0
The Emergency Credit Line Guarantee Scheme (ECLGS), worth Rs 3 lakh crore has been extended till 31st March 20201. This scheme provides fully guaranteed, collateral-free loans to business enterprises, MSME units, and individuals for business purposes. According to the new ECLGS 2.0, loans will be provided to an additional 26 "stressed sectors". These are specific sectors in India that were affected by the Covid-19 pandemic, such as power, steel, and real estate. The scheme would provide support by helping businesses to retain their employees and meet certain liabilities.
3. Production Linked Incentive (PLI) Scheme
On 11 November, the Union Cabinet had approved this particular scheme for an additional 10 key sectors. The main purpose of the PLI scheme is to boost domestic production, by encouraging foreign companies to start their production activities in India. Domestic companies would also get the necessary push to expand their manufacturing units. This scheme will be worth Rs 1.46 lakh crore and would be applicable for 5 years.
The sectors that will benefit from the scheme include automobiles, pharmaceuticals, electronic products, etc.
4. Additional amount for PM Awaas Yojana- Urban
The Prime Minister's Awaas Yojana- Urban (PMAY-U) is a scheme to revive the Housing and Real Estate Sector. The Finance Ministry has stated that Rs 18,000 crore will be provided over and above the Budget Estimates for 2020-2021 for this particular scheme. This would help around 18 lakh houses to complete construction. It is also expected to generate around 78 lakh additional jobs in urban areas. This scheme is also part of the government's "Housing for All" mission.
5. Support for Construction & Infrastructure
To provide support to contractors, the performance security on contracts has been reduced to 3%, instead of 5%-10%. Performance security is commonly used in the construction industry. It is a means of insuring a client against the risk of a contractor failing to fulfill contractual obligations to the client. This relaxation will be applicable till 31 December 2021.
6. Income Tax Relief for Developers & Home Buyers
The economic slowdown due to the Covid-19 pandemic has led to a decline in the prices of residential units. At the same time, taxes for these units are significantly higher. To provide a demand boost for residential real estate, new relaxations on the income tax regulations have been introduced. The differential between circle rate and agreement value has been increased from 10% to 20% till June 30, 2021, under the Income Tax Act. This would be applicable only on a primary sale of residential units worth up to Rs 2 crore. This particular move will help middle-class families to buy real estate properties.
7. Equity Infusion in NIIF Debt Platform
The Government will invest Rs 6,000 crore in the National Investment and Infrastructure Fund's (NIIF) Debt Platform. The NIIF attracts a lot of sovereign funds from other countries and provides major support for the infrastructure activities in our country. It has a target of raising Rs 1.10 lakh crore by 2025 through the debt market, for various infrastructure projects.
8. Fertilizer Subsidies for the Agriculture Sector
The Government has announced Rs 65,000 crore for providing fertilizer subsidies to Indian farmers. This would help farmers to meet the ever-growing consumption needs of our country's population. According to this particular scheme, 140 million farmers would be provided with subsidized fertilizer. It would be ensured that all farmers receive the proper resources before the upcoming crop season.
The Expenditure Secretary has also clarified that Rs 65,000 crore for this subsidy is over and above the last budget estimate. Total expenditure in this financial year would be in the order of Rs 1.38 lakh crores for fertilizer subsidy.
9. Boost for Rural Employment
Prime Minister Garib Kalyan Rozgar Yojana (PMGKRY) is a very successful scheme that provides guaranteed employment opportunities for members of the rural population in India. It is active in almost 116 districts in India. The Government has allocated an additional amount of Rs 10,000 crore to the PMGKRY scheme. This would help to accelerate the growth of the rural economy.
10. Boost for Exports
The Export-Import Bank of India (EXIM Bank) is a specialized financial institution, wholly owned by the Government of India. It was set up in 1982 for financing, facilitating, and promoting foreign trade in India. The EXIM Bank provides Lines of Credit (LOC), on behalf of the Government, to certain developing countries. A line of credit is a flexible loan from a financial institution that consists of a defined amount of money that you can access as needed, and repay either immediately or over time. This scheme allows Indian exports to receive a boost, as the developing countries must import items worth 75% value of the LOC.
The Government has allocated Rs 3,000 crore to the EXIM Bank for the promotion of exports through the LOC scheme. The sectors that would benefit are railways, power, automobile & auto components, sugar projects, etc.
11. Capital and Industrial Stimulus
The Government believes that public expenditure on infrastructure is important at this period of time. An additional amount of Rs 10,200 crore will be provided towards the Capital and Industrial Expenditure. This amount would be used for domestic defense equipment, industrial incentives, industrial infrastructure, and green energy initiatives.
12. R&D Grant for Covid Vaccine Development
An amount of Rs 900 crore will be provided for Covid Suraksha Mission for research and development activities. This particular mission is headed by the Department of Biotechnology to develop the Covid vaccine in India. This does not include the cost for distribution of the vaccine, once developed.
The following table shows the amount that has been allocated for each scheme that has been announced by the Finance Ministry on November 12, 2020.
The following table shows the total amount that has been allocated for various stimulus packages announced by the Government in the current financial year. 
"We are yet again proving that the policy that we are taking up even in PLI through which we want manufacturers to come to India is clearly to say we want to build on our strength but yet link with the global value chains."- Finance Minister Nirmala Sitharaman.
India's Future
The series of measures included in Atmanirbhar Bharat 3.0 will definitely provide a boost to India's Covid-hit economy. The most important feature of the package is that it would help towards creating new jobs in India. It has also provided a major push towards the target of 'housing for all'. Infrastructure activities will also receive adequate incentives. The Government has focused on those sectors that essentially need support for a major recovery, amidst the Covid-19 pandemic. The Production Linked Incentive(PLI) Scheme is also going to give a push to India's dream of becoming the world's manufacturing hub.
Pushing rural housing and job creation, along with subsidies on fertilisers is also sure to give a boost to the rural economy. And as we all know, if the rural economy is doing well, it is definitely good for an agriculture-driven economy of India. Tractor sales and two-wheeler sales are expected to go up as the life of a rural Indian gets better.
As investors, we need to keep a close watch on how the measures would be implemented. Also, make sure you take up the mission to find all the listed companies that would benefit from these schemes, both directly and indirectly.
Post your comment
No comments to display