Zomato IPO - A leap of faith for investors?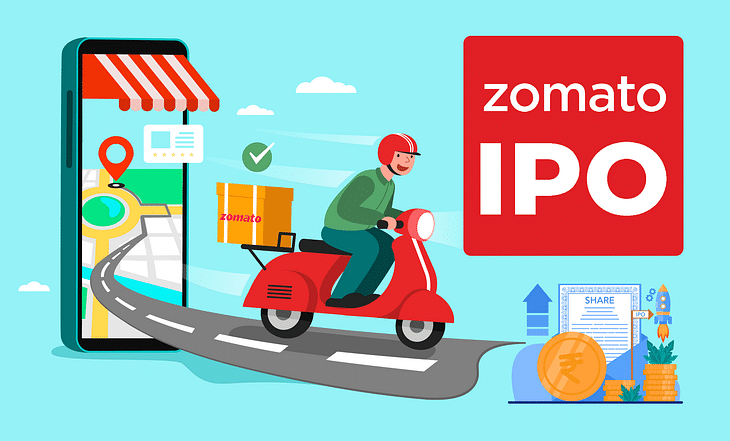 We all can associate with Zomato very well. Many of us would be even its prime members. When we think of food delivery, one of the first names on our mind is Zomato. This is the power of this young venture. The startup has become a household name in India and now are looking to make its way into the Indian stock market. The entity filed its Draft Red Herring Prospectus (DRHP) with SEBI last week.
The online food ordering and delivering company has proposed an IPO worth Rs 8,250 crore. They are also considering a Rs 1,500 crore pre-IPO placement. They will utilize 75% of the net issue for organic and inorganic growth and the remaining 25% for administration expenses. Kotak Investment Banking, Morgan Stanley, Citi Bank, Credit Suisse, Bank of America are the book running lead managers for their IPO.
Here we dig deeper into their Red Herring Prospectus and analyse the interesting findings.
Company Profile - Zomato
Zomato is a technology platform that connects customers, restaurant partners and delivery partners. Customers can search and discover restaurants, view photos of food and the ambience of the restaurant, read and write reviews, book a table and order food delivery. Zomato is not just a regular food-tech company but a giant in this sector. They are present in more than 500 cities in India and are spread in 25 countries in all.
They don't only serve individual customers like you and me but also restaurants by providing them industry-specific marketing tools which enable them to acquire customers to grow their business. According to App Annie's estimates, since 2018, Zomato App has been the most downloaded food and drinks application in India in each of the last three years on iOS Appstore and Google Play combined.
Zomato has 1,61,637 delivery partners and 3,50,174 active restaurant listings. Prime membership is one of the features which are highly regarded by the people as it helps customers to derive great discounts. Currently, the food-tech giant has 14 lakh Zomato Pro members and 25,350 pro restaurant subscribers.
A loss-making company!
In its DRHP, Zomato has stated that "We have a history of net losses and we anticipate increased expenses in the future." In FY18, the food delivery company reported a net loss of Rs 107 crore. The losses further increased to Rs 1,010 crore and Rs 2,386 crore in FY19 and FY20. Till December 2020, that is Q3FY21, Zomato has reported a loss of Rs 682 crore. All these statistics tell that the one of biggest Indian startups is still far away from making profits.
Zomato themselves don't see them minting profits very soon. They have hinted in their filings that they expect their costs to increase even further in the coming years. This is because the company has huge plans of expansion and that will force them to churn out money.
They have plans to pump in millions of dollars into advertising and promotion. Not only this, they want to expand their services in India and other countries. Their filing tells that the startup is still sceptical of increasing profitability or maintaining positive cash flow consistently.
Their financials do not suggest otherwise. They have had cash outflows in the last three years. Even in the nine months of FY21, they are still recording negative operating cash flow. On one hand, Zomato has been true to its shareholders regarding their future. Not many companies come upfront and say that will be making losses in the near future.
Also, the losses are not because of high-interest rate or liability but only because the company has huge massive plans to expand. Thus, they are treating themselves as a growing company and willing to put everything forward to capture more market. On the other hand, these financials will not attract investors, especially those who are looking to make money in the short term.
Present vs Future
It won't be wrong to say that Zomato are banking on their long term future. The previous section will have raised doubts in your mind whether you want to invest in this company or not. Do not worry, this is a huge conundrum even for us.
In 2020, Tesla - the American electric vehicle company, gave astonishing returns to their investors. Is this because they are making huge profits? Do they have very strong fundamentals? No. In fact, their valuations are sky-high according to the investors worldwide. But one thing which drives investors to invest in stocks like Tesla is the future ambitions of the company. The future will be surrounded by technology and Zomato is using it to the fullest on its platform. The type of business model they have can reap huge benefits in the future.
Do we think that India's Zomato should be compared to the US' Tesla? Not at all! But Zomato looks confident about their business. They have a fixed roadmap and are willing to sacrifice short-term benefits for long-term success. If we look back to their history, we don't see a reason not to trust their ambitions. In FY18, Zomato had 3.06 crore of orders. This increased by more than 10X times to 40.31 crore orders in FY20.
In India, millennials depend more on outside food services rather than on home-cooked food. This may be due to higher disposable income or just due to a change in taste preferences. But, we don't see them going backwards. Even in the pandemic, one thing which is missed the most is the food of restaurants. This food consumption market will only increase from here on. If Zomato remains as the leader in their domain, they will be making huge money in the long term. Maybe this is what they are also targeting?
Personally, I am highly interested in Zomato's IPO. This does not mean that I am surely going to invest. We will take a look at many other things before we can conclude. As soon as the date for going public is finalized, we will bring another article on Zomato so that you can get a clear picture of its IPO as well.
What are your views on Zomato? Are you also highly excited about the company's future? Do let us know in the comments section of the Marketfeed application. Lastly, stay at home and take all the precautions. Be safe!
Post your comment
No comments to display