WPI Inflation Rises to Record-High of 15.88% in May - Top Indian Market Updates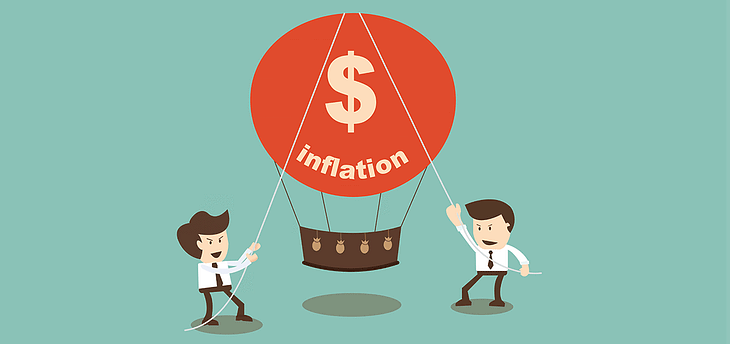 Here are some of the major updates that could move the markets tomorrow:
WPI inflation rises to record-high of 15.88% in May
Inflation based on the Wholesale Price Index (WPI) hit a record high of 15.88% in May 2022, compared to 15.08% in April. The surge is mainly driven by inflation in vegetable prices, which grew from 23.24% in April to 56.36% in May. Inflation in the fuel and power segment jumped to 40.62% in May from 38.66% in April. Food inflation rose to 10.89% in May, compared to 8.88% in April.
Read more here.
Adani Group, TotalEnergies to invest $50 billion in green hydrogen
French energy major TotalEnergies will invest at ~$12.5 billion for a 25% stake in Adani Group's new clean energy services company, Adani New Industries Ltd (ANIL). ANIL will be created by Adani Enterprises Ltd, in partnership with TotalEnergies. The new venture aims to invest over $50 billion over the next 10 years in green hydrogen and associated ecosystems. It will develop a green hydrogen production capacity of 1 million tonnes per annum before 2030.
Read more here.
LIC increases stake in Capri Global to over 7% with Rs 221 crore investment
Life Insurance Corporation of India (LIC) has increased its stake in Capri Global Capital from 5.043% to 7.059% during the Feb-June period with an investment of ~Rs 221 crore. Capri Global is a non-banking finance company (NBFC) with a presence in the construction finance, affordable housing, and indirect retail lending segments.
Read more here.
Dr. Reddy's Labs launches Sorafenib tablets in the US
Dr. Reddy's Laboratories Ltd has launched Sorafenib tablets in the US market after getting approval from the US Food & Drug Administration (USFDA). The drug is used in the treatment of liver, kidney, and thyroid cancer. The product is a therapeutic generic equivalent of Bayer HeathCare Pharma's Nexavar tablets.
Read more here.
Infosys partners with Harvard Business Publishing to offer digital courses
Infosys Ltd has partnered with Harvard Business Publishing to empower India's next generation with essential digital and life skills. This initiative will be brought forward via Infosys Springboard, a platform that provides critical digital and life skills. Students and young professionals can now access select Harvard Business Review articles, videos, and podcasts. 
Read more here.
Ashok Leyland's arm Switch Mobility to raise $300 million; unveils e-bus platform
Ashok Leyland Ltd's electric vehicle arm, Switch Mobility, is in talks with investors to raise about $300 million (~Rs 2,340 crore). Around $200 million will be utilised for capital expenditure requirements, and $100 million will go towards its subsidiary, Ohm Global Mobility. Switch Mobility has also launched its next-gen electric bus platform 'Switch EiV 12' for the Indian market.
Read more here.
Shriram City to raise up to Rs 300 crore by issuing bonds
Shriram City Union Finance Ltd (SCUFL) will raise up to Rs 300 crore by issuing debt securities on a private placement basis. The Banking & Securities Management Committee of SCUFL has approved the issuance of principal-protected market-linked non-convertible debentures (PP-MLD) for Rs 50 crore with a green shoe option up to Rs 250 crore.
Read more here.
SBI hikes deposit, lending rates
State Bank of India (SBI) has raised its deposit and lending rates following the Reserve Bank of India's repo rate hike last week. The lender's interest rates have been raised by 0.20% on domestic term deposits of below Rs 2 crore for select tenors. SBI will offer an interest rate of 4.60% for deposits of 211 days to less than one year, compared to 4.40% earlier.
Read more here.
NTPC to begin commercial operations of 15 MW solar capacity at Kawas Solar Project
NTPC Ltd will commence commercial operations of its 15 megawatts (MW) solar capacity at Kawas Solar Project in Gujarat on Wednesday. With this, the standalone installed and commercial capacity of NTPC will rise to 54,666.68 MW. Meanwhile, its group installed and commercial capacity will become 69,031.68 MW.
Read more here.
Post your comment
No comments to display