With Omicron and Lockdowns, is PVR in Trouble Again?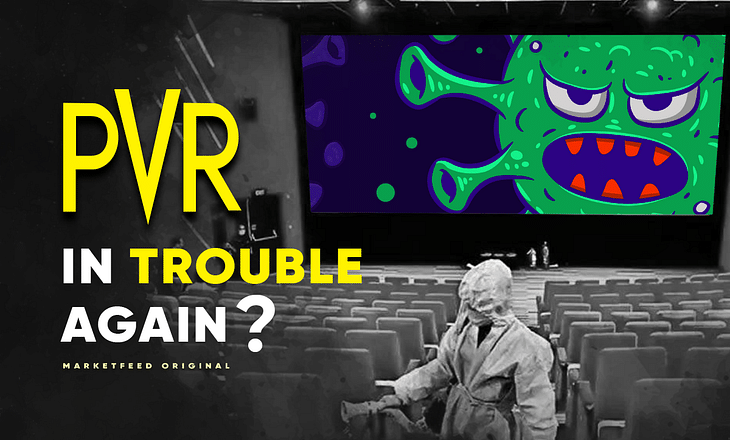 Cinemas have managed to stay afloat despite not being functional for a reasonable amount of time. As some of the movie theatres resumed operations from July 31, 2021, a rush of movies, coupled with a keen audience, managed to add to revenue for cinemas. PVR is the largest company by market capitalisation that operates cinemas and movie halls. The company has seen dips in revenue after consequent waves of the COVID-19 pandemic. In this piece, we discuss where PVR Ltd. stands and what the potential third wave and the Omicron variant of the COVID-19 virus pose for the company.
Performance in Last Quarter (Q2)
During the July-September quarter, PVR re-opened its cinema circuit in most states where permitted except for key states of Maharashtra, Kerala, Assam, and the Union Territory of Jammu and Kashmir, which continued to remain shut as of September 30, 2021, due to respective state government orders. Most of these states permitted cinemas to reopen by October-end, which meant added revenue for two months till year-end.
Total revenue for PVR dipped after localised lockdowns were imposed, resulting from the consequent waves of the COVID-19 virus. The revenue soon gained traction after cinemas were permitted to operate by state governments. The company posted its Q2 results in September 2021. Its total revenue stood at Rs 264 crore, registering a growth of 226% QoQ. The company's net loss narrowed down to (-) Rs 148 crore, by ~31% QoQ and ~18% YoY. As of September 31, 2021, 588 screens were operational out of a total of 855 screens.
PVR Secured Rent Waivers
PVR managed to dodge a financial crunch by securing rent waivers and lowering Common Area Maintenance (CAM) charges for the second quarter. The company secured rent concessions for ~80% of its properties. It also achieved a rental discount to the tune of ~75% in the first half of FY22. CAM expenses were ~22% lower than the first half of FY22 or pre-pandemic levels. These rental waivers were temporary and could soon be a liability if there aren't further concessions in case of a highly likely third wave of COVID-19.
Spurt in Regional Content
Bollywood or Hindi movies make the bulk of the consumed content for Indian cinemas. Surprisingly, there was a spurt in viewership of regional content. "The keenness of the audiences to come back to the theatres can be ascertained from the phenomenal performance of the regional movies, which had recently been released, mainly Punjabi, Telugu, and Tamil. They have all done exceedingly well in the past couple of months," said Ajay Bijili, Chairman, PVR Ltd.
"The response that we have seen for films, the new films, be it Punjabi, Telugu, Tamil, Hollywood films, Marvel films, which have released day-and-date with the US release, the response that we have seen is extremely, extremely positive," said Kamal Gianchandani, CEO PVR Pictures Ltd.
What Threat Does Omicron Pose For PVR?
The popular perception is that OTT (Amazon Prime, Netflix, etc.) will soon take over traditional cinema. This is likely to be the case if COVID-19 restrictions remain throughout the country. PVR has been in business since 1997, and the company has managed to tailor its costs and liabilities and stay afloat. The concessions that the company has secured in the past might soon pop up as liabilities. Whether the government will help the industry or not is uncertain.
Nevertheless, other smaller single screen operators or small capacity operators have fallen prey to COVID-19 restrictions. Even if the COVID-19 pandemic is completely eradicated, the traditional cinema industry wouldn't be the same. Movie promotions are happening online. Producers, creators, actors are promoting their OTT creations through digital media. With OTT in big business, the pomp and show around the traditional cinema have died significantly in the past few months.
Conclusively, one shouldn't forget that traditional cinema is an experience that isn't comparable to OTT. The cinema is a social habitat, and humans are social animals. It would take a long time for traditional cinema to cease from existence entirely.
Post your comment
No comments to display