With 5G Spectrum Rolling In, Here's Where You Should Invest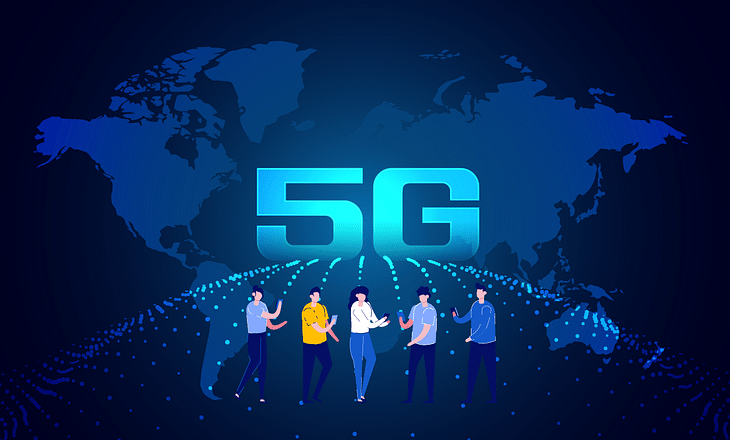 "Jio will pioneer the 5G revolution in India in the second half of 2021", said Mukesh Ambani at the Indian Mobile Congress(IMC) in December last year. With Jio as the torchbearer, 5G is expected to roll out soon in our country. Jio has said that instead of importing technology, it is building its in-house 5G technology under 'Make In India' and 'Atmanirbhar Bharat'. Other network providers like Airtel, Vodafone-Idea, and BSNL will follow the trail.
The 5G technology will be a revolution for the world of networking. It will fuel market opportunities in India. Companies involved in telecom, optic fiber, technology, infrastructure, and much more. The question is, how do we profit off this revolution? Where should one invest to stay with the 5G wave? Let Us Find Out.
Sectors to Benefit
The 5G infrastructure will need resources from multiple sectors. For convenience, we have classified the sectors as follows:
Power
Tower Infrastructure
Cabling and Networking
Mobile Service Provider
Power
5G Network is going to be a power-intentive project. 4G itself hasn't managed to penetrate the rural areas due to the lack of availability of power and infrastructure in those areas. This is when Power Grid Corporation of India(NSE: POWERGRID) comes into the picture. NTPC and Adani Transmission can be additions. Adani Transmission(NSE: ADANITRANS)
Whenever there is a power outage, the diesel-generators would kick in to ensure seamless transmission. So far, Mahindra Powerol has majorly supplied diesel-generators to telecom majors like Reliance Jio, Indus Towers, Bharti Infratel, Viom Networks, American Tower, Telesonic Networks, Etisalat, Ooredoo, Tata Tele, Vodafone, Nokia, BSNL, and MTNL across India and globally. Cummins India(NSE: CUMMINSIND) is another major generator manufacturer.
Tower and Infrastructure
With 172,094 towers and 314,106 co-locations, Indus Towers is a major tower manufacturer that provides services to almost all telecom providers in the country. Indus Towers was merged with Bharti Infratel. Indus Towers can expectedly see a spike in profits once 5G starts rolling out. Indian Telephone Industries Limited(NSE: ITI) is another central-government owned company that manufactures a range of telecom equipment.
Tech Mahindra(NSE: TECHM) is also foraying into the 5G world. Tech Mahindra in partnership with CISCO will provide network infrastructure assessment and consultancy services for 5G. It states that it also has the technology to build a full-fledged 5G infrastructure.
Cabling and Networking
Sterlite Technologies(NSE: STLTECH), provides FTTH (fiber-to-the-home) services. An example of FTTH is JioFiber. Sterlite had bagged a huge order from Reliance Jio for the same in November 2018. Sterlite CEO Anand Agarwal, in December 2020, said that the company is planning to spend Rs 300 crores to increase its capacity for optical fiber cables from 18 million to 33 million fiber kilometres. He also said that the company is planning to hire 300-400 people this fiscal to fuel the 5G project for the company. Sterlite is slowly shifting space from being just a fiber optic cable company to a tech company. In December 2020, Sterlite launched a 5G indoor small cell called - 'Garuda'. To Know More, Click Here.
HFCL or Himachal Futuristic Communications Ltd(NSE:HFCL) is also working with Jio to lay cables for their FTTH services. It is the largest manufacturer of FTTH cables in India with close to 6 lakh km per annum under its cover

Tejas Networks(NSE: TEJASNET) is another major company working at providing hardwares, tools and services along with consulting in 5G. To know more about what the company has to offer, check out their website over here.
Reliance Jio owns a majority stake in DEN Networks(NSE: DEN) and Hathway Cables(NSE: HATHWAY) which also deal in fiber optic-based services along with telecommunications and cable networking.
Service Providers
For 5G, Reliance Jio will be at the front of the race. Other telcos like Vodafone-Idea and Bharti Airtel are stuck in a financial crunch and are tied up by the spectrum dues worth thousands of crores to be paid to the Government. However, their improving financial positions and rebranding in the case of Vodafone Idea(to VI), has made the future a little optimistic for the companies. It won't be before long that Vodafone-Idea and Airtel will also have their hands on the 5G spectrum. Airtel has been testing out 5G on their 4G spectrum, but this is not with real 5G speeds, rather just more faster 4G.

Conclusion
Unlike the US, India does not have stocks that are fully focused on 5G tech. As India comes out of the COVID-19 pandemic and the GDP growth rate normalizes, businesses get back to normal, you can expect more companies to get involved in the 5G project. From an investor's perspective, one should look for those stocks that go into making 'Network Infrastructure'. Areas like optic fibres, network cables, telecom consulting firms, companies making generators, tower infrastructure, and steel. Reliance Jio can be the focal point since it is expected to be the first company to roll in 5G in India.  
5G is going to be a long game, yet a game-changer. The 5th generation of telecommunication won't just mean speed, it will mean a lot more than that. The 5G will bring with it a lot more like low latency, higher coverage, greater connectivity, and efficiency. 4G got along with it, Smart TVs, Smart Homes, Smart Speakers, and even Auto Driven Cars. Ever imagined what 5G with itself on the way?
Let us know about which stocks you think may benefit from 5G in the comments down below.
Post your comment
No comments to display