Will ONDC Disrupt E-Commerce in India?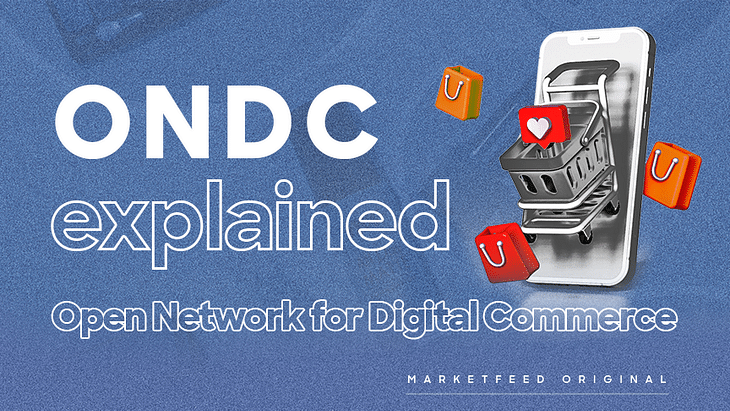 Suppose there's a small bakery in Bengaluru that sells delicious cookies. The owner wants to take his business online, but he feels it will be extremely difficult. He'll need to make a sizeable investment for creating an online store, inventory management, and order fulfillment. Even after all this, it's an exhausting process to get customers online. The owner will have to spend a hefty amount for ads and believes it's not worth the time and effort.
Sure, he could list his products on large platforms like Amazon.com and Walmart-owned Flipkart. However, these global corporations control over 60% of the e-commerce market and give preferential treatment to top sellers.
So how can the bakery owner sell his products online?
Well, he could look into the Open Network for Digital Commerce (ONDC)! And no, it's not a separate e-commerce platform or app. In this article, let's understand what ONDC is all about!
What is ONDC?
ONDC is a non-profit company established by our govt's Department for Promotion of Industry & Internal Trade (DPIIT). It is a network that will allow any seller to display their products and services in search results across all apps registered in it. ONDC will have open protocols and rules for the entire chain of activities involved in the exchange of goods and services (similar to the Unified Payments Interface or UPI for payments in India). Thus, buyers and sellers can trade goods and services irrespective of the applications they use.
For instance, small and medium-sized businesses can now set up a simple website with the help of ONDC's technology partners and list their products and services on it. And once they integrate with ONDC, their products will be easily visible to consumers on different apps and platforms! ONDC would standardise operations like time-based pricing, inventory & order management, delivery, and digital cataloging for small retailers.
On a wider scale, ONDC network is designed to facilitate any digital transaction between a buyer and seller for goods or services, including wholesale, mobility, food delivery, logistics, and travel services. It will also cover business-to-business (B2B) transactions.
We've all seen UPI revolutionising payment systems in India. Similarly, ONDC aims to democratise e-commerce and give small merchants or family-owned stores access to the systems and technology used by giant e-tailers like Amazon & Flipkart. ONDC is expected to increase competition in the e-commerce industry and boost startup innovation.
How Does it Work?
ONDC lies in the middle of the interfaces hosting the buyers and the sellers.
Sellers will have apps to place their products for sale and accept orders.
As consumers, we can use any app registered on the ONDC network to browse and buy products.
The ONDC network will also have apps that broadcast the search request received from buyer-side apps to seller-side apps listed on the ONDC registry.
The network will be supported by logistics firms (to facilitate deliveries) and e-commerce store hosting service providers.
For example, when you're searching for a laptop on Paytm → The app will connect to the ONDC network → ONDC will connect it to seller-side apps that list all firms from where you can buy the item.
You will be able to download any ONDC app of your choice (similar to UPI) and use it to buy products & services from sellers that offer them.
Major Challenges
ONDC is a complex ecosystem to implement. E-commerce has a lot of variables involved, including the quality of the product, payments, returns, customer complaints, etc.
Brands that make misleading or inferior products and offer poor after-sales support may get undeserved exposure through the network. Users would find it difficult to trust new brands or platforms that integrate with ONDC.
It will require a massive, well-funded adoption campaign to bring in lakhs of existing Kirana stores to the ONDC network.
The Way Ahead
Since 2020, the Competition Commission of India (CCI) has been investigating the alleged anti-competitive practices of Amazon and Flipkart. As per reports, both firms promote specific sellers based on exclusive arrangements and offer them deep discounts. E-commerce giants also allegedly use data derived from users' buying patterns to help their seller "partners" launch products.
Rather than concentrating power among a few players, ONDC will allow consumers and sellers to choose which apps they want to use to access a single network. With the ONDC network, these big online e-commerce platforms will have to compete with smaller stores, websites, and brands! ONDC expects to increase e-commerce penetration in India from 8% to 25% in the next two years. It also plans to sign up 90 crore buyers and 12 lakh sellers to the network within five years!
ONDC has commenced trials with select buyers and sellers across major cities in India. We've seen numerous companies integrating with ONDC over the past few months. Microsoft, Paytm, Snapdeal, Dunzo, eSamudaay, PhonePe, SBI, HDFC Bank, ITC Store, and India Post have shown interest in joining ONDC. Even Flipkart, Reliance Retail, and Amazon are reportedly in talks to join the network! We'll have to wait and see how well it is implemented.
What are your thoughts on ONDC? Let us know in the comments section of the marketfeed app.
Post your comment
No comments to display