Will Fuel Prices Come Down Soon?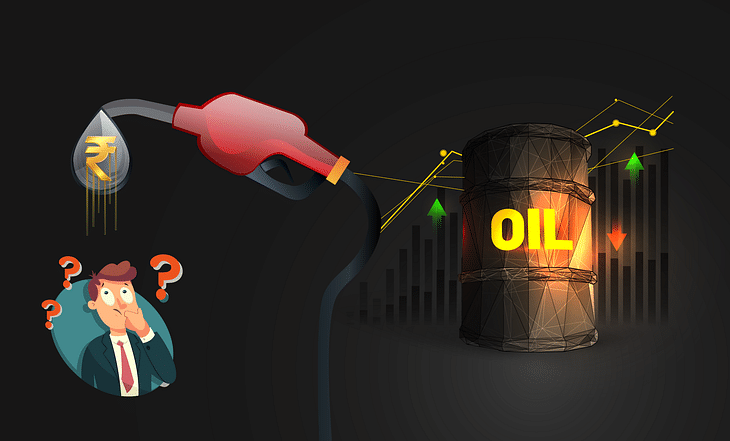 As we know, petrol and diesel prices have been rising exponentially over the past month or so. The rate of petrol has crossed Rs 100 per litre-mark in the states of Rajasthan and Madhya Pradesh. When global crude oil prices declined heavily last year, all of us expected a reduction in fuel prices in our areas. However, our central and state governments used the opportunity to increase taxes. We saw a high surge in excise duty on petrol and diesel by Rs 10 per litre and Rs 13 per litre, respectively. And now, oil-producing nations are limiting their supply to energy-dependent nations (such as India). This is causing a further hike in prices.
Will we see some form of relief in petrol and diesel prices in the days to come? Let us find out.
Breakdown of Petrol Price
On February 16, 2021, the price of petrol in Delhi stood at Rs 89.29 per litre. This is a growth of around 24% from the corresponding month last year. Let us take a look at how this particular amount is derived.
Thus, taxes imposed by the Centre and Delhi state government together constitute approximately 60% of the final retail petrol price. Amidst the Covid-19 pandemic, the government has been desperately trying to cover its vast expenses and foreign debts. It has been estimated that the hike in excise duties and cess on petrol and diesel would allow the Centre to raise ~Rs 1.6 lakh crore. In the end, it is all of us that face the brunt of very high fuel rates. Industries that are highly dependent on petrol and diesel for running their day-to-day operations would also begin to incur high costs.
Will Fuel Prices Decline Soon?
As mentioned before, crude oil prices declined drastically in 2020. (It fell to almost ~$20 per barrel in April). This was primarily due to the lower demand for fuel amidst the Covid-related lockdowns around the world. India was facing one of the biggest economic contractions in its history. Our government should have focused on cutting taxes and putting more money into the hands of common citizens. However, in May 2020, the government increased central excise duties on petrol and diesel from Rs 20 per litre to Rs 33 per litre. During the same period, state taxes had also gone up by around 21%. Thus, normal consumers like you and I did not receive any benefit from the decline in crude oil prices.
With global economies slowly recovering and people receiving vaccines, the rate of Brent crude oil has shown a sharp rise to $67 per barrel (as of Feb 25). However, our government has outrightly stated that it will not cut excise duty on crude oil. Earlier this month, Union Oil Minister Dharmendra Pradhan said that the Centre and state governments rely heavily on collections from taxes on crude oil "for meeting their developmental and welfare priorities". Thus, the Centre is focusing on higher tax collections to achieve its revenue targets. The government has not addressed the common issues faced by the working-class population, who are facing huge difficulties due to the surge in petrol/diesel prices.
On the other hand, oil-producing nations (such as Saudi Arabia) have used the present opportunity to limit their supply and drive prices. This is likely to sustain until all nations join hands, conduct discussions, and come with a solution. India has urged the Organisation of the Petroleum Exporting Countries (OPEC) to bring an end to the regulation of crude oil production. When we take all these points into account, the prices of petrol and diesel are unlikely to decline anytime soon.
Conclusion
The rising fuel prices have severely impacted the middle-class and lower sections of Indian society, who were already hit by the Covid-19 pandemic. The situation is so bad in some areas that people are traveling extra miles to buy cheaper fuel or even smuggling it from neighbouring nations. From the food you order to the vegetables and fruits you buy, everything is likely to become costlier. It would trigger inflation, which could ultimately slow down India's economic recovery. However, the fact remains that the consumption of petroleum is at an all-time high, despite the rise in retail prices.
On a day when petrol price crossed the psychological barrier of Rs 100 per litre, Prime Minister Narendra Modi blamed the previous governments for not focusing on reducing India's energy import dependence. Every aspect of this issue has led to a blame-game between the Centre, state governments, and oil marketing companies (OMCs). [OMCs such as Indian Oil Corporation, Hindustan Petroleum, Bharat Petroleum are now benefiting from higher margins] None of these parties are willing to take the first step towards bringing down the rates.
Finance Minister Nirmala Sitharaman has called for the Centre and state governments to conduct formal discussions to bring down the retail fuel price at a "reasonable level for consumers". Let us look forward to seeing how the situation unfolds in the weeks to come.
Post your comment
No comments to display