Why You Should Look Into Switch Delhi Campaign for Electric Vehicles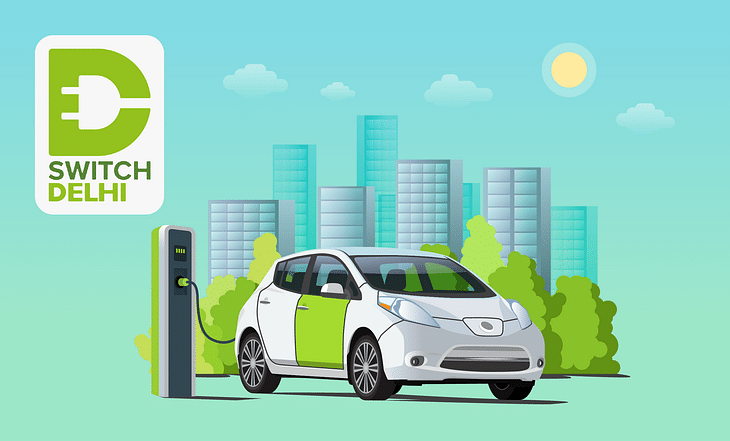 It's no secret that many northern states of India lead the chart of the most polluted cities in the world. Delhi and the NCR region (Noida, Greater Noida, Faridabad and others) becomes a gas chamber during the winter season. AQI index is an index which measures how polluted the air of that place is. The value of index ranges from 0 to 500. Refer to the table below.
| | |
| --- | --- |
| Levels of Concern | Values of Index |
| Good | 0 to 50 |
| Moderate | 51 to 100 |
| Unhealthy for Sensitive Groups | 101 to 150 |
| Unhealthy | 151 to 200 |
| Very Unhealthy | 201 to 300 |
| Hazardous | 301 and higher |
As you can see AQI index above 301 is termed as 'hazardous'. If we elaborate, this index number means 'Health warning of emergency conditions: everyone is more likely to be affected.' You would be surprised to know that for many days, this index goes to as high as 500 and even surpasses that level during the morning and evening time. Last year, the situation was so bad that the Delhi government had to shut down schools and colleges and request everyone to stay home for a few days.
Due to Covid-19 pandemic, the world was forced to wear a mask on their faces. But this practice was not new to the Delhites. They have been covering their faces with a mask for the last 2-3 years during the winter season. There are many reasons why the national capital becomes a gas chamber and pollution coming out from vehicles is one of those reasons.
"Switch Delhi" campaign begins
Switch Delhi is an electric vehicle mass awareness campaign started by the state government of Delhi. It aims to increase awareness about the needs of electric vehicles due to current pollution level. The Delhi Government aims to have at least 5 lakh electric vehicles by 2024, that is, at least 25% of the total vehicles in the state. This is a massive target because this number stands at a mere 0.2% (as of August 2020).
With this policy, the Delhi government has declared that they want delivery companies like food delivery and e-commerce logistics providers to shift to 50% of their fleet to electric by March 2023. Also, they want this to extend to 100% of all the vehicles by March 2025.
To monitor the implementation and progress of this policy, an electric vehicle board will be formed within the transport department. On top of it, recently the Delhi government announced that all the cars hired by them will be an electric vehicle in the next six months. On 5th February, they floated India's biggest tender for EV charging. In this tender, they have laid out the plan to build 500 charging points at 100 locations in Delhi.
Attracting Incentives
As humans, we have a tendency to go behind offers. Whenever we see a discount, we favour going towards that product rather than a similar product without discount. This is one of the best ways you market the goods or service you have. The government of Delhi knew that to make people change their habit, they have to roll out incentives. And, not only incentives but also some financial incentives.
You would be happier when you receive Rs 100 cashback from Paytm rather than Rs 100 off on some shopping. Similar is the case here. With the new EV policy, they have kept in mind that their main aim is to generate higher demand. This demand will be created when people are incentivised to come forward and switch to EVs in mass number. Here is what the state government is offering to the people of Delhi.
The financial incentive of up to Rs 30,000 on battery-powered two-wheelers, autos and e-rickshaws.
The financial incentive of up to Rs 1.5 lakh for new electric cars in the state.
A waiver of the registration fee and road tax.
A purchase incentive of Rs 10,000 per kWh of battery capacity for first 1,000 cars subject to a cap of Rs 1,50,000 per vehicle.
A scrapping incentive of up to Rs 5,000 for leaving old cars and switching to EVs.
Mandatory for new home and workplace parking to reserve 20% of parking for electric vehicles.
100% subsidy for the purchase of charging equipment costing up to Rs 6,000 per unit. This benefit will be provided to the first 30,000 charging points at homes and workplaces.
Why This Helps You
The government came out with the initial announcement of its new EV policy in August last year. Since then, 6,000 new EVs have already been added on its roads. Waiving the road tax and registration fees is a big decision.
With this announcement, every stock catering to the Electric Vehicle segment should rally. And more than just short term, these stocks have the potential to be wealth creators in the long run. You can look into these battery stocks, along with power distribution companies and many many more.
The road tax levied on vehicles generally ranges from 4% to 10% of the cost of the vehicle. The registration fees could cost up to Rs 3,000. Thus, all these are reducing the charge which one will occur if they purchase petrol or a diesel car. All these are the areas where the government earns money. They are cutting off on their income so that people can be attracted towards EVs.
The efforts show that Delhi is serious about leading India's shift to Electric Vehicles. As the demand for these EVs is created, companies will come up with new products in their portfolio. The rising pollution level in the capital of the nation is hazardous and life-threatening. Yes, the pollution level won't be decreased fully but a switch to EVs will surely have a massive effort.
Being a Delhite myself, I feel this is a very important step to promote Electric vehicles. Let's hope that this model becomes successful so that it can be implemented nation-wide. Until, next time.
Post your comment
No comments to display