Why You Should Look Into Defence Stocks Right Now!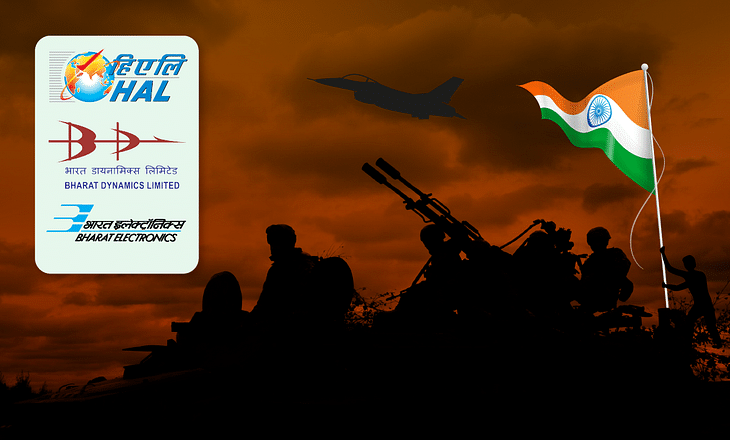 The defence industry is one of the most strategically important sectors of India. Our military forces are known to be one of the best in the world. But for years, our government was heavily dependent on countries like Russia, USA, and France for military equipment. This is soon about to change.
The Ministry of Defence has launched initiatives to reduce the import of military equipment or weapons from foreign countries. India is on its way to becoming self-sufficient in the large-scale production of military aircraft, vehicles, missile systems, arms and ammunition, etc. The steps taken by our government have provided a significant boost to the companies that manufacture defence equipment.
At the recent Aero India 2021, these firms entered into large contracts with our government, as well as major defence and aerospace companies around the world. Once this happens, there are many companies that will benefit from this strategic shift.
In the Aero India show, Defence Minister Rajnath Singh also said the domestic manufacturing of bigger and complex defence platforms has now become the focus of our policy under the Atmanirbhar Bharat Abhiyan. India also plans to spend $130 billion (Rs 9.46 lakh crore) on military modernisation.
Along with self-reliance, exports are also a cash minting opportunity for India's defence companies. Let us take a look at some of the prominent firms that primarily cater to the defence sector in India.
Hindustan Aeronautics Limited
Hindustan Aeronautics Limited (HAL) is engaged in the design, development, manufacture, repair, and servicing of aircraft, helicopters, aero-engines, and aerospace structures in India. The company was incorporated in 1940 and is based in Bengaluru. It falls under the administrative control of the Ministry of Defence. HAL offers materials such as castings, general and precision forgings, rubber products, and composites. The company also provides avionics, such as navigation systems, head-up displays, laser range systems, flight data recorders, communication equipment, and missile navigation systems. HAL has designed and manufactured some of the most advanced Light Combat Aircraft (such as "Tejas") and helicopters for the Indian Armed Forces.
HAL gets exclusive contracts from the space, defence, and civil industries around the world. It has a comprehensive Design and Development capability in the field of aerospace. The company has set up 11 research centers across India to cater to the rising demand of the defence industry.
Recent Announcements/Deals
On February 3, the Central Government formally sealed a deal with HAL to procure 83 Tejas MK1A Light Combat Aircraft (LCA) for the Indian Air Force (IAF). The estimated cost of this deal is Rs 48,000 crore. It has been dubbed as the "Biggest Make-in-India" contract till date. The delivery of the Tejas aircraft to IAF will begin in March 2024. This will significantly enhance the capabilities of IAF.
Recently, HAL and Rolls Royce agreed to expand their partnership in India for collaboration in two significant areas. This includes expanding the supply chain for both Civil and Defence Aerospace and establishing an authorized maintenance centre for specific engines to support Rolls-Royce's global customers. HAL has signed a Memorandum of Understanding (MoU) with French firm Safran Aircraft Engines for a strategic corporation on high-thrust aero-engines. Similarly, the company entered into a large number of deals with prominent global companies during Aero India 2021.
Financial Performance
As a result of bulk orders and exports, HAL has been able to consistently increase its profits and revenues. Over the last 5 years, the company's revenue has grown at a yearly rate of 4.44%, whereas the industry average stood at 3.73%. HAL posted its highest-ever turnover of Rs 21,218 crore for the financial year ended March 31, 2020. It also recorded a 21% YoY jump in net profit to a whopping Rs 2,832 crore during the same period. The company is yet to post its financial results for the October-December quarter (Q3 FY21). It has secured a market share of 87.19%, and thus, continues to dominate the Aerospace and Defence Equipment industry.
Since April 2020, HAL's share price has surged by more than 98% so far. The company offers very attractive dividends.
Bharat Dynamics Limited
Bharat Dynamics Limited (BDL) is engaged in the manufacture and sale of guided missiles and allied defence products in India. It is a Public Sector Undertaking (PSU) under the Ministry of Defence. The company's product portfolio includes surface-to-air missiles, anti-tank guided missiles, underwater weapons, launchers, countermeasures, and mechanized infantry weapons. BDL has emerged as a complete solution provider for the Indian Armed Forces. The PSU has collaborated with the Defence Research & Development Organisation (DRDO) to design and develop state-of-the-art missile and torpedo systems.
BDL has four manufacturing units located across the states of Telangana and Andhra Pradesh. As a part of its expansion plan, the company is setting up a unit at Amravati in Maharashtra to cater to the growing demands of the Armed Forces. BDL has also focused extensively on research & development (R&D) activities. It has partnered with educational institutions and startups for the joint development of AI-based technologies.
Recent Announcements/Deals
At Aero India 2021, Bharat Dynamic launched two products— the Dishani and Garudastra. Garudastra is an advanced anti-submarine, self-guided, state-of-the-art homing torpedo (underwater missile). BDL has partnered with the Naval Science and Technological Laboratory (NSTL) and DRDO for the same. Dishani is an expendable, air-deployed anti-submarine warfare (ASW) sonobuoy system.
BDL entered into strategic partnerships with around 10 major domestic and international firms at the event.
Financial Performance
Despite large orders from the Armed Forces and the international market, the company's overall revenue and profit have been on a decline. Over the past 5 years, BDL's revenue has grown at a yearly rate of -0.42%, whereas the industry average stood at 3.73%. It has been able to secure a market share of 12.81%. The company is yet to post its Q3 results.
BDL's stock price has surged by 84% since April 2020. The company offers fairly attractive dividends as well.
Bharat Electronics Limited
Bharat Electronics Limited (BEL) designs, manufactures, supplies, and exports electronic equipment and systems for the defence and civilian markets in India. The company was established in 1954 and is based in Bengaluru. BEL's defence products include communication systems, land-based radars, naval systems, electronic warfare systems, tank & armored fighting vehicle electronic systems, and much more. The company has partnered with DRDO laboratories to design and produce customised defence systems.
BEL's non-defence products include e-governance systems, homeland security products, civil radars, integrated traffic management systems, solar power solutions, and telecom and broadcast systems. The company has a wide network of offices, production units, and service centres across India.
Recently, the Ministry of Defence signed a contract with Bharat Electronics for the procurement of Software Defined Radio Tactical (SDR-Tac). The estimated contract value is Rs 1,000 crore. SDR-Tac is a radio system primarily used in ships. BEL will deliver the product to the Indian Armed Forces within three years.
Financial Performance
Due to a large demand for its products and services, BEL's turnover and profit have been on a constant rise. The company's revenue has grown at a yearly rate of 11.45%, whereas the industry average stood at 8.47%. (The company comes under the Electronics Equipment industry).
BEL reported a 25% YoY increase in consolidated net profit to Rs 278.50 crore for the quarter ended December (Q3). Its revenue rose by 1.4% YoY to Rs 2,343.90 crore during the same period. The company said its performance in the current financial year (FY21) had been impacted by the Covid-19 pandemic. However, it expects to show a strong operational recovery in the months to come. BEL has been able to obtain a market share of 65.94%.
BEL's share price has surged by 90% since April 2020.
More Companies in Focus
The other prominent listed companies that come under the category of 'Defence Sector Stocks' include:
Ashok Leyland - It is one of the top suppliers of trucks or armored vehicles for the Indian army.
Larsen & Toubro - Over the years, L&T has designed, developed, and manufactured arms, military equipment, and even submarines.
Astra Microwave Products - The company supplies microwave-based high-value radio frequency super components.
Bharat Forge - There are reports which state that the company may start supplying artillery guns to the Indian army.
Apollo Microsystems - The company provides custom-built electronics and electro-mechanical solutions to the defence sector.
Reliance Naval & Engineering - The company has entered into a warship repair agreement with the Ministry of Defence.
Conclusion
According to a report by India Brand Equity Foundation (IBEF), the Indian aerospace and defence market is projected to reach $70 billion (~Rs 5.10 lakh crore) by 2030. Over the years, our government has increased its military expenditure. The manufacturers of defence equipment have received a boost through strong initiatives such as Atmanirbhar Bharat. Certain reforms have also led to an increase in foreign direct investment (FDI) in the defence sector. We are now witnessing a significant rise in the production and exports of various defence products. The dominant firms in this industry, backed by DRDO, are focussing on creating new aerospace opportunities.
With ever increasing tensions from neighbouring countries, India needs to have much stronger forces. Phasing out old equipment and ushering in the new era of technology will help our forces perform duties better and with more confidence. Hoping that our defence companies will be at the forefront of this change.
All these factors prove to be highly favourable for the companies mentioned above. For the long term, these stocks have great potential for profit. Let us look forward to seeing how these firms cater to the future requirements of our Armed Forces.
Post your comment
No comments to display