Why You Should Look Into Chemical Companies for the Long Term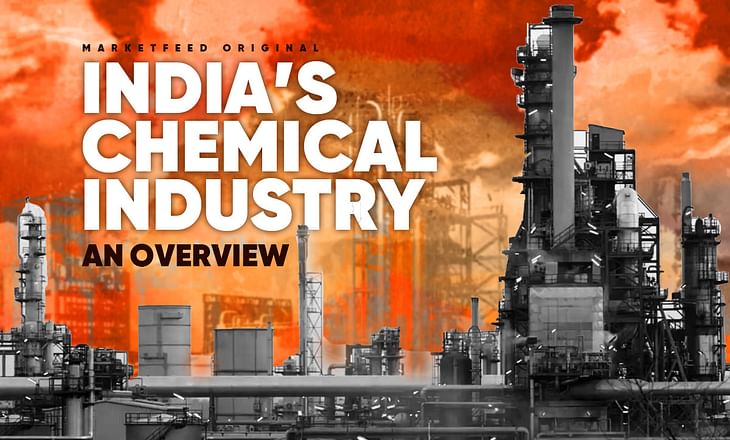 India is one of the fastest-growing markets for all types of chemical products. As per recent estimates, our country ranks sixth in the world in chemical sales and contributes 3% to the global chemical industry! Numerous companies thrive in this sector, which makes it highly competitive. The shares of leading chemical manufacturers have surged multifold over the past year. In this article, learn more about the Indian chemical industry and its growth prospects.
India's Chemical Industry - An Overview
The chemical industry of India is extremely diversified and covers more than 80,000 commercial products. They can be broadly classified into:
Bulk chemicals - Produced in large quantities to meet the ever-growing demand across various industries. Examples include ammonia, sulfuric acid, and sodium hydroxide.
Specialty chemicals - Used as ingredients in finished products and to improve manufacturing processes. It constitutes ~21% of the total chemicals market in India.
Agrochemicals - Chemical products or pesticides used in agriculture. India is the fourth-largest producer of agrochemicals after the US, Japan, and China.
Petrochemicals - The chemicals obtained from petroleum by refining. Products made from petrochemicals include plastics, paints, soaps, detergents, synthetic fibers, and drugs.
Polymers - Natural and synthetic polymers touch almost every aspect of modern life. Some notable examples include textile fibres, pharma products, auto parts, coatings, toys, bottles, etc. India is the third-largest consumer of polymers in the world.
Fertilizers - Supplied to crops to increase their productivity.
Our country ranks ninth in export and sixth in import of chemicals (excluding pharmaceutical products) globally. The demand for our chemical products is expected to grow at a CAGR of 9% during 2020-25. Moreover, India accounts for ~16% of the world's production of dyestuffs and dye intermediates.
Factors that Drive Growth in the Chemical Industry
There has been a surge in demand from end-user industries such as agriculture, food processing, home care, and pharmaceuticals. To cater to the rising demand, Indian chemical companies spend ~1% of their revenue on research and development (R&D) activities. There is significant export potential for agrochemicals and personal/home care products as well.
The Central and state governments are accepting investment applications in the chemical sector, which will help boost manufacturing and employment. As per estimates, the Indian chemical and petrochemicals sector will receive investments of nearly Rs 8 lakh crore by 2025.
Also, the government allows 100% foreign direct investment (FDI) under the automatic route in the chemicals sector (except in the case of certain hazardous chemicals). A large number of foreign institutional investors (FIIs) have picked up stakes in prominent chemical manufacturers. Moreover, the rising environmental concerns and strict government actions have taken the focus away from China (the world's largest producer of chemicals). One must always keep a close watch on Chinese policy changes while tracking the chemical industry.
In May 2021, the Union Cabinet approved a PLI scheme for the National Programme on Advanced Chemistry Cell Battery Storage. The scheme outlay of Rs 18,100 crore is intended to establish 50 gigawatt-hour (GWh) of advanced cell chemistry and 5 GWh of niche advanced cell chemistry capacity. The Centre also has plans to introduce a production-linked incentive (PLI) scheme to promote the domestic manufacturing and exports of agrochemicals.
The government has started various initiatives such as mandating BIS-like certification for imported chemicals. This move will help prevent the dumping of cheap and substandard chemicals into the country.
The Finance Ministry has allocated Rs 233.14 crore under the Union Budget 2021-22 to the Department of Chemicals & Petrochemicals for various development activities. This will help improve efficiency and rural penetration.
The Way Ahead
As per a report from India Brand Equity Foundation (IBEF), the Indian chemical industry stood at $178 billion in 2019. It is estimated to reach $304 billion by 2025, registering an annual growth rate of 9.3%. Moreover, the specialty chemicals sector is expected to increase at a CAGR of 12.4% to $64 billion within the next four years. No wonder there are a large number of players in this industry!
Tata Chemicals, Laxmi Organic Industries, Navin Fluorine International, Vinati Organics, Aarti Industries, Alkyl Amines, PI Industries, UPL, Deepak Nitrate, Clean Science and Technology are some of the leading players in India's chemical sector. Back in May 2021, marketfeed had prepared a detailed analysis on the fertilizer and agrochemicals companies in our country. You can read it here.
The companies mentioned above are focusing extensively on enhanced R&D capabilities to launch new and improved offerings. Indian chemical companies perform relatively well due to highly qualified/skilled manpower and low-cost manufacturing capabilities. Amidst the Covid-19 pandemic and anti-China sentiments, India is well-suited to take advantage of supply chain disruptions. Currently, companies are also focusing on green chemistry and sustainability to reduce the impact of chemicals on the environment and human health. The future of the chemical sector is bright indeed.
What are your views on the Indian chemical industry? Which are the chemical companies you have invested in? Let us know in the comments section of the marketfeed app.
Post your comment
No comments to display