Why is Paytm's Share Crash Continuing?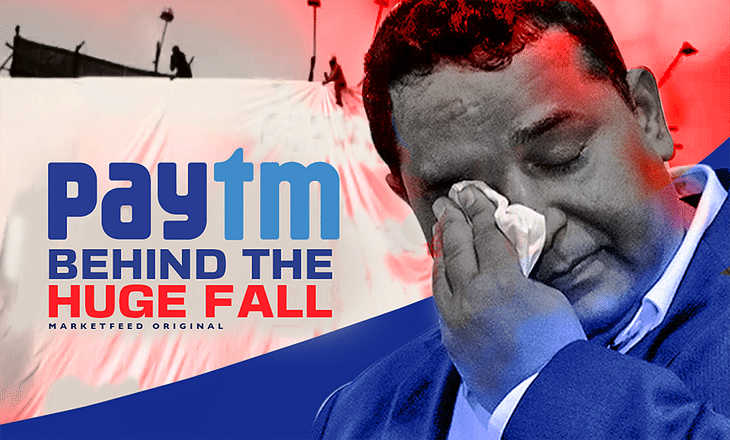 Things have gone from bad to worse for One97 Communications Ltd, the parent company of digital payments platform Paytm. The company's shares have plunged over 70% since it got listed on the Indian stock markets in November, and investors have lost a ton of money. The stock hit a 52-week low of Rs 560.10 on March 21. In today's article, we analyze the reasons behind the latest fall of Paytm's shares.
The Story
On March 11, the Reserve Bank of India (RBI) directed Paytm Payments Bank (PPB) to stop onboarding new customers with immediate effect. The central bank cited serious supervisory concerns observed in PPB. However, it did not provide any specific details of misconduct.
RBI also directed PPB to appoint an audit firm to conduct a comprehensive audit of its IT system. "Onboarding of new customers by Paytm Payments Bank Ltd will be subject to specific permission to be granted by RBI after reviewing the report of the IT auditors," said the RBI. Following this news, Paytm's shares fell up to 13% last Monday.
In a statement, Paytm Payments Bank said it was working with RBI to address the concerns. "We shall notify when we recommence the opening of new accounts after obtaining RBI approval," it said. The digital payments firm believes the ban will not have an adverse impact on its overall business.
Sadly, this is not the first time Paytm is facing action from the banking regulator. In 2018, RBI made certain observations on the process Paytm followed to attract new users, especially with Know-Your-Customer (KYC) norms. The company was found guilty of violating KYC rules. Last year, Paytm received a show-cause notice from RBI for submitting false information concerning the transfer of its Bharat Bill Payment business to PPB. The central bank imposed a monetary penalty of Rs 1 crore on the company.
The Bloomberg Report
On March 14, Bloomberg came out with a serious allegation against Paytm. It reported that RBI acted against Paytm Payments Bank as it had allegedly allowed data to flow to servers in China, which violates the Indian government's data privacy rules. As we know, India and China have not been on the best of terms lately.
PPB is a joint venture between Paytm and its founder Vijay Shekhar Sharma. Moreover, China's Alibaba Group Holding and Jack Ma's Ant Group own shares in Paytm. The Bloomberg report stated that annual inspections made by India's central bank found that Paytm's servers were sharing sensitive information with China-based entities that indirectly own a stake in PPB.
Paytm was quick to deny the reports. It claimed that the Bloomberg report was false and sensationalist. "Paytm Payments Bank is proud to be a completely homegrown bank, fully compliant with RBI's directions on data localisation. All of the bank's data resides within India," the company said in a statement.
What Next?
Paytm had launched a Rs 18,300 crore initial public offering (IPO) in November 2021. Unfortunately, the stock has been on a free fall since it got listed. It has crashed over 70% from the IPO price of Rs 2,150. Paytm's valuation, which stood at Rs 1.4 lakh crore at the time of the IPO, has eroded significantly to ~Rs 41,000 crore! The company was highly overvalued, especially when the path to profitability was unclear. Various analysts have termed Paytm's business model as problematic as it generates very low revenue for every dollar spent on marketing. Here at marketfeed, we had posted an in-depth analysis on why Paytm's IPO was a flop show. You can read it here.
According to an ET report, PPB will now submit several names as potential audit candidates to the RBI. The banking regulator will finalize the terms of reference based on its findings that include a series of lapses in meeting KYC norms. PPB had reportedly onboarded thousands of customers without following the official KYC process. The RBI's regulatory order has come as a severe blow to Paytm's plans of transforming itself into a small finance bank (SFB). Now, they may have to wait a bit longer to apply for an SFB license from the RBI.
Paytm's shares are still under pressure. Macquarie's analyst has reduced its target price to Rs 450! We can expect the stock to be in the red zone till the company reports some positive developments. Paytm is notorious for dabbling in numerous business lines, and it has become difficult for them to work out a solid business model. A high level of competition in the fintech space is also weighing down on Paytm's operations. It is advised that retail investors perform thorough research and take due caution before making investment decisions.
Post your comment
No comments to display