Why Did The Cryptocurrency Markets Crash? What Next?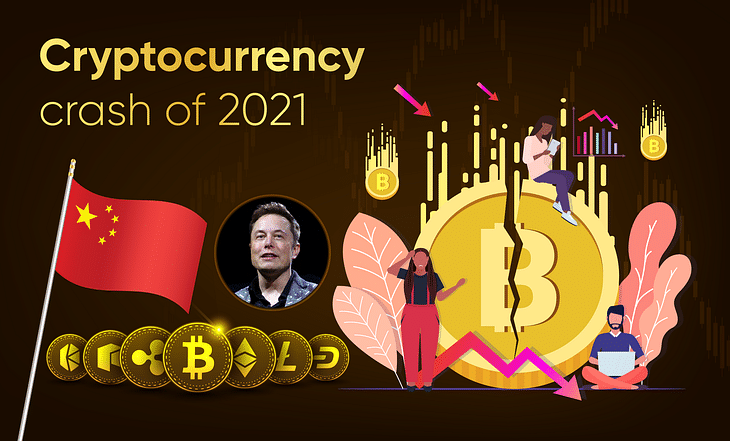 Cryptocurrencies have crashed. This time in a manner never seen before. The last time we saw Bitcoin was down ~32%, Ethereum down by ~40%, and Dogecoin down by ~41%.
The crash has wiped out nearly USD 1 trillion of investor wealth globally. That is nearly Rs 73 lakh crore to speak in Indian Rupee(INR) terms. Let's dig right into what caused the global crypto market to crash and find out how investors around the world perceive the future of cryptocurrencies.
Why Did The Crypto Market Crash?
To summarize, the crash happened because of a bunch of tweets by Elon Musk, and restrictions by China on cryptocurrencies.
Over the last year, cryptocurrencies all around the world were having a ball. Bitcoin gained more than ~400%, Ethereum gained ~1300%, Dogecoin came into the picture and doubled in less than a month. Other small-time cryptos came into the picture with Initial Coin Offerings, which is the crypto version of an IPO. Throughout the period, cryptos around the world gained clout on social media and some volatility in the markets. Major institutional investment firms started investing in Bitcoin. The bull run was never-ending, while the crypto prices refused to correct themselves. This seemingly never-ending bull run induced fear in the market which led to frequent ups and downs.
Speaking of Elon Musk, who has been in the news for the popularity of a popular meme-based cryptocurrency, Dogecoin. While Musk made some tweets on Dogecoin, the price of the meme coin went skyrocketing until his appearance in the US talk show Saturday Night Live. Then, his comments on the coin sent Dogecoin crashing. Musk was publicly supportive of cryptocurrencies and continues to be so.

Musk's company Tesla Motors even had a sizable investment in Bitcoin. Tesla has announced that they were going to start accepting payment in Bitcoin but later changed their position. According to Musk, Bitcoin mining requires electricity which mostly comes from fossil fuels. This might be unsustainable for the environment. A series of tweets by Musk and Tesla's decision to not accept Bitcoin payments contributed to the crash. All this information about high energy consumption was previously known as well.
Now coming to the major reason behind the crash. China has always moved its policy towards restricting cryptocurrencies in the country. The People's Bank of China, National Internet Finance Association of China, the China Banking Association, and the Payment and Clearing Association of China released a joint statement restricting the trade of cryptocurrencies almost completely. The directive said that companies offering crypto-related information, saving or pledging services stood banned. Additionally, any company offering crypto-related trading, insurance, and derivatives services would also be banned. China had previously almost completely banned crypto mining along with Initial Coin Offerings(ICOs) in 2017.
What is surprising about China's lockdown on cryptocurrency is that almost a month ago People's Bank of China Deputy Governor, Li Bo had given a progressive statement on cryptocurrencies as an 'investment alternative'. The associations responsible for the ban, justify the move by stating that cryptocurrencies are risky due to the volatility.
Exit Or Stay?
Cryptocurrency like any other traded security has the strategy of 'Buy The Dip', in which a trader accumulates cryptocurrencies after a fall in price. This is what would happen soon after the crypto crash, as is the case with any other traded security.
Zerodha Co-Founder Nikhil Kamath tweeted on the crash saying "Averaging down or buying more of an asset, be it stock or crypto, as the price keeps going down and hoping that the price bounces to recover losses or make profits faster is a common behaviour among retail investors. While it is tempting to average down, the odds of this strategy working are significantly low in the long run." He went on in saying, "I have zero knowledge or exposure to Crypto, but the rules for investing are the same: Reduce % exposure if the risk is high, & don't Average down."
There is also a high chance that institutions will rethink their exposure to cryptocurrency as the high volatility continues.
The crypto market right now is in chaos, from Tesla not accepting Bitcoins, to China restricting cryptocurrency trade and operations. In a market like this, one should neither be too optimistic nor be too pessimistic, one should stick to the fundamental rules of trading. Which in this case would be reducing exposure to cryptocurrencies as they get riskier and increasing it only as they get more stable. In case a majority of your portfolio is just cryptos, all it would take is one crash to wipe out a significant portion of your wealth, so give rebalancing a thought.
Post your comment
No comments to display