Why Did Reliance Shelve its E-Commerce Marketplace Plans?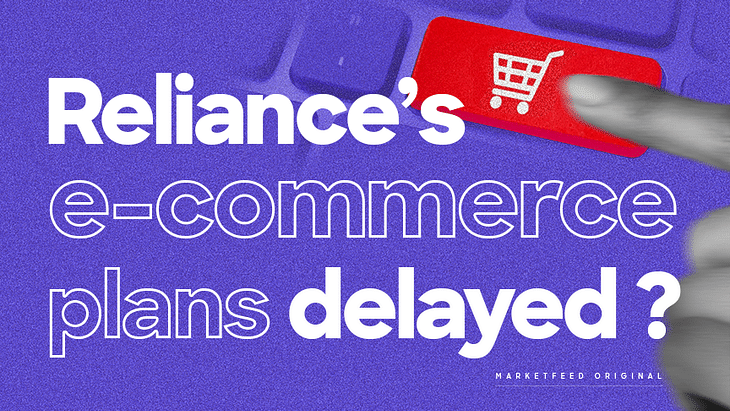 Reliance Industries Ltd (RIL) is reportedly postponing its plans to launch a standalone e-commerce platform for third-party sellers and compete with Amazon and Flipkart. The company aimed to create a mega online platform for users to buy groceries, clothes, electronics, home, appliances, and more. Meanwhile, thousands of independent sellers have been integrated into its existing platform (JioMart) already.
In this article, we explain why the Mumbai-based multinational conglomerate decided to halt its plans to develop its e-commerce platform.
Reliance's Entry Into the E-Commerce Space:
India's biggest retailer, Reliance Retail Ventures Ltd, has more than 12,000 stores across India. The company expanded its e-commerce operations in recent years with ventures including Ajio, JioMart, and the webstore of Reliance Digital. Ajio, launched in 2016, is Reliance's fashion e-commerce venture. JioMart (launched in 2019) is the umbrella marketplace for grocery, value fashion, electronics, and a few other categories. The electronics retail chain, Reliance Digital, operates its own app and webstore.
Despite the bleak conditions of the pandemic, JioMart, Ajio, and Reliance Digital's webstore performed well when consumers heavily relied on online channels to make purchases. Reliance Retail also hired more than 65,000 people during the pandemic, out of which more than 53,000 were freshers. Reliance attained e-commerce sales of around ₹3,496 crore in 2021, yet it still lags market leaders (and key rivals) Amazon and Flipkart.
RIL's Further Expansion in E-Commerce
In order to compete with industry giants Amazon and Flipkart, the Mukesh Ambani-led business is now developing JioMart as a full-fledged marketplace with a strong presence across all categories. According to reports that surfaced in August 2022, RIL was building a separate online marketplace called JioMarket and onboarding third-party sellers to the platform. This would have allowed Reliance to comply with the Indian government's draft e-commerce policy. Let's learn what this policy entails:
The policy proposes to ban marketplace operators from having related parties or associated enterprises as sellers on their platforms. The companies or brands associated with e-market organisations will not be listed in their marketplaces. Only third-party sales are to be permitted. The government is promoting "algorithm fairness," which forbids e-marketplaces from giving certain sellers preferential consideration. Such a policy would ensure that independent sellers receive fair treatment. E-market organisations are also frequently accused of sharing consumer data and purchasing habits with some preferred sellers. Thus, strict laws will be pushed to safeguard consumer rights.
Now, the government has put the proposed e-commerce policy on hold. So Reliance Industries has abandoned its plan to create a separate e-commerce marketplace for third-party sellers. Instead, it has integrated thousands of independent sellers into its prevailing platform, JioMart.
JioMarket was designed to adhere to the suggested e-commerce policy standards. RIL intends to establish a single platform, JioMart, which it will construct to the scale of Amazon and Flipkart to compete against them. Now that the policy is taking a backseat, it would have been challenging to grow two platforms to fight against these formidable competitors.
The Way Ahead
JioMart has already onboarded more than 15,000 third-party independent sellers and direct-to-consumer (D2C) brands that Reliance Retail had roped in over the last 3-4 months for JioMarket. The total collection on the platform has gone up 80 times as compared to last year's Diwali. It has also begun a month-long festive sale with discounts comparable to those offered by Amazon and Flipkart, with some undertaken by third-party sellers and D2C brands.
E-commerce has revolutionised how businesses operate in India. As per an IBEF report, the Indian e-commerce market is predicted to grow by 21.5% to reach $74.8 billion by the end of 2022! Amazon is hailed as the #1 e-commerce company in India, while Flipkart is neck-to-neck in competition for supremacy.
Will JioMart face an uphill task to compete with Amazon and Flipkart, or will it give a tough fight to e-commerce giants like Amazon and Flipkart? Let us know your views in the comments section of the marketfeed app!
Post your comment
No comments to display