Why Basic Stock Market Education Must be Free & Accessible to All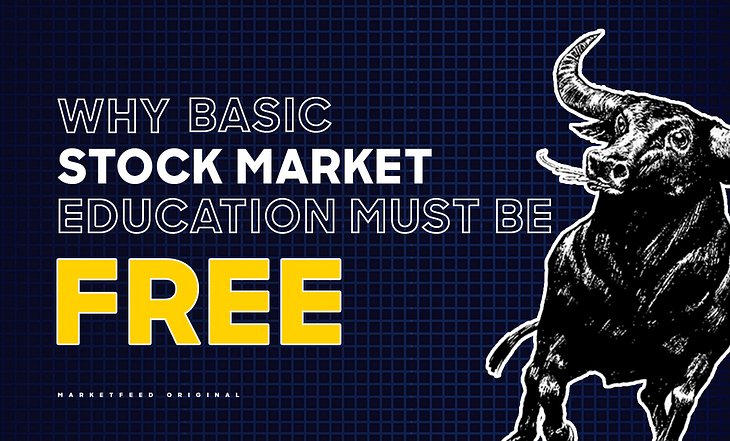 Indian parents have high hopes and expectations for their children's education and careers. They use all their resources to help their kids excel in academics, get good grades, join a prestigious institution, and get well-paying jobs. Moreover, we Indians have a reputation for being frugal with our money. We're taught to spend less and save more. All in good intentions, but there's a lot more to life than just saving money.
Unfortunately, our current education system does not include theory or practical sessions on essential life skills. We're not trained to handle our hard-earned incomes and make financial decisions. Young professionals find it difficult to understand the basic principles of investing or even filing their taxes. These vital "life subjects" are still not being taught in schools or colleges. Instead, there's always been a perception among Indians that investing in stocks is risky and you'll lose all your money.
The Current Scenario
A majority of Indian households prefer to "invest" their hard-earned money in fixed deposits (FDs) even now. Returns from FDs can never beat the rising inflation rate (the general rise in prices of goods). Gold, post-office savings, and real estate are given more priority over stock trading and investment. These are decent options but might not be sufficient in today's economic climate.
Thus, future generations will be extremely doubtful and cautious of going the "unconventional route" when it comes to growing their wealth and achieving financial freedom. They're not getting the proper education or awareness!
According to a Bloomberg Intelligence report in 2021, Indian households invest a meager 7% of their financial assets into stocks compared to an average of 30% in other major emerging markets. More than 55% of adults in the United States invest in the stock market. While saving is the safe way to go, Indian citizens need to understand that the purchasing power of cash in hand or their bank account continuously reduces with time. So, investing in the top-performing firms in the nation can help you become more financially secure!
Time to Change Mindsets!
There is an urgent need for education in financial planning in our country. We need to initiate training sessions around stock investment and trading. The concepts of compounding and portfolio diversification must be ingrained in everyone's minds so that they become more financially savvy. Having a basic knowledge of personal finance can help an investor make money work for them! Investing in stocks after thorough research will allow your money to outpace inflation and potentially build wealth.
If you're in your 20s, try to start investing early as it'll help you make small and calculated risks without the fear of affecting your livelihood and family. In fact, it'll give you an insight into stock selection and investment risks and allow you to make smart choices in the future. There are plenty of opportunities for you to make money in the stock market. You just need to figure out what works for you!
Still confused about how to start your journey in the stock market? Don't worry, we've got you covered!
marketfeed's founder, Sharique Samsudheen, has made it his life's mission to democratize the stock markets and help Indians become financially independent. To that extent, we are proud to launch our Free and Structured Stock Market A-Z Series on YouTube. The series will cover everything from the basics of the stock market to advanced trading strategies. We'll also teach you proven strategies, tips, and tricks used by our team so you can make consistent profits! marketfeed will help you make informed decisions in the beautiful world of finance!
All you have to do is subscribe to our YouTube channel and turn on notifications! Join the Revolution and be part of the best Stock Market Community that we're building here at marketfeed!
Post your comment
No comments to display