Why are Zinc and Aluminium Stocks Rallying? Will Base Metal Stocks Move More?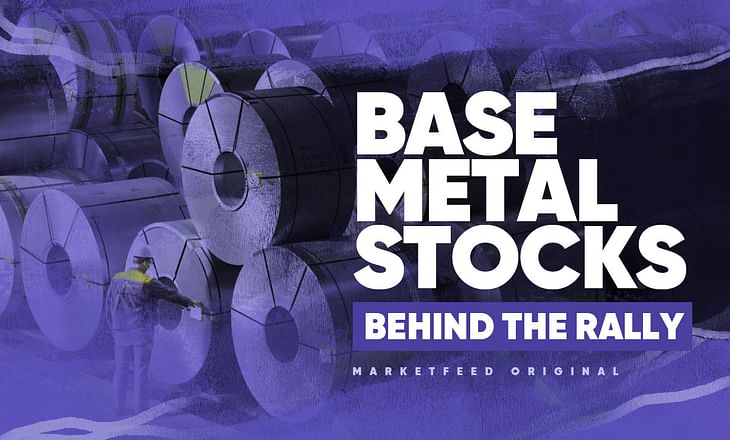 India's base metal market is booming. Steel, Aluminium, Zinc, Copper, and other such metals are known as base metals. They are used extensively in industries. The base metal market was facing headwinds as COVID-19 restrictions were being lifted throughout the world. Competition from China, capacity rebuilding, reserve stock shortage, and unfavourable international market prices were a few of the many problems facing the sector. As China seems to battle environmental concerns, cutting down on production capacity and trimming exports, the world seems to benefit from it. In this article, we talk about the recent surge in base metal prices.
Why Are Base Metal Stocks Rallying?
Indian base metal shares have been rallying for quite some time, facing timely corrections arising from profit bookings. The steel industry is the most polluting one in China. As the country battles environmental concerns, it is now increasing export duties along with cutting down much of the steel production. This has created a supply crunch globally and has made way for other major steel-producing countries to ramp up production. Higher steel prices and increasing production translates into better realization and profit margins for Indian companies. Steel companies that have higher exports are benefitting from it. Shares like Tata Steel, SAIL, JSW Steel, and other steel companies rallied anywhere between 8%-10% in nearly two weeks.
Coming to Aluminium, China is facing a shortage of the raw material, magnesium. China is also the largest exporter of aluminium. Parallel to the steel sector, China has a huge part to play in the Aluminium stock rally as well. The National Aluminium Company (NALCO), Vedanta, and Hindalco Industries rallied anywhere between 15%-25% in two weeks' time in mid-October. During the same period, Hindustan Zinc rallied ~23% and Hindustan Copper moved up by ~19%
The following is the share price appreciation of some of the important base metal stocks between October 6, 2021, and October 18, 2021.
| | |
| --- | --- |
| Company Name | % Change In Share Price |
| Tata Steel | +10.3% |
| JSW Steel | +8.4% |
| SAIL | +12.1% |
| National Aluminium Company | +27.0% |
| VEDANTA | +28.8% |
| HINDALCO | +14.1% |
| Hindustan Zinc | +23.1% |
| Hindustan Copper | +19.2% |
What Should Investors Watch Out For?
While India's domestic demand and market price for base metals remained relatively stable, a shortage of supply in the international market is pushing certain metal producers to export. This is the case for almost all base metals. The price moment for Steel stocks, Aluminium stocks, Copper stocks, and that of other base metals is running nearly parallel.
The demand for metals remained robust, yet the metal manufacturers are faced with rising input and logistics costs. Nevertheless, the manufacturers have been successful in transferring the extra costs to customers.

The metal stocks rally broke down after profit-booking and China's vow to curb coal prices. This increased selling pressure significantly since the uncertainty around coal and base metal supply was reduced. Rising coal prices were earlier adding to manufacturing costs for base metal manufacturers.
As is the case with many sectors, China seems to be pulling the strings for most. One should be cautious around any policy changes that China makes. These include import or export duties, production levels, and other trade limits that the country poses. Nevertheless, the domestic demand for metals seems healthy, yet the volatile global market situation could turn out to be beneficial for Indian stocks,
Post your comment
No comments to display