Who is Jim Simons: The Mathematician Who Cracked Wall Street?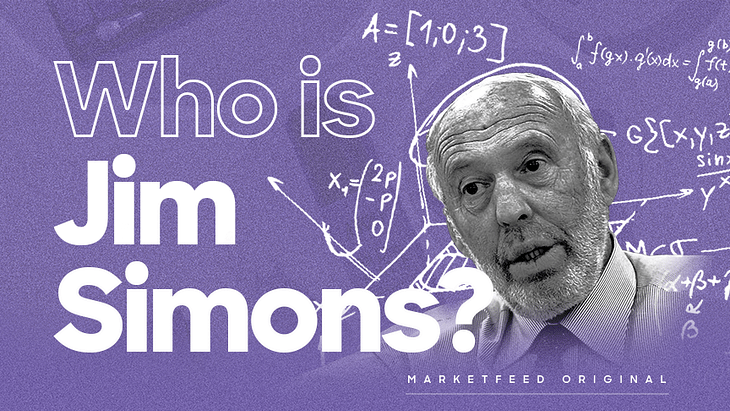 Investors and traders in the stock market are often encouraged to compare and evaluate their performance with leaders in the industry. It'll give you an idea of where you stand and how much return you should realistically aim for. While we examine industry benchmarks for trading, one name pops up: Jim Simons. He is arguably one of the most successful traders in the world. Simons is the founder of Renaissance Technologies, a popular quantitative trading hedge fund firm in the US. He used his mathematical skills to make billions from the stock market!
His success story can be a motivation for all aspiring traders out there. In today's article, learn more about Jim Simons and his journey in the stock market.
Jim Simons - A Brief Profile
James Harris Simons was born in 1938 to a middle-class American Jewish family in Brooklyn, Massachusetts. He loved math and had a talent for numbers from a very young age. Simons went on to study mathematics at the Massachusetts Institute of Technology (MIT) and later completed his Ph.D. at the University of California, Berkeley.
He secured teaching positions at MIT and Harvard University in the 1960s-70s. During the same period, Simons joined Institute Defense Analysis (IDA), an elite research organization funded by the U.S. government that hired mathematicians to help crack Soviet spy codes. At IDA, he learnt to develop mathematical models to interpret data patterns. 
Jim Simons made an entry into Wall Street in 1978 when he established a hedge fund called Monemetrics. He approached the financial markets with a completely new perspective and used his mathematical skills to find hidden patterns. His firm created an algorithm to make scientific predictions by analysing a chain of events and calculating probabilities. Even though they made profits initially, the company lost millions of dollars and was almost on the verge of collapse.
However, Simons never gave up and was able to find new investors to back his fund. In the 1980s, he renamed the firm to Renaissance Technologies and adopted the use of computers.
The Quant King
With the help of mathematicians, statisticians, and computer programmers, Renaissance Technologies and its flagship Medallion Fund took the world by storm. Jim Simons entirely relied on quantitative analysis and algorithmic investment strategies. His firm gathered vast amounts of historical data from the World Bank, commodity exchanges, and records of currency prices and fed them into computers. They used this data to analyse historical movements and patterns. The company refined its existing algorithm so that it could predict movements in different market conditions.
Thus, Simons and his team were able to develop secret automated strategies based on strict mathematical and statistical models that offered mind-blowing returns. Gradually, the Medallion Fund became the most profitable portfolio in the world. It currently has the best track record on Wall Street. Interestingly, the fund is only open to the company's owners and employees! Renaissance manages three other funds that are open to all investors.
From 1998 to 2018, the Medallion Fund generated an average annual return of 66% before fees, outperforming legendary investors like Warren Buffet. Since it's such a profitable fund, the firm charges hefty fees from clients. The avg. annualised returns over 20 years after all charges stood at 39-40%. As of 2022, Renaissance Technologies manages $55 billion, and its Medallion Fund is worth $10 billion!
Giving Back to Society
Jim Simons formed a team of bright individuals to develop and grow his firm. They constantly kept backtesting trading strategies until they were perfect. He's taught us that good things always take time to materialise. Those who believed in him and invested in his fund have witnessed the magic of compounding on a whole new level. He served as Chairman and CEO of Renaissance Technologies until his retirement in 2010. Except for the extremely secretive managers and owners, no one knows the exact strategies of the Medallion Fund!
Jim Simons co-founded the Simons Foundation with his wife in 1994 and has donated over $2.7 billion of his wealth! He is devoted to supporting education, health, and autism research. He also founded Math for America in 2004, which encourages mathematics and science teachers to remain in their roles and advance their teaching abilities.
With a net worth of $28 billion, he's one of the most successful self-made billionaires in the world!
Gregory Zuckerman's popular book, The Man Who Solved the Market: How Jim Simons Launched the Quant Revolution, describes Simons and his investing/trading methods in great detail. He's a true revolutionary in the world of stock markets!
Post your comment
No comments to display