Who is Harish Salve, Mukesh Ambani's Lawyer?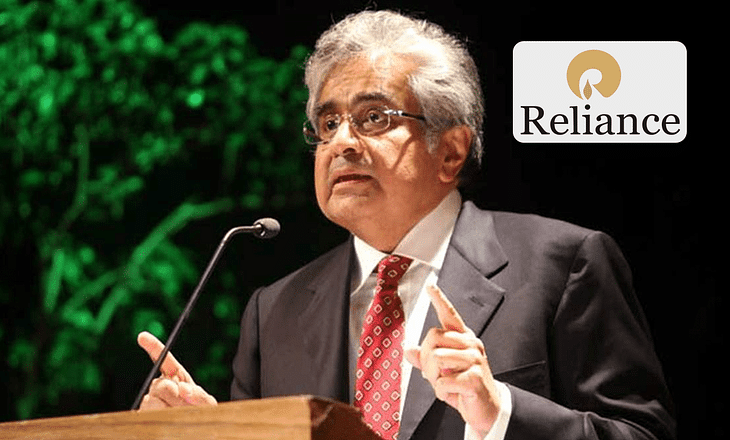 Harish Salve, is a lawyer unlike many. From the rich to the penniless, he has represented a spectrum of people in the courts all across the word. He charges anywhere between Rs 15-25 Lakhs for a single appearance, making him one of the highest-paid lawyers in India.
From the likes of Ratan Tata to Queen Elizabeth II, all the way to accused Indian Spy Kulbhushan Jadhav and even the Indian-actor Salman Khan, he has represented all. The man has his legalities and his arguments right up the sleeves. The question is, what makes Salve so different?
Who is Harish Salve?
Harish Salve is a senior lawyer who practices at the Supreme Court and other houses of law all across the world. He was born in Nagpur on 22 June 1955. Salve is a fourth-generation lawyer. His father, N.K.P Salve was a very prominent leader of the Indian National Congress(INC). His grandfather too was a very successful criminal lawyer. This gave him closer proximity to the field of law. Salve went on in completing his LLB from Nagpur University. Moreover, he is also a qualified Chartered Accountant from ICAI. In his early days, Salve practiced taxation before moving on to a full-fledged legal career.
Fun Fact: The 47th Chief Justice of India, S.A. Bobde was Salve's classmate back in school
Rise to Prominence of Harish Salve
Harish Salve's father N.K.P Salve was also a qualified chartered accountant who specialized in income-tax cases. This got him in touch with Nani Palkhiwala, who was considered India's most prominent tax lawyer. He assisted Palkhiwala on a number of cases. Salve considered Palkhiwala as his mentor and cites him often in his speeches. It is Palkhiwala who laid the initial bricks of Salve's career. On Palkhiwala's recommendation, he then worked with another prominent lawyer and the former Solicitor General of India, Soli Sorabjee. He assisted Soli Sorabjee in numerous tax-related matters and civil/corporate cases.

At 43, Harish Salve became the Solicitor General of India from 1999 until 2002, acting as a lawyer for the Union of India. A Solicitor General is the second-highest ranked legal officer in the country, after the Attorney General. After this stint Salve came in the big books of corporates like Reliance, Tata, Essar, Vodafone, etc.
Fun Fact: Harish Salve is a well-versed Pianist and a lover of Jazz music.
Harish Salve The Saviour
Salve has defended Vodafone against Govt. of India in an Rs 11,000 crore Tax case which the government claimed from Vodafone. He moved his residence to London for the case. Vodafone won the case eventually.
He has represented corporates like Tata, Vedanta Resources, ArcelorMittal, ITC, Cairn Energy, and more. Salve has represented the Union of India in many international and national disputes.
He has represented Bollywood-actor Salman Khan in 2015 in the much-known hit and run case where he was eventually exonerated of all charges. Salve also acted as the defence counsel in the high-profile Arushi Talwar Murder Case and has also represented India against Pakistan in the International Court of Justice(ICJ) in the case of the accused Indian Spy Kulbhushan Jadhav. He succeeded in withholding the death penalty of Jadhav. He charged Re.1 for the case.
The Republic of Italy appointed Salve as their counsel in the Italian Marines Case, where two Italian nationals were accused of killing Fishermen from Kerala and were caught by the Indian Navy just off the coast.
Salve was also appointed as the Queen's Counsel in England, the highest professional title of the bar of England and Wales.
Salve's proximity to the rich and famous came with time, experience, and a reputation of getting justice delivered to the clients.
Harish Salve and Ambanis
Harish Salve has represented Reliance Group in many cases. He has represented both brothers Anil and Mukesh Ambani, who had decided to part ways with Reliance. Salve has been close to brothers and successors of the Reliance Group, Mukesh and Anil Ambani. He had once represented Mukesh against Anil in the famous "Krishna-Godavari Gas Dispute Case". He had represented the Future Group-Reliance duo in the

Amazon-Future-Reliance 'Retail War' dispute.
Salve has advocated a number of cases on behalf of Mukesh Ambani and his companies. His close proximity to Ambani doesn't go unnoticed.
He has also defended Anil Ambani against SBI in the Supreme Court, wherein SBI demanded that he pay Rs 1,200 crore on basis of a personal guarantee that he had given.

In October 2020, Salve married London-based Caroline Brossard in an extremely private ceremony in the UK attended by 15 people. Mukesh Ambani raised a toast virtually from Mumbai for the couple and congratulated them on their vows.
The Supreme Court has formed a committee to ensure fast and efficient connectivity for virtual court proceedings throughout the country. Salve offered Jio's Fibre connectivity stating that it is faster and efficient than other options available.
Harish Salve is definitely one of India's most prominent lawyers. He is the go-to man for almost every big corporate for any sort of litigation or arbitration case. Salve has worked on the humanitarian front as well, when he had represented alleged Indian Spy Kulbhushan Jadhav at the ICJ or when he represented Shah Bano in the 2002 Gujarat Riots case.
A good lawyer is like fine wine, gets better with age. With the spectrum of experiences, be it litigation, civil, criminal, or extra-judiciary, Salve has excelled all in every sphere. His social circles involve not only industrialists but also judges of the top courts. It is difficult to know whether it is his skills and arguments that make him win almost every case he takes up or is it his contacts up in the bureaucracy and judiciary. For now, that remains a secret.
Post your comment
No comments to display