Which Stocks can Benefit from the Stimulus Package?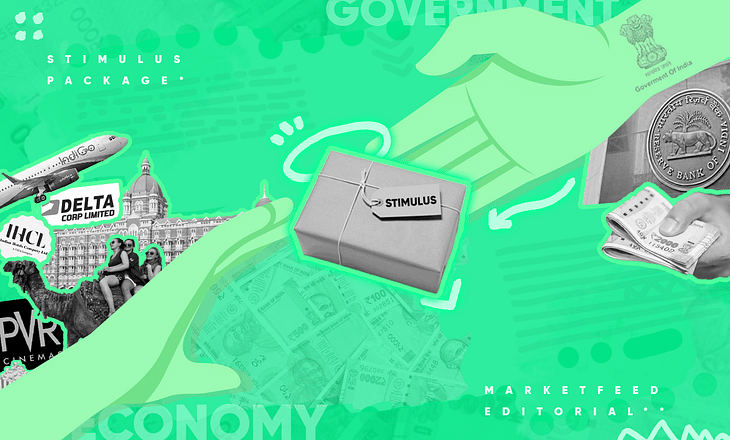 Rumours in the market suggest that the Indian central government is preparing a stimulus package for the sectors that have been seriously hit by the second wave of coronavirus. India has been one of the most severely hit countries in the world with this virus. As 2020 concluded, things started to look under control. However, it proved to be the silence before the storm that hit all of us in the previous one or two months.
To curb the exponential rise of cases, states started introducing night curfews which eventually turned into lockdowns. Many states are still under a serious lockdown but it seems like these restrictions might get eased just a tad bit in the coming weeks. This might be a piece of positive news for many companies that have been battered by the second wave.
A few days back it was announced that the Reserve Bank of India has approved Rs 99,122 crore to the government as dividends. This is a huge amount, and almost Rs 40,000 crore more than what was expected earlier.
According to Bloomberg Quint, "The finance ministry is working on proposals to bolster the tourism, aviation and hospitality industries". This sounds like a great update as these sectors have been the few of the worst affected due to Covid-19. Many investors and famous economists were urging the government to help these sectors and it looks like they have finally heard a few voices. Though, the same report also says that a timeline for this stimulus package is yet not released.
Let's keep an eye on the few stocks which can benefit if at all this stimulus package is floored.
Indian Hotels
Indian Hotels Company owns and manages hotels, palaces and resorts. The company has a huge legacy behind it as it was incorporated in 1899. It is the hospitality arm of the renowned Tata Group. It owns several iconic hotels brands like TAJ, Vivanta, Expressions, TajSATS and others. Currently, the Indian Hotels Company has 22 subsidiaries, 6 associates and 8 Joint ventures. It is spread across 10 countries and is present in 93 different locations in India.
Fundamentals
India Hotels declared a total revenue of Rs 615.02 crore and a net loss of Rs 97.72 crore for Q4 FY21. This is way poor when compared to the fourth quarter of the previous year. In Q4 FY20, revenue and profits stood at Rs 1,062.98 crore and Rs 76.29 crore respectively. But even amidst the pandemic, the company announced to pay a dividend of Rs 0.40 per share.
Financials on a yearly basis are obviously not too motivational but quarterly results for this fiscal year do give the sign of encouragement. In Q1 FY20 (March 20 to June 20), the India Hotels had a revenue of Rs 261 crore which rose to levels of Rs 615.02 crore in Q4 as mentioned above. However, the company has faced losses in all four quarters. Yet, going by their long enriching history, one cannot raise doubts about their survival.
PVR
PVR Limited is India's largest movie exhibition company in India. They operate 845 screens in 71 cities in India and Sri Lanka. PVR collects 52% of revenues from the sale of movie tickets, 28% from the sale of food & beverages, 11% from advertisement income and the remaining from Convenience fees and distribution business. Currently, PVR boasts a market share of 64.33%.
Due to lockdowns or curfews in almost every major city of the country, PVR houses were forced to shut completely. Due to increasing fear of the virus, people also got more apprehensive of going to theatres to watch movies.
Fundamentals
The movie exhibition company is yet to report its Q4 number for this fiscal year. The quarter from January to March was the period which saw a good number of people visiting theatres. Thus, we might expect a good sales number from the company in Q4 FY21. It won't be fair to compare their numbers from previous years.
However, we can talk about the recovery trajectory they are on since the last three quarters. In Q1 FY21 (March-June 20) recorded revenues of Rs 55.35 crore. This surged by more than 5X times to Rs 320.13 crore in Q3 FY21 (September-December 20). Last financial year in this quarter, the total revenues were Rs 661.78 crore. This shows they are still way behind to their "normal" levels. The second wave has again halted their operations for two to three months and this again put a huge dent on their revenues. In all of their previous four quarter numbers, the company has reported losses. This tells that they are in a serious need of a stimulus package from the central government.
Delta Corp
One of my favourite stocks on the Indian stock exchange is Delta Corp which is the largest casino operator in India. It does not have any significant listed competitor and this makes Delta Corp a hot property for retail investors like you and me. They have a strong market share of more than 50% in their business.
Delta Corp holds three of the six offshore gaming licenses issued in Goa, one land-based casino in Goa and one in Sikkim. In the form of Deltin Royale, they have India's largest live offshore gaming vessel. They are not only in the casino business but also in the hospitality sector as they own two hotels and a Villa in Goa and one hotel in Daman. With their hotels and casinos, they aim to provide a holistic experience to the customers.
Fundamentals
Delta Corp reported their numbers for the financial year 2021 a few days back. In FY21, the company declared revenue of Rs 454.91 crore which is 43% lower than Rs 807.45 crore reported in FY20. Also, this year proved to be only the second time in the last decade when the company recorded losses in their financial books.
Last year, they had a profit of Rs 185.63 crore whereas they reported a loss worth Rs 24.10 crore this year. January to March 2021 was the time when people were making trips to Goa after facing the lockdown for months. Even a few of your friends or relatives would have visited Goa during this period.
It was a good quarter for Delta Corp as they accumulated Rs 221.91 crore in revenues and also declared profits for the first time in FY21. In Q4 FY21, they amassed a net income of Rs 57 crore which helped them to make their numbers look better after a tough year. If the hospitality and entertainment industry gets a boost from the Indian government, we might see investors showering their love on Delta Corp.
IndiGo
The coronavirus pushed the aviation industry into one of its worst periods. Talking about the Indian aviation industry, IndiGo stands as a tall leader in this sector. It is India's largest passenger airline with a market share of around 71%. The airline service in 91 locations; 67 domestic destinations and 24 international destinations.
They have 280 aircraft in their fleet, including 120 new generation A320 NEOs. The three main reasons behind their success and dominance in the aviation domain are offering low fares, being on time and delivering a hassle-free experience
Fundamentals
As said before, IndiGo has been a dominant force in the Indian aviation industry and this is what their financials speak. Over the last five years, Indigo's revenue has grown at a yearly rate of 21.1% whereas the revenue of the industry as a whole has increased by merely 5%. On a quarterly basis this fiscal year, Indigo has tried to mop up the mess laid down by travel restrictions. In Q1 FY21, they recorded a huge loss of Rs 2,844.29 crore. This decreased to a loss of Rs 620.14 crore by Q3 FY21.
The restrictions have eased up but the cost incurred to make the flights safe for travel has increased their expenses. This additional cost will remain on the company's financial books for many more months. But on the positive side, many people believe that air travel is the safest mode to travel from one place to another.
The social distancing norms are tough to follow when a person travels via a bus or a train. Whereas the airlines make sure that the norms are strictly followed. Due to this reason, the confidence of people in these airlines has increased. A financial boost from the government can help them to ease some pressure off their heads.
Conclusion
The stimulus package can give a new lease of life to these struggling sectors. We have mentioned these four stocks particularly because of their supreme presence in their industries. There are other stocks as well on which you can keep an eye on like EIH Limited, Lemon tree hotels, Spicejet, INOX which can benefit from the rumoured package.
Just be wary that these stocks are already seeing some buying in the past few days. So do take chart technicals into account when you are trading in these stocks.
There are also talks about the possible third wave which can hit India. That means the long-term future of these companies is still in the air. What is your opinion on the stimulus package which is in rumours? Do you think that the government should help these companies out? Do let us know in the comments section of the Marketfeed application below.
Post your comment
No comments to display