New WhatsApp Privacy Policy - All You Need to Know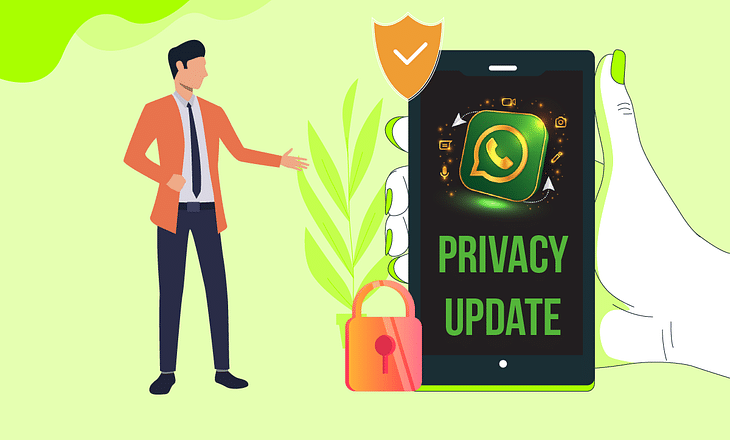 All of us would have received a pop-up notification from WhatsApp, which states that its terms and privacy policy have been updated. Users have until February 8 to accept these new terms. In most cases, we do not go through the clauses mentioned in these policies and simply click 'Agree'. However, the new update has caused a lot of concern over the type of data that is shared with WhatsApp's parent company, Facebook. There have been numerous discussions regarding the motive behind this change, and people have already started using alternate messaging apps.
Let us understand the specific conditions mentioned in the updated privacy policy and why it has caused such an uproar. Let us also learn why alternatives such as Telegram and Signal are a safe bet.
WhatsApp's New Privacy Policy
The updated policy states that WhatsApp may share user information with its family of companies to "facilitate, support and integrate their activities and improve our services." This means that the app would automatically collect your basic information and share it with Facebook.
WhatsApp will collect and share details regarding user activity, how often you use the app, specific features that are used, and even your profile photo and status. Since WhatsApp has its own payment system, it would also share information regarding all transaction data. It may also collect data from any interactions you make with a business account.
The app will also collect information about the type of device that you use, your mobile network, IP address, and battery usage. It may also use precise location information from your device.
All this information would be used by Facebook and its products to make suggestions, personalise features & content, and "help" its users complete purchases. The policy update also states that data-sharing with Facebook will help to ensure better security and fight spam.
The data collected from WhatsApp would ultimately be used to show offers and advertisements across Facebook Company Products. This includes Messenger, Instagram, Oculus Products, Facebook Shops, and many more.
The important fact to be noted is that WhatsApp had already been sharing certain types of data with Facebook. However, these policies were not very transparent until now. While WhatsApp users in the European Union can opt-out of data-sharing with Facebook, the rest of the world does not have the same choice. Users have until February 8 to accept these changes. In case you are not comfortable with WhatsApp's new user-data policy and do not accept it, the app will become inaccessible.
Should You Be Concerned?
Nearly two billion people use WhatsApp daily to send information in the form of text, voice notes, images, videos, and documents. With the updated privacy policy, many people feel that the app will become more risky or unsafe. They are worried that personal messages that are sent to friends, family, or colleagues could now be accessed by WhatsApp. The information collected from the interaction between a user and a WhatsApp business account would also be shared with that particular business firm. Facebook would also have access to such data. Thus, we will have to be extra careful while sending content to such accounts.
Moreover, data that WhatsApp collects and shares will now be governed by the privacy policy of Facebook. As we know, the tech giant does not have a good track record when it comes to securing data from billions of people across the globe. There have also been multiple instances where WhatsApp private chat groups have been exposed on Google Search. This means that anyone can have access to basic details such as your mobile number.
WhatsApp Issues Clarification
On January 12, WhatsApp updated their FAQ page to bring more clarity on its new privacy policy. They also initiated a widespread ad campaign for the same. It stated that all messages will remain end-to-end encrypted. WhatsApp will not keep logs of user communications. Also, Facebook and other third-party apps will not have any access to private messages or calls.
On the location sharing part, WhatsApp pointed out that it could not view the shared location of users, and neither could Facebook. The location cannot be seen by anyone except the people with whom it is shared. In terms of data sharing, the Facebook-owned platform said that the update primarily focused on 'business messaging' on WhatsApp. The statement assured that WhatsApp will not share your contacts with Facebook or any other third-party apps.
What are the Alternatives?
Despite the reassurance from the company, many people have become sceptical about using WhatsApp. We feel insecure about using the app, as there seem to be a lot of additional or underlying clauses attached to each policy. Recently, we saw that Elon Musk sent a tweet that sent shockwaves across the world. He promoted the use of Signal as a better alternative to WhatsApp.
Fun Fact: The shares of a company named Signal Advance, which has no connection with the Signal Messenger App, has surged by 11,708% since the tweet was sent by the Tesla CEO!
Signal is an encrypted app that lets you send messages and make calls. The platform's unique selling proposition (USP) is its focus on privacy. The app was established by The Signal Foundation, which is a US-based non-profit organization. Signal is open source and its code is peer-reviewed. This means that its privacy and security are regularly checked by independent experts. The app supports group chats and group video calls as well. Signal is a much more private alternative, where the parent company's business interests do not clash with your privacy. The company has assured its users that all content would be private and secure. We are now witnessing a huge surge in the number of downloads of the Signal app.
Telegram could also be a better alternative. By default, Telegram chats are not end-to-end encrypted. It lets users choose whether they want their chats to be backed up on the cloud. The app also has features like multi-device support. It has currently surpassed the 50-crore subscriber mark.
| | | | |
| --- | --- | --- | --- |
| . | WhatsApp | Signal | Telegram |
| End-to-End Encryption (E2E) | Yes (Backups are not encrypted) | Yes | Only for secret chats, all calls |
| Disappearing Messages | Yes | Yes | Yes |
| Chat Backups | Yes, Google Drive or iCloud | No, stored locally on the device | Yes, on Telegram's cloud |
| Screen Lock | Yes | Yes | Yes |
| Advertisements | No | No | Not currently, but plans to add soon |
| Group Chat Security | Yes, E2E | Yes, ETE | No |
| Video and Voice Calls | Yes | Yes | Yes |
Source: Indian Express
Conclusion
Despite the 'scary' update on WhatsApp's privacy policy, many people would still be using the platform. Ever since the app's launch in 2009, consumer sentiment has always remained strong. Many of us would find it difficult to move to another messaging platform. However, this whole situation has become a wake-up call for all of us. We tend to blindly accept all terms without even glancing at a company's policies. To avoid risks in the online world, we need to thoroughly go through the terms and conditions of each app that we use. An interesting factor to be noted is that WhatsApp has become more transparent with its updated policy. They have clearly stated what it intends to do with the collected information and with whom it will be shared.
Now, it is our responsibility to decide whether to accept these terms or not. There should be a clear understanding of how these changes would affect our lives. If we accept it, we would have to take extra precautions while sending sensitive information. Even if you plan to move to another messaging platform, it is always advisable to carefully go through its privacy policy. Will we see a further decline in the number of WhatsApp users? Let us know what you think in the comments!
Post your comment
No comments to display