What's Happening at Yes Bank?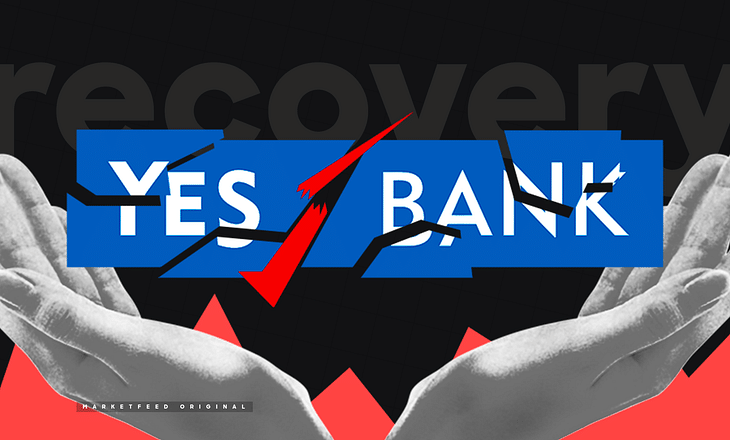 Scandal-ridden Yes Bank has been all over the news lately. It has initiated the process to form a new Board of Directors. The private sector bank seeks to exit from the reconstruction scheme devised for its rescue in 2020. It has reported a positive momentum in overall business and even claimed to regain the trust of customers, employees, and investors.
In this article, we dive into the factors behind Yes Bank's downfall and discuss recent developments surrounding the lender.
The Downfall of Yes Bank
Yes Bank secured its banking licence and began operations in 2004. It held great promise. Over the next decade, the bank's loan book grew quickly, customer satisfaction was high, and its share price was surging. However, many began to question its management style under promoter Rana Kapoor.
The bank often handed out loans to various companies that were not able to get credit elsewhere. They gave credit to Cafe Coffee Day, CG Power, Jet Airways, DHFL, Anil Ambani Group firms, and IL&FS. This strategy allowed Yes Bank to expand operations, but it was too risky. Unfortunately, all companies mentioned above collapsed and caused tremendous stress in India's financial sector over the past few years.
Thus began the downfall of Yes Bank. The Reserve Bank of India (RBI) repeatedly called out the lender for under-reporting its non-performing assets (or bad loans). In 2018, the central bank refused to offer Rana Kapoor a new term as CEO due to "highly irregular credit management practices, serious deficiencies in governance, and a poor compliance culture." Yes Bank's share price crashed during this period.
What Happened Next?
In March 2019, Ravneet Gill took charge as the MD and CEO of Yes Bank. The RBI appointed a member to its board. They attempted to raise fresh capital from new investors. To their dismay, the bank was unable to raise funds as it had lost all credibility. Whenever Yes Bank tried to raise capital by selling shares, many found discrepancies/errors in its balance sheet.
The Securities & Exchange Board of India (SEBI) even initiated a probe against the bank over insider trading violations around the same period! More importantly, its bad loans had surged to ~Rs 40,000 crore as of March 2020! The bank's shares, which were trading at ~Rs 390 in August 2018, crashed to around Rs 25 in March 2020.
RBI's Intervention
The RBI finally had to step in before the bank went into a total collapse. In March 2020, it laid down a draft reconstruction plan for Yes Bank. The central bank imposed a moratorium on the troubled lender and capped withdrawals at Rs 50,000 per person. It also stated that the State Bank of India (SBI) will invest capital to acquire a 49% stake in the restructured bank. RBI's plan proposed that depositors' funds will be protected and all employees would keep their jobs for at least a year.
Apart from fixing the share price to Rs 10, the RBI also declared that the bank's 81 additional tier-1 capital bonds (which offer a higher rate of interest) will have no value. Moreover, the bank's board now included four government-appointed directors, two SBI nominees, and two RBI nominees.
Finally, it took eight financial institutions (led by SBI) and Rs 10,000 crores of combined capital infusion to rescue Yes Bank! ​​
Recovery Mode!
Last week, Yes Bank kicked off the process of forming an alternate board. It has come out of the reconstruction scheme after returning to profit in FY22 from witnessing deep losses for two consecutive years. The bank's deposit book nearly doubled from Rs 1.05 lakh crore to Rs 1.97 lakh crore as of March 2022. Asset quality has improved slightly. It also maintained leadership in digital payments with the highest market share in the Unified Payments Interface (UPI). One of every third digital transaction is now processed by Yes Bank's infrastructure!
"Since the implementation of the reconstruction scheme, the bank undertook multiple transformational initiatives that helped in resurrecting and rebuilding its foundation. It now remains on course to achieve its growth and profitability objective." - Yes Bank in a regulatory filing.
Will Yes Bank get back to its glory days? Let us know your views in the comments section of the marketfeed app.
Post your comment
No comments to display