What Will be the Impact of Export Duty on Steel?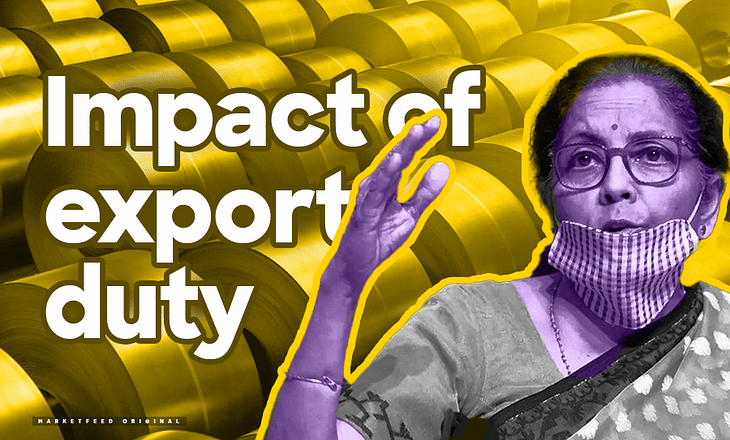 The Indian steel industry received a "major shock" last month! The Central government introduced a 15% export duty on steel intermediaries and products, effective May 22. For the uninitiated, export duty is a tax payable on goods leaving a country. Moreover, the government also slashed import duty on certain raw materials used in the steel-making process.
In this article, we discuss the impact of this move on steel companies and other stakeholders.
Why is the Govt Levying Export Duty?
An export duty of 15% (from nil earlier) has been levied on steel products and intermediaries to improve the availability of steel in the domestic market. It will protect domestic manufacturers of steel. The duty has been imposed on flat-rolled products, bars & rods, and various flat-rolled products of stainless steel.
Meanwhile, the government has waived customs duty on the import of some raw materials used by the steel industry, such as coking coal and ferronickel. This move will lower costs for the domestic steel industry and reduce prices, thus helping curb inflation.
The Impact
After the Central govt issued the notification on May 23, we saw major steel stocks fall heavily! The shares of Tata Steel, Steel Authority of India (SAIL), and JSW Steel hit 52-week lows. The NIFTY Metal Index crashed 16% in May alone, the sharpest decline since March 2020. Steel stocks were already under pressure due to low demand and weak international prices. Moreover, rising inflation, geopolitical tensions (Russia-Ukraine war), and high crude oil prices have impacted the Indian economy.
The 15% export duty is likely to reduce margins on steel exports. Foreign clients will turn to manufacturers in their country to maintain costs.
Export margins were attractive/profitable for Indian steel companies last year due to lower exports from China (due to their de-carbonisation drive) and higher energy prices in Europe. Thus, the recent step to levy export duty on certain steel products will enable sales volumes to shift to domestic markets.
The imposition of export duty has accelerated a fall in benchmark steel prices. Higher production/supply volumes and low demand in our country have caused prices to drop. Domestic hot-rolled coil and cold-rolled steel have declined by Rs 5,500 and Rs 6,300 a tonne, respectively, over the past two weeks.
This development comes at a time when the Indian steel industry is approaching a seasonally weak quarter (due to Monsoon). Domestic demand is usually subdued in Q2. Long story short, prominent steel manufacturers will face a tough time handling revenue margins in the coming months. It could also put pressure on the returns from capital expenditure (capex). While most steel stocks are near their 52-week lows, do keep a close eye on them for good investing opportunities!
What are your views on the government's actions to support the steel/metal industry? Let us know in the comments sections of the marketfeed app.
Post your comment
No comments to display