What Led to the 40% Rally in ZEEL?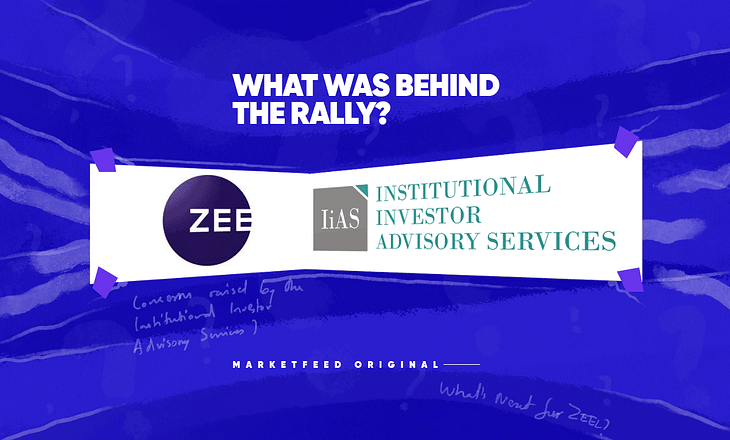 The shares of India's largest media house, Zee Entertainment Enterprises Ltd (ZEEL), surged 40% to hit Rs 261.55 on Tuesday. It was a stellar intraday rally. The shares of its group companies such as Zee Media (+5%) and Zee Learn (+20%) were also locked in their respective upper circuit limits on Tuesday.
Unfortunately, ZEEL has found itself in the midst of a complicated boardroom battle. In this article, we shall analyse the events that transpired over the past few days.
Concerns Raised by IiAS
On September 10, proxy advisory firm Institutional Investor Advisory Services (IiAS) raised fresh concerns at ZEEL. They asked the media company's shareholders not to vote for the reappointment of two independent directors on its board— Manish Chokhani and Ashok Kurien. They were both members of the company's audit and remuneration committees. Chokhani and Kurien had resigned from their respective posts ahead of ZEEL's Annual General Meeting (AGM) on September 14.
In its report, IiAS pointed out that ZEEL's Nomination and Remuneration Committee (NRC) had approved a 46% increase in CEO Punit Goenka's pay for the financial year 2020-21, during a time when employees did not receive raises. Moreover, the CEO's revised pay was much higher than what shareholders had approved back in the AGM of 2020. The advisory firm also warned shareholders against the adoption of ZEEL's financial statements, citing serious corporate governance issues.
The problems did not stop there. Ashok Kurien is classified as one of ZEEL's promoters. However, IiAS alleged that the company had reclassified him as a non-promoter without mandatory regulatory filings or shareholder approval. Further, both Chokhani and Kurien failed to address and deal with crucial governance concerns that led to the resignation of several independent directors in the past.
Interestingly, IiAS had raised concerns over Goenka's pay revision last year as well. It had asked shareholders to vote against the CEO's reappointment at ZEEL's 2020 AGM, citing weak oversight and control, loan & investment write-offs, sketchy related party transactions, and pay revision. Thus, a lot of red flags have been raised with respect to the company's Board of Directors and management.
What's Next for ZEEL?
Invesco Developing Markets Fund and OFI Global China Fund, which together hold a 17.88% stake in ZEEL, have now called for an Extraordinary General Meeting (EGM) of shareholders to pass important resolutions. This includes the removal of CEO Punit Goenka and the appointment of six new independent directors. As per reports, the Board of Directors of Zee Entertainment Enterprises may call an EGM within three weeks. If the board fails to call for a meeting, investors or shareholders may call an EGM themselves within three months.
Possible Future Scenarios
Market analysts have narrowed down three possible scenarios:
There could be a change in ZEEL's board, followed by a change in management. This scenario assumes the appointment of a new Chief Executive Officer (CEO) by a new board. There is also a possibility that the new board would receive interest from strategic investors to acquire a majority stake and management control in ZEEL.
There could be a change in the media company's board, but with continuity in its management. Punit Goenka would continue as the MD and CEO. However, they would seek better cash generation and tighter control on capital allocation.
There would be continuity of management with a new set of investors. This case assumes that existing shareholders would exit ZEEL, and a new set of investors will emerge by backing Punit Goenka as MD & CEO.
Conclusion
ZEEL is one of India's largest media and entertainment companies, with nearly 46 channels broadcasting in 11 languages. As per reports, the change in management is unlikely to affect the company's brand and market position. Moreover, the appointment of a new professional board and leadership team can be considered a positive move. This may have been a trigger for the stock's breakout/rally on Tuesday.
Over the past few years, ZEEL has reinvented itself by reducing its debt and improving financial performance. The company's OTT platform, ZEE5, is the largest domestic non-sports platform with ~8 crore monthly average users. While ZEEL has started seeing an improvement in its business prospects, the move by major shareholders was backed by a narrative that highlights corporate governance issues. These issues have time and again damaged the company's reputation.
The staggering 40% rally of ZEEL's shares was fuelled by bulk deals from ace investor Rakesh Jhujhunwala's Rare Enterprises and BofA Securities Europe SA. On Sept 14, Rare Enterprises bought 50 lakh shares (0.52% stake) of ZEEL at Rs 220.44 per share through bulk deal transactions on NSE. Meanwhile, BofA Securities purchased 48.65 lakh shares (0.51% stake) at an average price of Rs 236.2 per share.
If you wish to learn more about ZEEL, you can read our in-depth company analysis published in June. What are your views on the entire ZEEL saga? Are you invested in the company? Let us know in the comments section of the marketfeed app.
Post your comment
No comments to display