What Led to the 23% Fall in RBL Bank?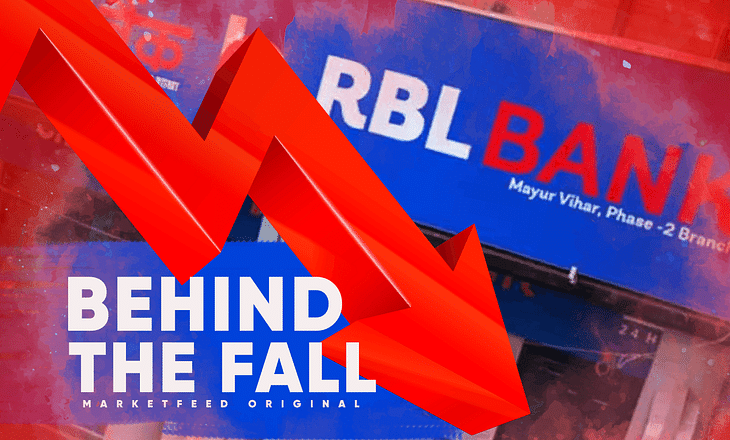 Investors of RBL Bank faced a tough day in the markets on Monday as shares fell up to 23% intraday. Shareholders were left confused by a series of developments that took place over the weekend. In this article, we dive into the events that transpired and what lies ahead for the bank.
The Story
During the weekend, RBL Bank's Vishwavir Ahuja stepped down as Managing Director (MD) and Chief Executive Officer (CEO). The bank appointed Rajeev Ahuja (currently the Executive Director) as interim MD and CEO with immediate effect.
The Reserve Bank of India (RBI) appointed its Chief General Manager Yogesh K Dayal as an Additional Director of RBL Bank on Saturday.
Vishwavir Ahuja had been with RBL Bank since 2010. He had played a crucial role in transforming it into a well-known private sector lender. However, there was no satisfactory explanation for his immediate leave. Although personal reasons were cited, there is speculation whether both RBL Bank and Ahuja were expecting a continuation of his tenure, but the RBI did not give its approval.
Earlier this year, RBL Bank had sought approval from India's central bank to appoint Vishwavir Ahuja for another three-year term as CEO. However, the RBI allowed the lender to extend his term by just one year. His tenure was not renewed beyond one-year, even though Ahuja was eligible for re-appointment at least until 2025 as per RBI rules.
The Central Bank's Intervention:
The RBI appoints additional directors in private banks when it feels that the board needs closer support in regulatory or supervisory matters. Section 36AB of the Banking Regulation Act, 1949 states that the RBI can appoint people to hold office as additional directors of a bank if it is in the interest of a banking policy or the public interest.
In a statement, RBI clarified that RBL Bank is "well capitalised and the financial position of the bank remains satisfactory." As per half-yearly audited results as of September 30, 2021, the bank has maintained a comfortable Capital Adequacy Ratio (CAR) of 16.33% and Provision Coverage Ratio of 76.6%. The Liquidity Coverage Ratio (LCR) stands at 153% as of December 24, 2021, against the regulatory requirement of 100%.
For clarity, CAR is the ratio of a bank's capital to its risk. It is used to ensure whether a bank can absorb a reasonable amount of loss and complies with statutory capital requirements. Banks are required to maintain a CAR of 9-12% in India. PCR is the percentage of funds that a bank sets aside for losses due to bad debts. Typically, a PCR ratio of 70%+ is considered healthy for banks. Meanwhile, LCR refers to the proportion of highly liquid assets held by financial institutions to ensure their ongoing ability to meet short-term obligations.
Since the bank's capital and financial position are satisfied, there is confusion as to why RBI invoked Section 36AB in public interest. The move is perceived as negative by market participants and stakeholders as it points out issues that could affect the depositors' safety and RBL Bank's solvency (or the ability to meet its long-term fixed expenses and accomplish long-term expansion and growth).
The Way Ahead
Vishwavir Ahuja's abrupt resignation and RBI's decisions ultimately pushed RBL Bank's share price to a 52-month low. The stock fell sharply by 18.48% to Rs 140.95 at the end of the trading session yesterday. According to analysts, the fall indicates that the stock market is not convinced about the actions taken by the bank and RBI. Bank unions have also expressed concerns, urging the Finance Ministry to intervene in the uncertainties surrounding RBL Bank. Industry experts have sought clarity on what happened at the bank. The management's commentary on Sunday has left several questions unanswered.
On Christmas day, RBL Bank's management assured that the bank's financial position remained strong. Interim CEO Rajeev Ahuja stated that the bank is holding a cash surplus of Rs 15,000 crore. He further added that asset quality has improved over the previous quarters and looks stable. The bank is in the process of rebalancing its loan book and cutting down the risky unsecured lending book. RBL Bank will also post better profits for the quarter ended December (Q3 FY22) compared to the previous quarters. Do keep a close watch on the lender's result announcements and other regulatory filings.
Amidst the chaos, there were rumours that ace investor Rakesh Jhunjhunwala and RK Damani would acquire a stake in RBL Bank. However, the bank quickly denied all reports. What are your thoughts on RBL Bank and the recent developments? Let us know in the comments section of the marketfeed app.
Post your comment
No comments to display