What is Mukesh Ambani's Succession Plan for Reliance?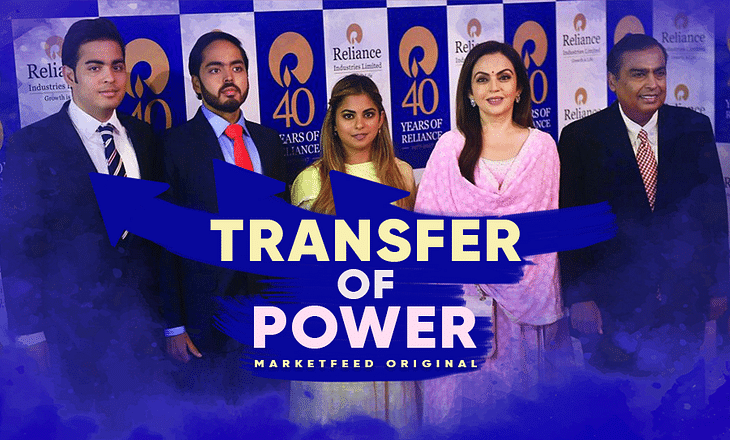 Mukesh Ambani has played a pivotal role in Reliance Industries Ltd's (RIL) multi-fold and aspirational growth into India's largest conglomerate. His company has established a dominant presence in key sectors, making it a vital entity for the development of our country. In recent years, their fortune and influence have flourished to new heights. The business empire is currently worth a whopping $215 billion! The Reliance brand has become part of our day-to-day lives.
Last week, Ambani mentioned plans to speed up the leadership transition at the oil-to-telecom conglomerate. Investors and media houses have been speculating on the matter for years. He wants to ensure a seamless transition of RIL to the next generation of young leaders— his children. In this article, find out why succession planning is crucial for Reliance Industries and how Ambani aims to go about it.
Why is Succession Planning Important for RIL?
Succession planning is always tricky in a large family-run business. In 2002, visionary entrepreneur and founder of RIL Dhirubhai Ambani passed away due to a stroke. Since he did not leave a will, a nasty feud broke out between his children— Mukesh Ambani and Anil Ambani. RIL was worth around Rs 28,000 crore at the time. There was confusion regarding the business segments each sibling would run.
Their mother, Kokilaben Ambani, intervened and brokered a split in 2005. The oil refining and petrochemicals business was left to Mukesh, while the finance, infrastructure, power, and telecom ventures were handed over to Anil. What followed after this split is well-known to most of us.
The Downfall of Anil Ambani:
In 2008, Anil Ambani was the sixth richest person in the world with a net worth of $42 billion. However, all his businesses are now drowning in debt as a result of poorly executed strategies. Reliance Communications (RCom) suffered due to heavy competition and technological advancements in the telecom industry. Reliance Infra, Reliance Capital, and Reliance Power did not perform as expected.
These entities defaulted on loans worth tens of thousands of crores and continue to face legal battles. In 2020, a filing at a London court revealed that Anil Ambani has pleaded poverty and claimed that his net worth is "zero". His brother even stepped in to settle an overdue payment and saved him from a jail term. He lacked the constant innovation and investment needed to drive the businesses forward. These events had a severe impact on the Reliance brand.
Mukesh Ambani's Business Empire:
With a forward-looking mindset, Mukesh Ambani has led RIL to the most profitable company in India. With a market cap of Rs 1,601 lakh crore, it is the largest company in India. RIL has evolved into an integrated player across energy, materials, retail, telecom, entertainment, and digital services. Their products and services are used by all Indians, across economic and social spectrums. As of June 2021, RIL's contribution to India's gross domestic product (GDP) remains unmatched at 6.8%!
Based on the lessons he learnt from the rivalry with his brother, Mukesh Ambani now wants to ensure a smooth transition of power. A feud or fallout in his family would be catastrophic not only for the growth of RIL but for the economy at large.
Decoding Mukesh Ambani's Succession Plan
At his Family Day speech on December 28, Mukesh Ambani said he aims to avoid his father's mistake of not making clear provisions for the transfer of power. He also indicated that the leadership transition to the next generation will begin shortly. The Reliance NextGen will consist of his three children— Akash Ambani, Isha Ambani, and Anant Ambani. Mukesh Ambani has immense faith that they will take Reliance Industries to greater heights.
A short excerpt from Mukesh Ambani's speech:
"From seniors belonging to my generation to the next generation of young leaders, I would like this process to be accelerated. All seniors— myself included— should now yield to the highly competent, extremely committed, and incredibly promising young leadership talent at Reliance. We should guide them, enable them, encourage them and empower them… and sit back and applaud as they perform better than us. Let me summarise it this way. At Reliance we must build an organisational culture that outlasts its leaders."
As per speculative reports, the shares of RIL's holding company will be put into a trust. The five family members (Mukesh, wife Nita Ambani, and their three children) will own shares in this trust. Various long-term confidants and executives may also hold positions on the trust's board. While the entrepreneurial drive remains with the family members, the day-to-day operations will be run by highly skilled professionals.
The next generation of leaders will be expected to introduce innovative ideas and execute them efficiently in order to maintain RIL's rich legacy. The venture into digital technology and renewable energy sectors will be led by the three children. We will have to wait and see how they handle the pressures of running one of the world's largest business houses.
What are your views on RIL's succession plan? Let us know in the comments section of the marketfeed app.
Post your comment
No comments to display