What is Happening Between SEBI and Ruchi Soya?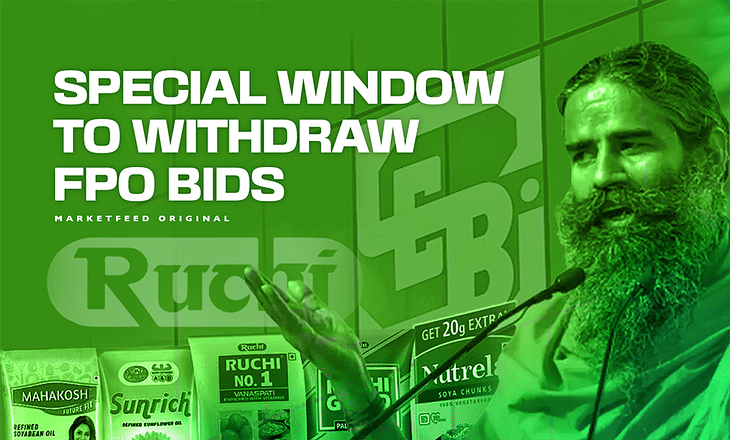 The share price of Ruchi Soya Industries Ltd has been highly volatile lately. The Patanjali-owned company's Follow on Public Offer (FPO) has come under the scanner of India's stock market regulator. In this article, we discuss the recent developments surrounding Ruchi Soya's FPO and why SEBI has taken strict action against the FMCG firm.
Ruchi Soya Industries - A Brief Profile
Ruchi Soya Industries Ltd (RSIL) is a fast-moving consumer goods (FMCG) company that has evolved as an integrated player in India's edible oil sector. It also produces and markets textured soya protein, honey, atta, biscuits, noodles, and wellness products. The company owns and operates numerous palm plantations across our country.
Over a decade ago, Ruchi Soya started facing massive hurdles due to high input costs and low margins. The company was competing with cheap imports, and its seed extraction business was failing. Moreover, they used to offer generous credit terms to customers, which they ultimately could not retrieve. RSIL faced an unfortunate debt crisis to the tune of Rs 9,000 crore!
In 2017, a consortium of banks dragged RSIL to the bankruptcy court. The lenders agreed to resolve the bankruptcy proceedings by selling Ruchi Soya to another FMCG firm. This is when Baba Ramdev's Patanjali Ayurved Group stepped in. They acquired a ~99% stake in RSIL and settled ~Rs 4,000 crore in dues.
The FPO
As per SEBI's current shareholding norms, Patanjali has to bring down its stake in Ruchi Soya to 75%. Earlier this month, Ruchi Soya announced the launch of a Follow on Public Offer (FPO) to raise Rs 4,300 crore and bring down Patanjali's (promoter) stake to 81%. The company fixed Rs 615-650 as the price band for the FPO. Through this offer, RSIL will introduce new shares to the public and dilute its current shareholding pattern.
The offer opened on March 24 and received an overall subscription of 3.59 times as of March 28. During this period, SEBI noticed that unsolicited SMSes were being circulated amongst Patanjali's customers:
The market regulator said the content of the SMS appeared to be misleading and fraudulent. It directed Patanjali and the lead managers of the FPO to issue a notice to all investors in the form of advertisements to caution them about the circulation of such messages. Ruchi Soya claimed the messages were not issued by them or by any of their directors, promoters, or group companies.
Special Window to Withdraw Bids
To highlight their non-tolerance policy on such affairs, SEBI instructed RSIL to offer investors a special window to cancel their bids in the FPO! A notice was sent to all applicants that submitted bids, informing them about a window till March 30 to withdraw their bids. As per reports, foreign portfolio investors (FPIs) have cancelled 97% of bids during the two-day withdrawal period. However, demand from high net-worth individuals (HNIs) and small retail investors saw only a minor pullback. Many would have come under pressure and felt subscribing to the FPO would now be a risky bet.
The overall subscription of the FPO declined from 3.6 times to 3.4 times on March 30. The finalisation of the basis for allocation of new shares will be declared on April 5. Will those who have been allotted new shares lose money? Or will the news surrounding RSIL and its FPO simply die down? Let us look forward to seeing how the situation unfolds in the days to come.
Have you invested in Ruchi Soya Industries or applied for its FPO? Let us know in the comments section of the marketfeed app.
Post your comment
No comments to display