What is e-RUPI: The Future Of Payments in India?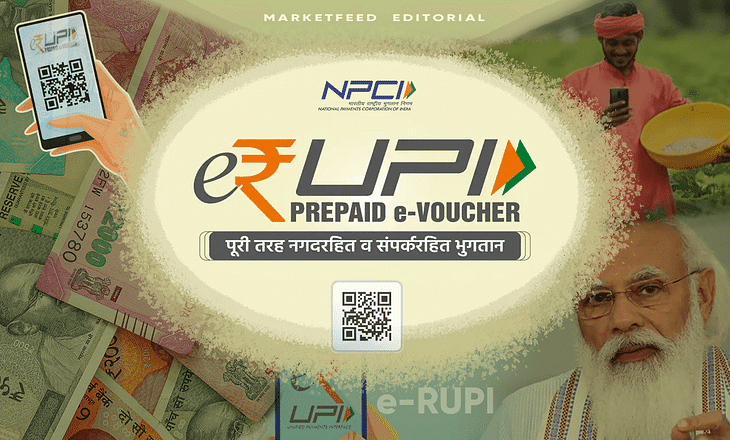 e-RUPI has been in the news for a while now. PM Narendra Modi officially announced the launch of e-RUPI on August 2, 2021. It is an initiative by the National Payments Corporation of India (NPCI) in association with the Department of Financial Services (DFS), National Health Authority (NHA), and the Ministry of Health and Family Welfare (MoHFW). NPCI is the very same organization that looks after UPI or Unified Payment Interface.
Let us dig deeper into e-RUPI and analyze its possible impacts on the way Indians pay for goods and services.
The Concept
The basis of e-RUPI is similar to that of gift vouchers or coupons that you redeem at restaurants, e-commerce websites, or fashion stores. e-RUPI is a one-time contactless payment mechanism where a person can redeem a payment voucher without a card, app, or internet banking access at the merchants accepting e-RUPI. The merchants can be hospitals, seed banks, hospitals, stores, retailers, wholesalers, etc. Customers would be able to redeem e-RUPI vouchers of a certain value to buy goods or avail of a service.
A question arises here: who would issue these e-RUPI vouchers? NPCI has tied up with 11 banks that would facilitate the transaction. These banks would issue the vouchers on behalf of the government, a company, or a person.
Case Study: How can E-RUPI Benefit Farmers?
Before E-RUPI
Farmers have been on the receiving end of a lot of government schemes and benefits. Indian farmers haven't been the most financially literate or technologically savvy. Let us take the example of fertilizer subsidies. Before the early 2010s, many farmers didn't even own a bank account. Before that, the only way to avail subsidies or benefits was to stand at a government office for hours, bribe a few officials, or buy cheap-quality subsidized fertilizer or seeds.
Things changed a little after the PM-Jan Dhan Yojna (PMJDY). The scheme aimed at facilitating financial inclusion, where anyone could open a savings bank account without any limits, conditions, or bottlenecks. Government agencies started directly transferring subsidy money into the bank accounts of farmers. This is called Direct Benefit Transfer (DBT).
The problem with the current DBT system was information asymmetry. There were administrative issues, glitches, privacy issues, fraud, etc. Moreover, not all farmers were able to open bank accounts. e-RUPI could change things completely for farmers.
After e-RUPI
Through e-RUPI, after registering for a particular subsidy, the farmer would get a text message that would contain a QR code or other encrypted details. The farmer can now go to the merchant and show the QR code to get the fertilizer at a subsidized price. On the other hand, the merchant would get the payment in full and there will not be any impact on their business. Thus, e-RUPI will benefit the farmer as well as the merchant.
Advantages of e-RUPI
There would be a two-step contactless transaction.
No app, card, or bank account is required to facilitate the transaction.
More payments can be facilitated since even those individuals without a bank account can transact using e-RUPI.
Safe and Secure - No personal details are shared throughout the transaction. Hence, privacy is maintained.
Application of e-RUPI
e-RUPI can be used to facilitate direct benefit transfers and subsidies, such as mother-child welfare schemes, electricity and water subsidy, healthcare subsidy, fertilizer subsidy, and many more
A private sector company can also avail of e-RUPI solutions for employee welfare and Corporate Social Responsibility (CSR) programs. Currently, there are more than 10 partnering banks (both public and private banks) that facilitate the use of e-RUPI.
Is it a new digital currency?
There has been some buzz in the market where people are calling e-RUPI a cryptocurrency. e-RUPI is NOT a cryptocurrency. Even its working principle does not come close to that of a cryptocurrency. While cryptocurrencies are decentralised, e-RUPI will be regulated by the Indian government and derives its value from the Indian Rupee.
Another misconception is of e-RPUI being a Central Bank Digital Currency (CBDC). This is not the case since e-RUPI isn't a currency at all. Not to forget that the RBI doesn't control the function or flow of e-RUPI.
Yet, the e-RUPI system is a big step in paving the way for alternate sources of payment like CBDC or cryptocurrency. Do you think this is a first step in the way for cryptocurrencies in India? Do you think that e-RUPI has some inherent flaws? You can let us know in the comment section of the marketfeed app.
Post your comment
No comments to display