What are Partly Paid Shares?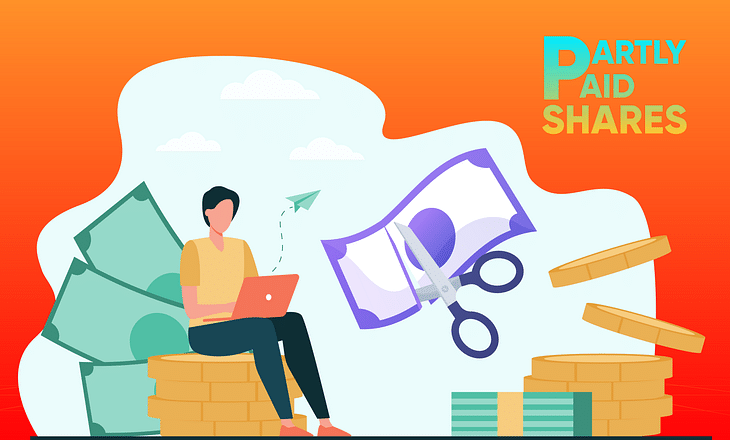 You may have come across various partly paid-up shares while trading in the stock markets. Reliance Industries Partly Paid (PP) shares, Tata Steel PP shares, Aditya Birla PP shares are some of the prominent examples. A partly paid share is a share in a particular company that has only been partially paid compared to the face value. This means that investors like you and I can buy these shares by not paying the full issue price. The balance amount to be paid for PP shares can be made through installments.
When a company that issued partly paid shares requires more funds, calls will be made to the shareholders (that hold PP shares) from time to time until the shares are fully paid. Thus, investors who hold partly paid shares have a liability to pay as and when the company calls for it. These 'calls' will be notified to each shareholder. The notice will contain details regarding the deadline and instructions on how to make the payment. Normally, cheques and demand drafts are the preferred payment options.
Recently, market regulator SEBI announced that an additional payment mechanism, such as Application Supported by Blocked Amount (ASBA), can be used for making payments of balance money for calls for partly paid shares.
If an investor fails to pay when a call is made by the company, their shares will be forfeited. This means that the allotted shares are canceled by the issuing company because of non-payment of installments.
The amount at which PP shares can be bought and important details regarding the schedule of calls can be found in the company's prospectus. A prospectus is a legal document that describes the equity or debt securities that have been issued by a company. It clearly states the purpose for which securities have been offered. Moreover, the prospectus contains general details regarding the company's operations. Calls can also be made at the discretion of the company's Board of Directors.
Such a practice was initially conducted by prominent financial institutions. Banks or insurance companies would issue partly paid shares to certain shareholders. Whenever these firms had to raise funds quickly, they would make a call to these shareholders. These investors were obligated to pay what was due for their shares.
Examples
Suppose the actual stock price of a company is Rs 100. An investor purchased it for Rs 65 per share. At a future date, the company that issued the share can call the shareholder to pay up the balance amount of Rs 35 (or make an installment). If they fail to pay, their shares will be forfeited.
Last month, the Board of Directors of Tata Steel approved the first and final call of Rs 461 per partly paid shares. The call was made on 7.76 crore outstanding partly paid-up equity shares (of face value Rs 10 each). The call of Rs 461 per partly paid share comprised Rs 7.49 towards face value and Rs 453.50 towards securities premium. (Share premium or securities premium is the difference between the issue price and the face value of the stock) The board had fixed February 19, 2021, as the Record Date to determine the holders of partly paid-up equity shares to whom the call notice will be dispatched for payment.
At the time of the call, Tata Steel PP was trading at Rs 239.25 per share.
Post your comment
No comments to display