What are New Umbrella Entities? Why are Tata to Reliance Interested in it?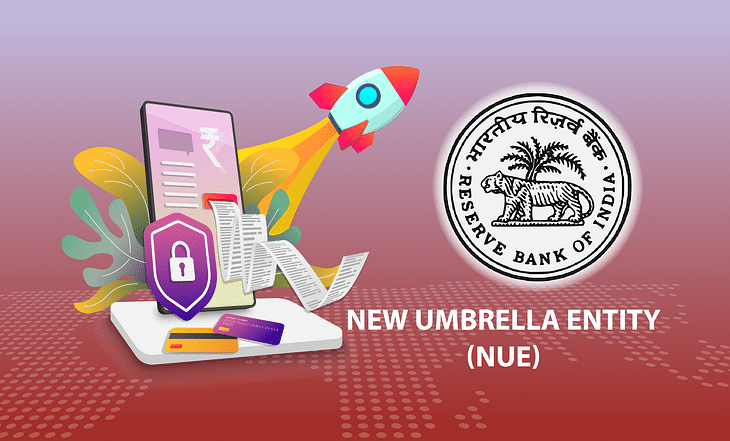 As India moves towards building an extensive digital society, there is a requirement for multiple players to be involved. The RBI has run many experiments in the digital payments space in India, including licensing exclusive payments banks and setting up white-label ATMs. They have now come up with a new concept— New Umbrella Entities, which is set to revolutionise the payments industry. A large number of companies have reportedly applied for New Umbrella Entity licenses for payment systems. Let us have an understanding of what NUEs are.
The Current Scenario
You may be familiar with payment or settlement systems such as the Unified Payments Interface (UPI), Aadhaar Enabled Payment System (AEPS), RuPay, FASTag, etc. These are all managed and operated by an umbrella entity known as the National Payments Corporation of India or NPCI. It is a non-profit entity that is promoted by the Reserve Bank of India (RBI). The NPCI is owned and managed by a consortium of major banks, including State Bank of India, Punjab National Bank, Canara Bank, ICICI Bank, HDFC Bank, and many more.
Recently, many prominent players in the payments space have indicated the various disadvantages or challenges faced by NPCI. It is now the only entity that manages all of the retail payment systems in our country. As more citizens are using online payment platforms, the volume of transactions conducted every day has risen exponentially. In February 2021, the NPCI admitted that they were facing structural and technical issues. According to reports, investors could not get mutual fund (MF) units they purchased on time due to a problem in the settlement system operated by the NPCI.
The RBI has now envisioned a plan to allow more private players to set up umbrella entities for payments systems. This would promote competition and lead to further development of the payments landscape and network in India.
What are New Umbrella Entities?
New Umbrella Entities (NUEs) will be a non-profit entity that will set-up, manage, and operate new payment systems such as ATMs and white-label Point-of-Sale (POS) systems. It also includes Aadhaar-based payments and remittance services. NUEs will develop the standards and technologies for these payment systems. They will operate clearing and settlement systems, identify and preserve the integrity of the system. These entities will also manage relevant risks such as settlement, credit, liquidity, and operational risks.
NUEs will monitor retail payment system developments and related issues in India and internationally. This is to avoid shocks, fraudulent activities, and cyber threats that may adversely affect the financial systems and our economy as a whole.
Framework Related to NUEs
As per RBI guidelines, only those entities that are owned and controlled by Indian citizens (residents) can become promoters of NUEs. They should have at least 3 years of experience in the payments ecosystem.
The umbrella entity should have a minimum paid-up capital of Rs 500 crore.
The shareholding pattern should be diversified. Any entity holding more than 25% of the paid-up capital of an NUE will be deemed as a promoter.
No single promoter or promoter group should have more than 40% investment in the capital of the NUE.
A minimum net worth of Rs 300 crore should be maintained at all times.
An NUE should conform to the norms or regulations of corporate governance. The RBI retains the right to approve the appointment of directors and members of the board of an NUE.
Foreign investment is allowed in NUEs as long as they comply with the existing government guidelines.
Recent Developments
The RBI had set a deadline of March 31, 2021, for firms to submit their applications for setting up New Umbrella Entities. As per reports, several Indian companies have tied up with major banks and tech companies to apply for NUEs. Reliance Industries, which has partnered with tech giants Facebook and Google, were planning to apply as a consortium. Other reports suggest that the Tata Group has partnered with HDFC Bank, Kotak Mahindra Bank, MasterCard, and Bharti Airtel. E-commerce platform Amazon.com, Inc. has tied up with Visa, ICICI Bank, Axis Bank, as well as fin-tech startups Bill Desk and PineLabs to obtain the NUE license. Also, Paytm and Ola have also reportedly joined hands to apply for the NUE.
The primary aim of players that are planning to establish NUEs is to obtain a bigger share in India's digital payments sector. According to RedSeer Consulting, the digital payments industry in India is expected to grow over three-fold to Rs 7,092 lakh crore by 2025. There is no doubt that more companies would want to obtain a piece of this highly promising market. Let us look forward to seeing which of these firms gets selected by RBI to launch NUEs, and how they disrupt or revolutionise the payments space.
Post your comment
No comments to display