What are Infrastructure Investment Trusts (InvITs)?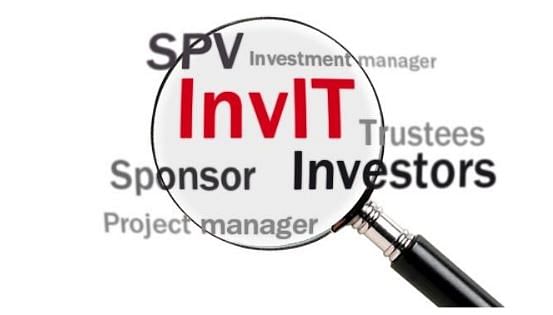 An Infrastructure Investment Trust (InvIT) is an investment scheme (similar to a mutual fund) that enables individual and institutional investors to directly invest funds in infrastructure projects. These investors, who collectively invest small amounts of money in income-generating assets, receive a small portion of the income in return. These 'assets' could include road projects, power transmission lines, gas pipelines and much more.
We know that infrastructure firms require a steady cash flow to complete their projects. In most cases, they borrow large amounts of money from financial institutions. Thus, companies monetise their income-generating assets (through InvITs) to repay their debt obligations quickly and effectively. The funds raised through InvITs are used to pay off interest on loans and other substantial expenses. The primary objective of InvITs is to promote the infrastructure sector of a country by encouraging more individuals to invest in it.
An InvIT is established as a trust and must be registered with the Securities and Exchange Board of India (SEBI). The SEBI (Infrastructure Investment Trusts) Regulations, 2014 provides specific details regarding the registration and regulation of InvITs. Once registered, InvITs can raise funds through public or private placement and issue units to investors. In return, investors obtain a share of the annual distribution of dividends and interests. The units of such trusts are listed on the stock exchanges as a combination of both equity and debt instruments.
The minimum amount required to invest in an InvIT IPO is Rs 10 lakh. Thus, large financial institutions or high net worth individuals (HNIs) find InvITs as a profitable investment opportunity. Small retail investors would struggle to apply for such IPOs.
Types of InvITs
The first type of InvIT allows investment in revenue-generating completed projects. Firms invite investors to invest in finished projects through an InvIT IPO.
The second type of InvIT allows investors to invest in projects that are both completed or under construction.
Structure of InvITs in India
Trustee - A trustee inspects the performance of an InvIT and is certified by market regulator SEBI. They are required to invest at least 80% into infrastructure assets that generate steady revenue.
Sponsor(s) - This refers to promoters, institutions, or companies— that have a net worth of at least Rs 100 crore— which establishes an InvIT. They must hold a minimum of 25% in the InvIT with a minimum lock-in period of 3 years or as notified by any regulatory requirement. When it comes to public-private partnership (PPP) projects, sponsors serve as a Special Purpose Vehicle (SPV). [An SPV is a subsidiary company that facilitate the parent company's financial arrangements, including leverage and speculative investments, without compromising the entire group]
Investment Manager - This refers to a limited liability partnership (LLP) or an organisation that manages investments and supervises all the operational activities surrounding the InvIT.
Project Manager - They are responsible for the execution and completion of infrastructure projects.
Prominent InvITs in India
As of February 2021, there are 13 Infrastructure Investment Trusts registered with SEBI. Let us take a look at some of the most prominent ones:
India Grid Trust
India Grid Trust (IndiGrid) is India's first listed power sector infrastructure investment trust. It is sponsored by American global investment firm KKR & Co. and Sterlite Power Grid Ventures Ltd (SPGVL). The InvIT owns 12 operating assets, spanning over 30 transmission lines, spread across 6,740 circuit kilometers. IndiGrid also owns 9 substations with 12,290 mega-volt ampere (MVA) transformation capacity across 15 states and one Union Territory, The entity's assets under management (AUM) are currently worth ~Rs 15,000 crore.
IRB InvIT Fund
IRB InvIT Fund is the first listed InvIT focused on toll-road assets in India. The sponsor of the trust is IRB Infrastructure Developers Ltd, one of the largest infrastructure development and construction companies in India. IRB InvIT Fund owns, operates, and maintains a portfolio of six toll-road assets in the states of Maharashtra, Gujarat, Rajasthan, Karnataka, and Tamil Nadu. These toll roads are operated and maintained through concession agreements granted by the NHAI.
National Highways Infra Trust
It has been reported that the National Highways Authority of India (NHAI) will come out with an InvIT by March 2021. It will be the first InvIT sponsored by a government entity in our country. Around six road assets worth Rs 5,000 crore have been given in-principle approval for transfer to the InvIT. This will enable NHAI to monetise its completed National Highways that have a toll collection track record of at least 1 year.
Assets to be transferred to the InvIT include the 32.6 km Kotha-Kata Bypass to Kurnool (Telangana), the 75 km-long Palanpur-Abu Road in Gujarat, the 31 km-long Abu Road-Swaroopganj in Gujarat, the 160 km Chittorgarh Kota and Chittorgarh Bypass in Rajasthan, and the 77 km Maharashtra-Karnataka border to Belgaum.
Power Grid Infrastructure Investment Trust
On January 28, 2021, Power Grid Corporation of India Ltd filed draft papers with SEBI for issuing an InvIT. The company seeks to raise more than Rs 5,000 crore to fund new and under-construction projects. This will be the first InVIT in the country to be floated by a public sector company. The offer includes a fresh issue as well as an offer-for-sale (OFS).
The trust's initial portfolio will have transmission assets worth around Rs 7,000 crore. This includes PowerGrid Vizag Transmission Ltd, PowerGrid Kala Amb Transmission Ltd, PowerGrid Parli Transmission Ltd, PowerGrid Warora Transmission Ltd, and PowerGrid Jabalpur Transmission Ltd. The proceeds from the offer will be utilised for providing loans to the initial portfolio assets for repayment or pre-payment of debt and general expenses.
Other InvITs registered with SEBI include India Infrastructure Trust, Indian Highway Concessions Trust, IndInfravit Trust, MEP Infrastructure Investment Trust, Digital Fibre Infrastructure Trust, Oriental Infra Trust, Tower Infrastructure Trust, and Roadstar Infra Investment Trust.
Post your comment
No comments to display