Volatility Ahead of Weekly Expiry - Post-Market Analysis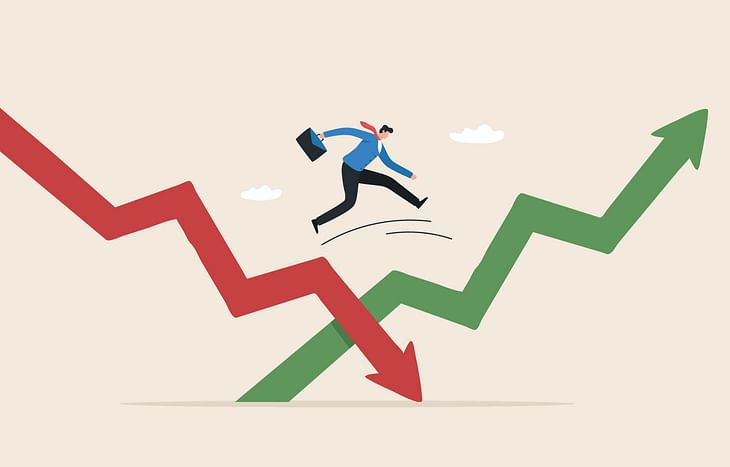 NIFTY started the day at 18,294 with a gap-down of 53 points. It moved up with a lot of strength (almost 120 points) initially to 18,400 levels. The index took resistance from that zone and made a U-turn. Then, it consolidated in a nearly 30-point range and fell sharply at 2:40 PM to 18,260 levels. NIFTY closed at 18,285, down by 62 points or 0.34%.
BANK NIFTY started the day at 43,751 with a gap-down of 202 points (near the support zone of 43,700 as said in yesterday's post-market report). It showed good strength and moved up 300 points. The index took resistance from the round level of 44,000, took a u-turn (similar to Nifty), and fell— breaking the day's low and important support zone of 43,700. Bank Nifty closed at 43,677, down by 276 pts or 0.63%.
NIFTY Pharma (+1.03%) moved up the most, while NIFTY Metal (-1.56%) fell heavily.
Major Asian markets closed flat-to-red. European markets are currently trading deep in the red.
Today's Moves
Sun Pharma (+2.2%) was NIFTY50's top gainer. The company's US-unit Taro's revenue improved for the third straight quarter.
Deepak Nitrite (+9.49%) surged after announcing a ₹5,000 crore investment plan for Gujarat.

Dixon Tech (+7.29%) moved after its Q4 results beat street estimates.
Mahindra CIE (+4.7%) jumped up to 9% intraday as promoters plan to exit the company.
Nykaa (-2.6%) reported a 71.8% year-on-year (YoY) decline in net profit to ₹2.4 crore in Q4 due to higher expenses.
After rallying nearly 30% in two days, Adani Ent (-6%) moved down sharply today. Adani Wilmar (-4.9%), Adani Ports (-2.1%), and Adani Power (-1.9%) also fell.
Markets Ahead
18,250 can now act as an important support zone in Nifty. There has been definite selling pressure seen in the market from 18,400 levels continuously, but buyers are supporting 18,250 as well.
So if the market opens flat tomorrow or in a gap-down below 18,250 levels, we can see the index continue the fall to 18,050 levels again. If the index opens with a gap-up, then it can move sideways within a range (being an expiry today).
Bank Nifty broke and closed below the important support zone of 43,700. So if the market opens flat or in a gap-down, we can expect the index to continue the fall till the 43,500 round level support zone. If it's a gap up above 43,700, then it can be volatile in a range.
Lately, on expiry days, sellers have been squeezing the markets (mostly consolidation). But markets are at very crucial support levels, and if that's breached, we could see a good one-sided move in tomorrow's expiry.
India VIX is also up by 4% and above 13 now. Raising VIX can indicate fear in the markets as well.
The minutes of the most recent Federal Open Market Committee (FOMC) meeting of the US Fed will release at 11.30 PM! There is uncertainty if there would be another rate hike.
Hope you all have an amazing expiry tomorrow!
What levels are you watching out for tomorrow? Let us know in the comments section of the marketfeed app!
Post your comment
No comments to display