Volatile Monthly Expiry! - Post-Market Analysis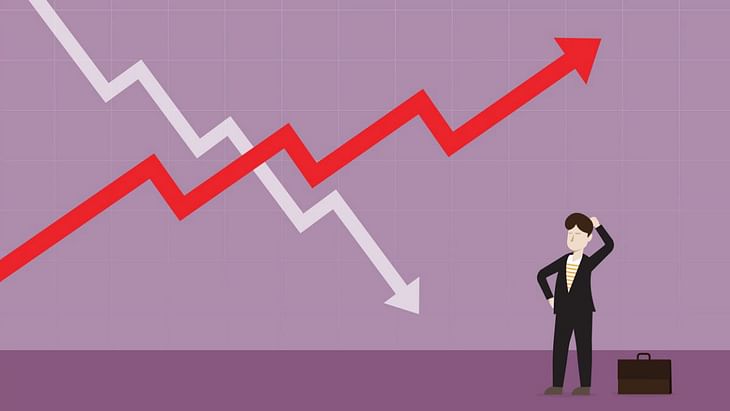 NIFTY started the day at 18,268 with a gap-down of 16 points. The index initially moved up to 18,300 (which acted as resistance) and then fell sharply till the 18,250 support zone. It bounced back with strength till 18,300, took resistance from the downward trendline, and fell to 18,200 levels by taking multiple rejections from the same trendline. The index then broke the trendline and gave a short covering rally of more than 100 points! NIFTY closed at 18,321, up by 35 points or 0.2%.
BANK NIFTY started the day at 43,630 with a gap-down of 47 points. It was not able to cross the high made by the first 5min candle and moved down in a channel formed from yesterday's high of 43,400 levels. The index took support from the important 43,400-500 zone, broke out of the channel, moved up similarly to Nifty, and finally faced resistance from 43,700 levels. Bank Nifty closed at 43,681, up by 3.5 pts or 0.01%.
All indices except Nifty PSU Bank (-0.4%), Nifty Media (-0.06%), and Nifty Finserv closed in green. NIFTY Realty (+1.1%) moved up the most.
Major Asian markets closed mixed. European markets are currently trading deep in the red.
Today's Moves
Bajaj Auto (+2.8%) was NIFTY50's top gainer. The shares rallied up to 3% to hit a 52-week high of ₹4,650.
Piramal Pharma (+6.15%) surged on strong sequential growth in Q4.
NCC Ltd (+8.5%) is up 14% in two days on the back of strong volumes.
ITC (+1.7%) hit a fresh 52-week high of ₹442.45 today.
Wipro (-1.4%) was NIFTY50's top loser.
Trident (-6.3%) fell after it reported a 28% YoY decline in net profit to Rs 129 crore in Q4 as inflation hit demand.
Markets Ahead
As said in yesterday's post-market analysis, buyers are still defending the 18,250 zones and the market is moving between 18,250 and 18,400 levels with a lot of volatility. As Nifty closed above 18,300 levels today, we can expect the index to move up to 18,400 zones again. The important support continues to be 18,250 and the resistance that can be watched is 18,400.
Bank Nifty moved similarly to the analysis we shared. If the market opens flat or gap down, we can expect the target of 43,500 and the round level can also act as support— we saw that happen today! Now, 43,700 can act as immediate resistance on the upside, and the support would be today's low or 43,400-500 zones. If global markets move favourably, Bank Nifty can continue to go higher and hit its all-time high (ATH) again. But if the support on the lower side is breached, the index can fall to 43,000 round levels.
Germany's GDP shrank by 0.3% in the first quarter of 2023 to put Europe's biggest economy into recession! Meanwhile, US Fed officials are less confident about the need for more rate hikes. US debt ceiling negotiations continue to keep investors on the edge.
We apologise for the delay in publishing today's post-market report!
How was expiry day? Are you in net profit or loss? Let us know in the comments section of the marketfeed app!
Post your comment
No comments to display