Vocal for Local: India bans imports of 101 defence goods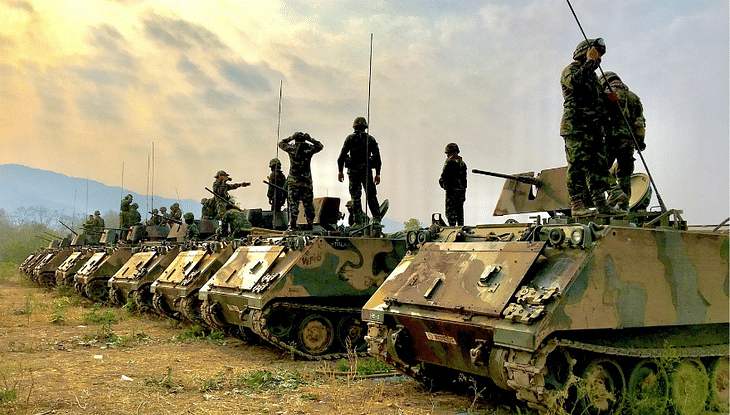 The "Big-push"
The national government of BJP has given us many slogans over the past 6 years. It started from "Ache din aane wale hai" in 2014. The latest is "Vocal for Local". PM Narendra Modi urged the nation to move towards making an "Atmanirbhar Bharat" amid the pandemic.
Indian Defence Minister, Rajnath Singh, made a big announcement on Sunday. He announced that India will suspend the import of 101 defence items from December 2020 to December 2025. The reason behind this progressive ban is to bolster domestic defence manufacturing sector.
The items include high technology weapon systems like ammunition, sonars, radars, artillery guns, assault rifles, corvettes, missile destroyers, transport aircraft, light combat helicopter, long-range land-attack cruise missiles, communication satellites, wheeled armoured fighting vehicles, Shipborne Cruise Missiles, Shipborne Cruise Missiles and conventional diesel-electric submarines.
With this move, outright procurement of the 101 listed products from abroad is banned. Though, the Indian private and public companies can work with foreign companies to produce the items in India itself.
According to the current Defence Minister, this list wasn't prepared randomly but after a lot of discussions which involved armed forces, DRDO state-owned and private companies. This list is not the final one. Every year, the production capability of the domestic companies will be reviewed. If the scope of expansion is found, this list will be extended.
The Numbers Behind
India has tense relations with almost all of its immediate neighbours. This forces the government to spend more. Last year, India accounted for 9.2% of the total global arms imports. They were the second-largest buyer of foreign weaponry and the third-biggest military spender in the world.
According to government estimates, around Rs 4 lakh crores worth of orders will now be placed with the domestic industry. This is bifurcated into two areas. Rs 1.3 lakh crore for the Army and IAF and 1.4 lakh crore for the Navy.
"The five pillars of Modi's self-reliant India are economy, infrastructure, system, demography, and demand. Our aim is to appraise the Indian defence industry about the anticipated requirements of the Armed Forces so that they are better prepared to realise the goal of indigenisation." - Rajnath Singh
Share Market Movement
The defence stocks rallied up after the announcement from the Defence Minister. Bharat Heavy Electronics Limited (BHEL), Larsen & Toubro (L&T), Bharat Forge, Hindustan Aeronautics Limited (HAL), all reaped benefits with a higher closing.
Hindustan Aeronautics Limited (HAL) stock price closed at Rs 944 on Friday. It opened at Rs 1019.20 on Monday morning. Overall, it gained over 8% and closed at Rs 1026. Bharat Forge's stock price also increased by Rs 12.75 to close at Rs 420.55. It's Friday closing price was Rs 407.15.
Bharat Heavy Electronics Limited (BHEL) rose by 3.12% to close at Rs 36.35 after Monday's trading session. Larsen & Toubro (L&T) stock closed at Rs 916.05 on Friday and opened at Rs 946.10 after Sunday's announcement. All in all, it rose by whooping 4.84% to close at Rs 959.95 after Monday's trading session.
Our say
This announcement has given a huge impetus to the defence stocks in the Indian market. This surge might continue for a few days as India aims to become self-reliant in the defence sector. Is this a good decision by the Indian government? Reaching a final answer will be a hasty conclusion. It has two sides.
On a postive end, this will act as a stimulus to the domestic defence manufacturing companies. India aim's that the manufacturing sector contributes up to 25% of Indian GDP by next few years. They are still languishing at around 16%. Thus, this announcement will surely boost up the domestic manufacturing numbers.
On the other side, the quality of production still poses a huge question mark. The need for importing these products was because of cheaper production and quality output. Can India produce the high demand of arsenal at a similar low price? If they can, will they able to match or improve the quality of armoury? Both of these questions can be answered only with time. Until then, next time.
Post your comment
No comments to display