VISA vs Rupay. Who will the Indian Government Support?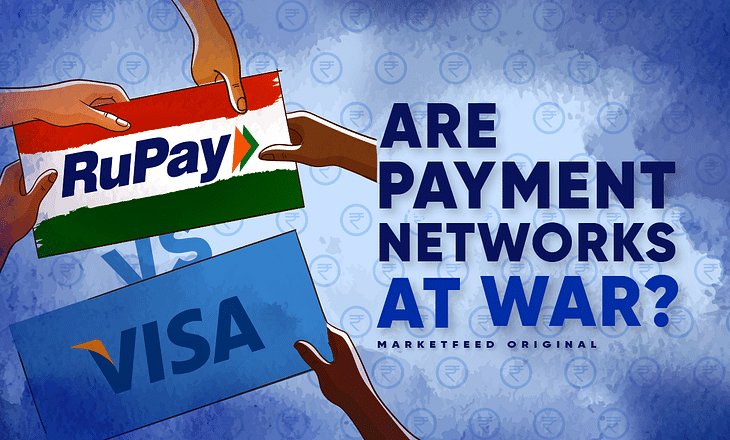 According to a recent Reuters report, American multinational VISA has complained to the United States government that the Indian government is 'promoting' domestic rival RuPay, making it an uneven playing field for other foreign rivals. VISA believes that India's formal and informal policies favour the National Payments Corporation of India (NPCI) against other payment networks. NPCI is a not-for-profit organisation that manages both UPI and RuPay Networks. Rupay is an Indian multinational financial services and payment service system, launched by NPCI on 26 March 2012. It matched with the Reserve Bank of India's vision of having a domestic, transparent, and multilateral payment network.
In this piece, we explore the growth of domestic payment networks and how it concerns foreign payment giants like VISA, MasterCard, American Express, etc.
The Background
Debit Cards, Credit Cards, and Unified Payments Interface (UPI) are the in-thing when it comes to payments. You can find a UPI QR code even at the remotest locations in India. Payment Networks are the intermediaries that process these payments. A Payment Network processes digital payments and ensures that money reaches from one point to another.
We are well aware of the payment networks like American MasterCard, VISA, American Express, BHIM UPI, RuPay. While VISA, American Express, and MasterCard are based in the United States, payment networks like UPI, RuPay, IMPS, NEFT are India-based payment networks. The American payment networks command global dominance over global transactions, while the Indian payment networks haven't paved the way outside India.
NPCI is a not-for-profit organisation that aims to promote financial inclusion, faster and safer payments. On the other hand, companies like VISA, MasterCard, American Express are private organisations that completely dominate the global payments market. Many people, entities, and organisations have vested interests in these card companies.
NPCI has intensively promoted digital payments in India and set an example for the world. Even an unregistered fruit seller can accept digital payments to a large extent. UPI Payments are free. So far, the burden of charges lies with the bank and the merchant, not the customer. The scenario might change soon, where customers might pay a small transaction fee for making payments across UPI.
Why Is VISA Complaining?
VISA executives, including CEO Alfred Kelly, met US Trade Representative (USTR) Katherine Tai, and raised concerns about a level playing field. According to a Reuters report, a memo prepared for USTR Katherine Tai read as follows, "Visa remains concerned about India's informal and formal policies that appear to favour the business of National Payments Corporation of India (NPCI), the non-profit that runs RuPay."
In 2018, MasterCard had made a similar complaint in the US about Prime Minister Narendra Modi, stating that he associated the use of RuPay cards with nationalism, claiming it serves as a 'kind of national service".
India has indeed been pushing for domestic payment networks with a tinge of 'nationalism', encouraging citizens to use the local card RuPay. The Pradhan Mantri Jan Dhan Yojana (PM-JDY), a scheme to make banking available to all, offers RuPay with all bank accounts by default. Almost 50% of all RuPay cards are linked to PM-JDY. In November 2020, Finance Minister Nirmala Sitharaman pushed banks to issue only RuPay cards as the first alternative to customers.
Furthermore, the Reserve Bank of India (RBI) had restricted MasterCard, American Express, and Diners Club International from issuing credit cards over violation of local data-storage rules. Domestic banks and card companies would eventually benefit since they would better penetrate their cards in the market while competition stays away.
The Way Ahead
While the government policies might be unfair for foreign payment networks favouring domestic networks, both serve different interests. VISA, MasterCard, and American Express generally cater to the wealthy or privileged class. These companies entered India when owning debit or credit cards exhibited financial status. These companies work for profit serving the interests of those working for or holding a stake in the company.
UPI and RuPay were developed to serve the interests of the commoner. A decade ago, smartphones weren't everywhere; India lacked financial literacy and coverage. The situation now is different. Financial literacy and access to technology have improved multi-fold. NPCI is a not-for-profit organisation; whatever it earns can be channelised for the welfare of the Indian citizens. India is not the first country trying to break the monopoly of specific payment networks. Russia had Mir, Europe has European Payments Initiative (EPI), etc.
Do you think India is doing right by pushing for domestic payment gateways over foreign ones? You can let us know in the comment section available in the marketfeed app.
Post your comment
No comments to display