Vi Plans to Clear Rs 2,400Cr Dues by Sept - Top Indian Market Updates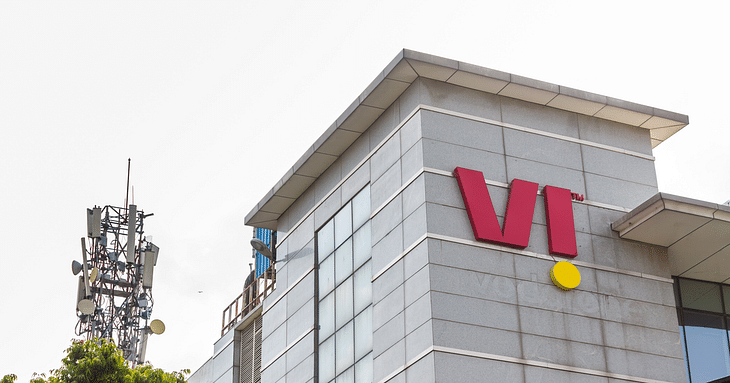 Here are some of the major updates that could move the markets tomorrow:
Vodafone Idea plans to clear about ₹2,400Cr dues by Sept
As per an Economic Times report, Vodafone Idea plans to clear about ₹2,400 crore of dues to the government by September. The company recently cleared pending dues of licence fees and spectrum usage charges of about ₹450 crore for Q4 FY23. Vi had to pay a licence fee of around ₹770 crore by July and ₹1,680 crore as the first instalment for the spectrum it purchased in auctions that were held last year.
Read more here.
Vedanta seeks minimum $9.5 for Rajasthan gas
Vedanta Ltd is seeking a minimum of $9.5 for the natural gas it produces from its Rajasthan block, according to a tender floated by the firm. The company sought bids from users for 0.6 million standard cubic meters per day of gas it plans to produce from the RJ-ON-90/1 block in the Barmer basin of Rajasthan in three months beginning October 1.
Read more here.
Radico Khaitan underpaid ₹1,078 crore excise duty to UP govt: CAG
As per reports, the Comptroller & Auditor General (CAG) of India has claimed that Radico Khaitan avoided paying taxes worth ₹1,078.09 crore to the Uttar Pradesh government. However, the liquor manufacturing company said that there was a lack of accuracy in the information. Radico Khaitan refuted the media reports, adding that the company has complied with all legal requirements, including revenue laws of India.
Read more here.
Glenmark settles drug pricing case with US Department of Justice
US-based Glenmark Pharmaceuticals Inc (a subsidiary of Glenmark Pharma) has entered into a 3-year deferred prosecution agreement with the US Department of Justice involving historical pricing practices by former employees relating to the generic drug Pravastatin between 2013 and 2015. If the company adheres to the terms of the agreement, including the payment of $30 million, the DOJ will dismiss the pending Superseding Indictment.
Read more here.
India's banking system liquidity slips into deficit first time in FY24
Indian banking system liquidity slipped into a deficit for the first time since March-end, as the Reserve Bank of India's (RBI) temporary liquidity withdrawal and tax outflows impacted banks' funding. According to RBI data, the banking system's liquidity stood at a deficit of $2.84 billion as of August 2. Earlier this month, RBI told banks to hold an incremental cash reserve ratio (CRR) of 10% on the increase in deposits between May 19-July 28, which has led to the withdrawal of over ₹1 lakh crore.
Read more here.
Minister Nitin Gadkari launches Bharat NCAP crash test ratings
Union Minister of Road Transport & Highways Nitin Gadkari launched the Bharat New Car Assessment Programme (Bharat NCAP). It's been created in line with Global NCAP standards under the Safer Cars for India initiative. The government expects the program to increase the demand for safer cars and encourage manufacturers to comply with customer needs.
Read more here.
Promoter firm buys 2.2% stake in Adani Enterprises
Promoter firm Kempas Trade and Investment bought 2.53 crore shares or a 2.22% stake in Adani Enterprises Ltd from the open market between Aug 7-18. Post-acquisition, the total promoter holding in the company increased from 67.65% to 69.87%.
In other news, Adani Enterprises has incorporated a wholly-owned subsidiary, Sirius Digitech International, to provide digital solutions and services.
Read more here.
Brigade Enterprises acquires 6.54-acre land parcel in Chennai
Brigade Enterprises Ltd has acquired a 6.54-acre land parcel in Chennai from Pfizer Healthcare India for nearly ₹139 crore. The real-estate company will develop a residential project on this land parcel with an overall development potential of over 1 million sq. ft. The land parcel is located at Rajiv Gandhi Salai (Old Mahabalipuram Road), Sholinganallur, Chennai.
Read more here.
TRAI recommends scrapping of DTH licence fee after FY27
The Telecom Regulatory Authority of India (TRAI) has recommended to the Ministry of Information and Broadcasting (MIB) that the govt should discontinue charging direct-to-home (DTH) operators a licence fee after the financial year 2026–2027 to ensure the sector remains viable in the long-term. TRAI argued that DTH platforms should be treated equally with other regulated & unregulated distribution platforms such as multi-system operators (MSOs), DD Free Dish, and OTT services, which are not required to pay any license fee.
Read more here.
Post your comment
No comments to display