Vehicle Scrappage Policy: All You Need To Know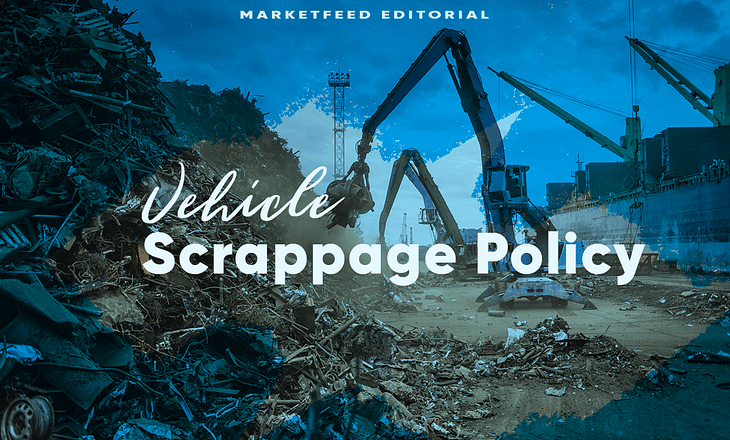 Prime Minister Narendra Modi announced the Vehicle Scrappage Policy or National Automobile Scrappage Policy at the Investor Summit at Gujarat in August 2021. There are plenty of old vehicles in the country, which is not only a safety hazard but also contribute to pollution. The policy aims to discard old vehicles that are not fit to operate on roads. At the same time, it encourages consumers to buy new vehicles, giving a boost to the automobile industry.
What Is The Vehicle Scrappage Policy?
Fitness Testing
Private vehicles older than 20 years and commercial vehicles older than 15 years will have to undergo a fitness test at government-registered 'Automated Fitness Centres'. In the fitness test, various systems of the vehicle will be tested. If the vehicle passes the test, the owner can re-register the vehicle with a hefty fee. If the vehicle fails the fitness test, it will be deemed as End Of Life Vehicle (ELV) and will be scrapped at an Authorised Vehicle Scrapping Facility (AVSF). The entire initiative will be set up under a Public-Private Partnership (PPP) Model.
The Union Road and Transport Ministry has issued rules for scrapping facilities, their registration, their powers, and scrapping methods to be followed.
Incentives and Disincentives
If an owner chooses to scrap the vehicle, they will be given a scrappage value of 4-6% of the ex-showroom price of the vehicle.
A rebate of up to 25% for Passenger Vehicles and 15% on Commercial Vehicles will be given in Road Tax.
A discount of 5% will be given on a new vehicle's ex-showroom price by the auto-manufacturer.
No registration fees for the new vehicle will be charged.
What Is The Significance Of The Vehicle Scrappage Policy?
With this policy, the government aims to:
Incentivize scrapping old vehicles and buying new ones.
Ensure that the vehicles plying on road are safe to use, thereby reducing road accidents.
Increase its revenue by charging people who wish to use old vehicles.
Scrapping old metals and spares provides cheap raw materials, which means auto-manufacturers can reduce the cost of production.
Reduce pollution caused by old vehicles.
Vehicles that are not fit to ply on roads are a safety hazard and a leading cause of pollution. India has plenty of such old vehicles. According to a speech made by Transport Minister Nitin Gadkari in Parliament, there are close to 51 lakh Light Motor Vehicles (LMVs) that are above 20 years old and 34 lakh LMVs more than 15 years old. This policy is expected to garner Rs 10,000 crore in investments and create up to 35,000 jobs in the sector, creating a 'circular economy'.
Recycling such cars will help reduce the import of Aluminium, Copper, Steel, Iron, and more. This will even boost demand as unfit vehicles will be replaced with better, newer vehicles. This could eventually drive demand for electric vehicles (EVs) as recycled spares could even be used over there too.
Post your comment
No comments to display