Vehicle Registrations Jump 25.7% in Nov - Top Indian Market Updates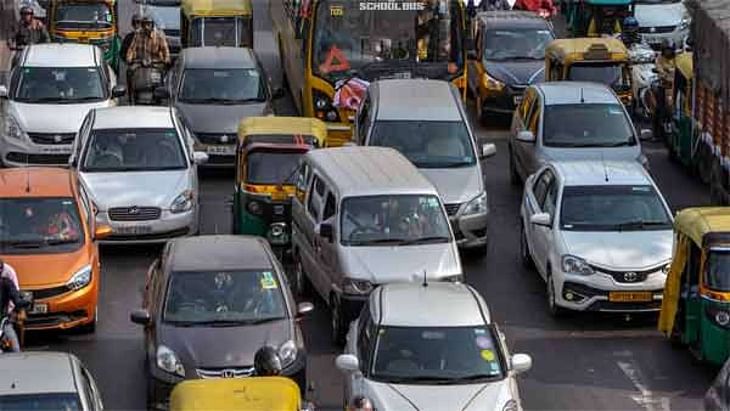 Here are some of the major updates that could move the markets on Monday:
Vehicle registrations grow in strong double-digits in November
Vehicle registrations grew in strong double-digits in November, even after the close of the festive season. Consumers bought vehicles betting on improvement in the general economic situation, employment, and household income. Overall registrations rose 25.71% year-on-year (YoY) to 23,80,465 units. Sales were marginally higher by 1.52% compared to the pre-covid month of Oct 2019.
Read more here.
Marico to acquire Vietnam-based Beauty X Corporation for ₹172 crore
Marico Ltd has entered into a definitive agreement to acquire Vietnam-based personal care firm Beauty X Corporation for ₹172 crore. Beauty X owns female personal care brands Purité de Prôvence and Ôliv, which offer a range of products such as shower gels, shampoos, conditioners, face wash, and lotions. The transaction is expected to be completed by March 31, 2023.
Read more here.
V-Guard Industries to acquire Sunflame Enterprises for ₹660 crore
V-Guard Industries Ltd will acquire a 100% stake in kitchen appliance company Sunflame Enterprises for ₹660 crore. The deal will be funded through a mix of internal accruals and debt. The acquisition is in line with V-Guard's strategy to become a significant player in the domestic kitchen appliances segment. The deal will be closed by mid-January 2023.
Read more here.
Lupin launches generic joint pain drug in US market
Lupin Ltd has launched a generic version of Pennsaid, used to treat pain in the knees caused by osteoarthritis, in the US market. The product (Diclofenac Sodium Topical Solution 2%) is the generic version of Horizon Pharma Therapeutics' Pennsaid. As per IQVIA MAT October 2022 data, Diclofenac Sodium Topical Solution had estimated annual sales of $509 million in the US.
Read more here.
TVS Motor subsidiary to acquire EV-related assets in Germany
TVS Motor Company's Singapore-based subsidiary has signed an agreement to acquire electric vehicle (EV)-related technology and assets in Germany. The assets will help strengthen TVS Motor's expansion in the EV two-wheeler market globally. TVS Singapore will acquire the assets through its subsidiary BBT Vermogensverwaltungs GmbH (or Celerity Motor GmbH).
Read more here.
Greenko Group emerges lowest bidder for NTPC's 300 MWh energy storage tender
Greenko Group has emerged as the lowest bidder in the world's first and largest technology-based 3,000-megawatt hours (MWh) storage tender from NTPC Renewable Energy Ltd (NTPC REL). Hyderabad-based Greenko is backed by GIC Holdings Pte Ltd, Abu Dhabi Investment Authority, and Japan's ORIX Corp. The company also partnered with state-run ONGC to develop green ammonia production and storage facilities for export purposes.
Read more here.
Equity mutual fund inflows fall 76% to lowest in 21 months in November: AMFI
Inflows into equity mutual funds fell to the lowest level in 21 months in November 2022. Net investment into equity and equity-linked schemes declined nearly 76% over the previous month to ₹2,258.35 crore. The number of Systematic Investment Plan (SIP) accounts reached 6.04 crore in Nov, compared to 5.93 crore in October. The mutual fund industry (across debt and equity) recorded a total net inflow of ₹13,263.6 crore in November, compared to an inflow of ₹14,047 crore in October.
Read more here.
Ethos enters into exclusive retail partnership with German-brand Tutima
Luxury watch retailer Ethos Ltd has signed an exclusive retail partnership with Tutima to introduce the Germany-based brand in India. Through this partnership, Ethos will exclusively retail its sporty and performance-driven timepieces across India. Tutima is known among collectors and enthusiasts as pilot's watches, which they first started making in the 1980s.
Read more here.
Bajaj Consumer Care announces buyback at ₹240 per share
Bajaj Consumer Care Ltd announced an ₹80.89 crore share buyback at ₹240 per share through the open market route. The maximum number of equity shares proposed to be bought back at the maximum buyback size and price would be 33.7 lakh equity shares. The FMCG company will utilize at least 50% of the maximum buyback size (₹40.44 crore) and purchase a minimum of 16.85 shares.
Read more here.
Post your comment
No comments to display