Vaccine Wars: Can India Come Out on Top?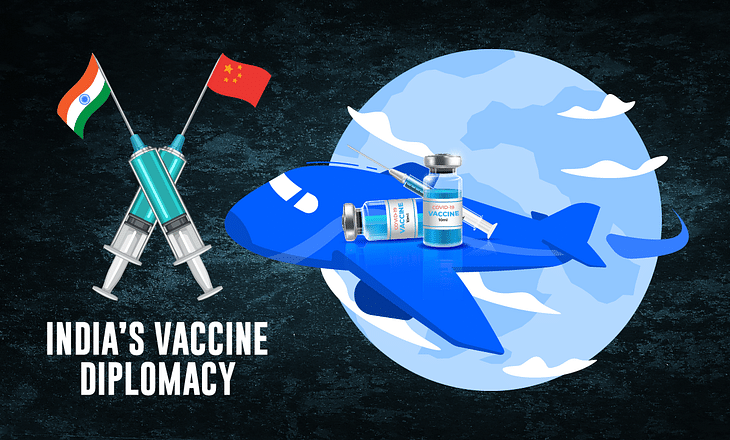 The world is now searching all over for COVID-19 vaccines. Vaccines have become a diplomatic tool for countries to expand their domain and improve ties with other countries. Countries like India, China, Russia, UK have been ahead in the race for vaccine production and have now started using their vaccines as a tool for diplomacy. The European Union(EU) and the UK have locked horns with each other, India and China are competing fiercely in what is being termed as a 'Vaccine War.' What is the whole 'Vaccine War' all about? Let's find out.
EU vs Britain: Bad Blood on Brexit Still On?
The UK and European Union haven't been on good terms since they parted ways, and the UK stopped being a part of the European Union. In the COVID-19 situation, European Union and the UK depend on the same source for their vaccine, the British-Swedish Pharma company AstraZeneca. AstraZeneca is manufactured in the UK and the Netherlands. The UK, apart from domestic production, also 'imports' vaccines from Europe. AstraZeneca had earlier promised 12 crore vaccines to the European Union. It could not meet its commitment to Europe and reduced the pledge to 3 crore vaccines in the first quarter.
European Union says that the UK had imported vaccines from Europe and had reciprocated by exporting them. This had led to a shortage of vaccines in Europe. So much so that some countries like Hungary inoculated Russia's Sputnik-V vaccine, even when the European Union had stated that it had no intention of doing so.
The EU has said that if the vaccine shortage continues and the UK does not reciprocate by exporting vaccines, there might be a ban on the export of vaccines from the EU. The UK is leading the way in Europe in terms of the number of people vaccinated. Likewise, countries in the European Union are way behind in the race.
India and China's Vaccine Wars
India has come up with two vaccines so far - COVAXIN by Bharat Biotech, COVISHIELD manufactured by Serum Institute of India. On the other hand, China has three vaccines - CoronaVac, CanSino, and BBIBP-CorV. India has the upper hand in vaccine production since, even before the COVID-19 pandemic, India manufacture 60% of all vaccines across the world. India is using this as a tool for diplomacy. Seeing this, Chinese Manufacturers like Sinopharm, Sinovac, and many other vaccine producers have started 'ramping up' their annual production capacity.
India has so far donated eight crore vaccines to developing countries. Developing countries do not have that kind of money to buy these vaccines and vaccinate their citizens extensively. India and China are trying to win the goodwill of these very countries. China has donated vaccines to more than 52 countries globally, mostly middle and low-income in the Asia-Pacific and Carreibian Region.
Both China and India are trying to generate popularity through vaccines. India is doing so through its Vaccine MAITRI program, wherein it donates vaccines to friendly developing nations.
While some countries awaited vaccines from China, India had already delivered the vaccines to them. Sri Lanka was awaiting Chinese vaccines in January when it put the Chinese vaccines on hold and got its first lot of vaccines from India as a part of the Vaccine MAITRI program. At the same time, India has also bagged orders for exporting several million vaccines on a commercial basis.
A question remains, is India compromising on its citizens while making an applaudable humanitarian and political move? While India is facing a surge in COVID-19 cases, it has already exported a few crore vaccines in the form of grants. Delhi High Court has questioned this move.
"We are not utilizing it fully. We are either donating or selling it to foreign countries and are not vaccinating our own people. So there has to be that sense of responsibility and urgency," a bench led by Justices Vipin Sanghi and Rekha Palli said.
While developed countries like the USA have managed to vaccinate close to 16% of their population, countries like India and China that have the upper hand in vaccine production barely managed to vaccinate even 2% of their citizens. China has only recently started vaccinating its citizens above the age of 60; before that, the vaccine was available to only critical COVID-19 frontline workers.
India's Advantage In Vaccine Diplomacy
India has managed to earn goodwill among countries that could not rely on US or UK-based vaccines, which might be expensive. India's 'Neighbourhood First Policy' has ensured that it provides its neighbours like Bangladesh, Bhutan, Sri Lanka, Seychelles, and Mauritius with the vaccine before delivering it to other countries. Such a move will strengthen India's geopolitical position with the neighbouring countries.
India will have an advantage over China in terms of diplomacy. China did offer vaccines to India's neighbouring countries, but India's efficiency in producing these vaccines ensured that its vaccine reached them first.
While the west is dealing with its own political and economic problems, India's vaccines act as a support system for countries that cannot afford expensive vaccines. India's Pharmaceutical sector will see a boost.
Since India produces 60% of the world's vaccines, with increasing demand for the COVID-19 vaccine, even western countries will start importing vaccines from India. India's vaccines do not have a good brand value in highly developed countries. However, this reputation is changing in the global markets gradually. If India becomes the global production and supply centre, India's GDP will benefit from vaccine production.
Post your comment
No comments to display