US Tech Giants' Results and AntiTrust Cases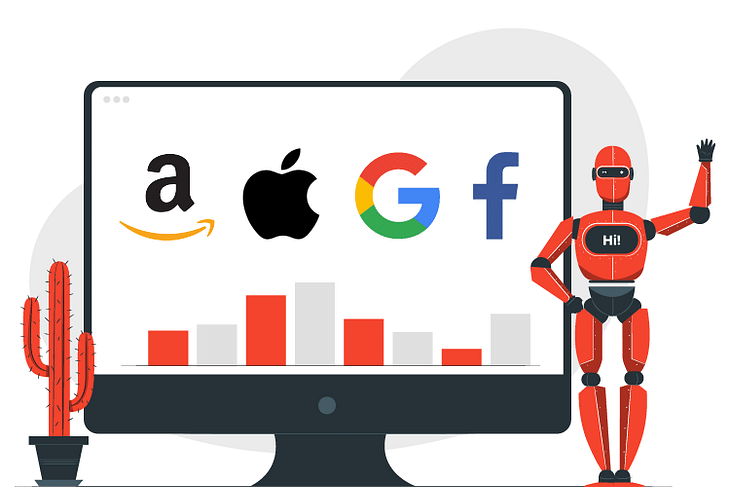 Global tech giants Alphabet, Amazon, and Facebook reported their third quarter (Q3) results on October 29. Apple released its fourth-quarter results as well. During the current financial year, these companies have exceeded all expectations and have emerged as the world's top-earning corporations. As we know, there has been a massive transformation and growth in online businesses amidst the Covid-19 pandemic. And, the recent results from these companies have completely crushed all street estimates. Let us find out how they performed during the July-September period.
Alphabet Quarterly Report
Google's parent company, Alphabet Inc, had its first-ever revenue decline in Q2. However, the company has reported a very impressive 14% year-on-year (YoY) increase in revenue to $46.17 billion, for the quarter ended September (Q3). The company has completely beaten estimates that were made by financial analysts, and has returned to sales growth. A major portion of its revenue comes from advertising through its platforms such as YouTube. During the July-September period, revenue from YouTube ads has seen a 32% YoY jump to $5.04 billion. We can also see more businesses and individuals using Google's Cloud Platform to perform their daily tasks efficiently. Hence, there has been a major increase in earnings from that segment as well. 
From what we can understand, the company has made a complete rebound in its revenue generation from Google Ads, as compared to the previous two quarters. Businesses around the world had seen a major decline in sales during lockdowns, and are now investing more in advertising through various Google platforms. The Cloud Platform has also helped to provide support to the work-from-home (WFH) model for corporations. Alphabet CEO Sundar Pichai has stated that Q3 has been 'a strong quarter, consistent with the broader online environment'.
Last month, the US Justice Department filed one of the biggest antitrust lawsuits against Google. The IT company has been accused of partnering with other tech giants for ensuring that its rival companies do not rise to power. Google has also been criticized for using its search platform illegally to maintain its power.
Amazon Quarterly Report
Amazon.com, Inc is another company that completely beat estimates provided by analysts such as Yahoo Finance. The company has reported a 37% year-on-year (YoY) increase in revenue at $96.1 billion, for the quarter ended September (Q3). Even though lockdown restrictions were lifted in most countries, people preferred to get essential commodities through online methods. Third-party merchants also pay Amazon to advertise their products on its online shopping platform. The company has also created more than 4 lakh jobs this year, in order to support the surge in online sales.
The retail giant also receives a major part of its revenue from Amazon Web Services (AWS). It is one of the leading cloud technology platforms in the world, and accounts for a majority of Amazon's total profits. There has been a 29% YoY increase in revenue from AWS to $11.6 billion, in the third quarter of the current financial year. On the other hand, Amazon's video streaming service has been constantly registering a massive spike in viewership. Those movies which could not be released in theatres were also launched through Amazon Prime Video.
This year, Amazon has come under the scanner of regulatory authorities over a number of cases. It was found that the prices of essential items were increased in the US. Merchants who sell their products through Amazon have been under massive pressure. These sellers have not received any support from the retail giant. The company was also criticized for its treatment of warehouse workers. Interestingly, amidst all these accusations, it had been reported that Amazon employees were given very high bonuses during the lockdown period.
Apple Quarterly Report
The revenue for Apple Inc. was supported by international sales, which makes up 59% of its overall sales. The company has reported a 1% year-on-year (YoY) increase in revenue to $64.7 billion, for the fourth quarter ended September. The company's financial year is calculated as the 52-week period that ends on the last Saturday of September. Apple's iPhone sales were down by 20% YoY to $26.44 billion. Even though there had been strong iPad and Mac sales, it was not enough to make up for the decline of iPhones.
With the launch of its new iPhone 12 and entry into 5G support, Apple is highly optimistic about a major boost in sales within the next few quarters. The company is also changing its focus to improve its streaming services, which include Apple TV+ and Apple Music.
Over the last few months, the company has been criticized for increasing its cut in Apple Store purchases to 30%, which is very high. Apple has also been accused of anti-competitive behaviour, and illegally maintaining power over its iPhone and iPad apps.
Facebook Quarterly Report
Facebook Inc. has reported a 22% year-on-year (YoY) increase in sales to $21.47 billion. Just like the previous three companies, the social media giant has also beaten street estimates. Facebook, which also owns Instagram and WhatsApp, stated that its daily active user base has increased by 12% YoY to 1.82 billion. With families and friends being separated due to Covid-related restrictions, there had been a spike in the use of these apps in the previous quarters. Interestingly, this growth in user base in the US and Canada has slowed down in Q3. Certain analysts have termed it as a 'very rare decrease', and was probably due to TikTok gaining all attention.
Facebook also receives a major part of this revenue from digital advertising, which has shown a great recovery as compared to previous quarters. Last week, the company also added shopping and pricing features to WhatsApp Business, in a move to help small enterprises to boost their sales. Facebook CEO Mark Zuckerberg has announced that the company would be focusing on services related to virtual and augmented reality. As we can see, there is a huge demand for these platforms in the global markets today.
There had been a lot of criticism aimed at Facebook, especially regarding the handling of political content on its social media platforms. Also, there was an ad boycott movement by major companies to support #StopHateForProfit, over the last few months. However, these issues have not created an impact on the company's revenue.
The Attack Against US Big Tech
Now, we shall keep these outstanding results aside for a moment. When people found out the methods through which the US Big Tech companies operate, many red flags had been raised. The non-ending competition amongst these companies has made them extremely greedy for more profits. Several institutions and individuals have protested against these 'monopolistic acts'. Like many who watched 'The Social Dilemma' on Netflix, I too was pretty astonished by the various methods by which these companies used to attract more 'customers'. The use of artificial intelligence (AI) to manipulate the behavior of individuals is evident by the high rise in the number of active users.
The US legislators have studied the long-standing issues surrounding the matter. They have created a panel to make Amazon, Google, Facebook, and Apple more accountable for their actions. Here are some of the factors for which the companies are under the scanner of US lawmakers:
Source: Business Standard
The Antitrust Subcommittee of the Judiciary Committee in the US is currently looking into the matter. The CEOs of all four companies have already made several appearances before the panel. However, like most cases, these tech companies find loopholes and seem to simply not mind about its consequences. 
With these impressive Q3 results, we can see that no factors seem to affect the growth in their high revenues. At a point when all economic activities were hit, these companies used their position to make the best out of every new possibility. A fine of thousands of crores is okay for these companies when they are making ten thousand crores of profits. Do not forget that these companies are also heavily involved in India, and its development. Let us wait and watch how the Big Tech companies are planning to further dominate in their respective fields.
Post your comment
No comments to display