Uniparts India Ltd IPO: All You Need to Know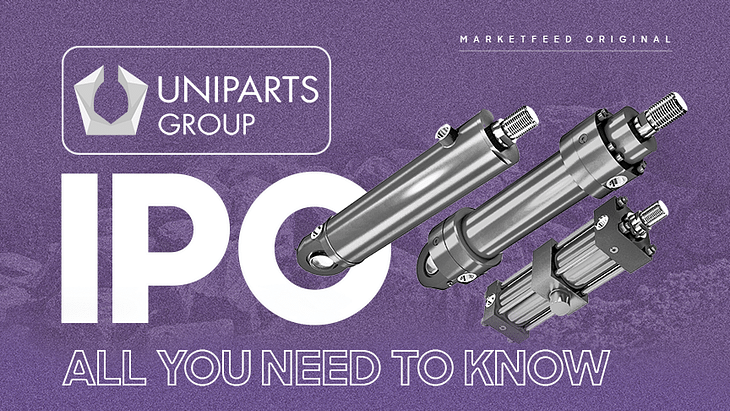 New Delhi-based Uniparts India Ltd has launched its initial public offering (IPO) today— Nov 30. Interestingly, the company has been trying to launch its IPO since 2014! In this article, we'll dive into the company and its IPO.
Company Profile - Uniparts India Ltd
Uniparts India Ltd (UIL) is a global manufacturer of engineered systems and solutions. It is one of the leading suppliers of off-highway systems and components in the agriculture, construction, forestry & mining (CFM), and aftermarket sectors. They design, develop, and manufacture customised products based on each customer's requirements. The company's product portfolio includes:
3-point linkage systems (3PL) - It is a standardised system used to attach ploughs (a farm tool used for loosening or turning the soil before sowing seed) and other such devices to tractors.
Precision machined parts (PMP) - These include pins, bushes, and similar components used in articulated joints of various equipment.
Adjacent product verticals of power take-off (PTO), fabrications, and hydraulic cylinders.
Most of UIL's products are structural and load-bearing parts of the equipment and are subject to strict specifications and process controls. The company had an estimated 16.68% market share of the global 3PL market in FY22 in terms of value. It also held a 5.92% market share in the global PMP market in the CFM sector in terms of value in FY22. It has long-term relationships with key global customers, including prominent original equipment manufacturers (OEMs). 
The company has a customer base of over 125 customers across 25 countries. It provides replacements of 3PL parts to organized aftermarket retailers and distributors in North America, Europe, South Africa, and Australia. UIL has five manufacturing facilities: one at Visakhapatnam (Andhra Pradesh), two at Ludhiana (Punjab), and two at Noida (Uttar Pradesh).
About the IPO
Uniparts India Ltd's public issue opens on Nov 30 and closes on December 2. The company has fixed ₹548-577 per share as the price band for the IPO.
The IPO is purely an offer for sale (OFS) of 1.44 crore equity shares by promoters and early investors, aggregating to ₹835.61 crore. Individual investors can bid for a minimum of 25 equity shares (1 lot) and in multiples of 25 shares thereafter. You will need a minimum of Rs 14,425 (at the cut-off price) to apply for this IPO. The maximum number of shares that a retail investor can apply is 325 equity shares (13 lots).
The primary objective of the IPO is to provide an exit strategy (or liquidity) for UIL's promoters. The company aims to achieve the benefits of listing the equity shares on NSE and BSE. The total promoter holding in Uniparts India will decline from 75.54% to 65.79% post the IPO.
Financial Performance
UIL has registered strong growth in both revenue and profits over the past three financial years (FY20-22). The revenue has grown at a CAGR of 16.31% during this period. The company derives nearly 85% of its revenue from exports to international markets, while only 15% is from India. It has also been able to reduce its finance costs substantially.
Consolidated profit stood at ₹50.5 crore for the quarter ended June (Q1 FY23) and revenue at ₹346.84 crore. Meanwhile, total debt declined to ₹114.65 crore in Q1, compared to ₹127.3 crore in March 2022.
Risk Factors
Uniparts India derives a significant portion of its revenue (~76.67% as of FY22) from a limited number of customers. Their financial results could be adversely affected if they lose these clients or face a decline in demand from them.
The company's overall business may get severely impacted if they are unable to accurately forecast demand for its products.
UIL's financial condition is heavily influenced by the availability and cost of raw materials, including steel, power, and fuel.
They are exposed to foreign exchange rate fluctuations as a result of foreign currency-denominated borrowings and currency mismatches between revenue & expenses.
IPO Details in a Nutshell
UIL filed the Red Herring Prospectus (RHP) for its IPO on Nov 22. You can read it here. Out of the total offer, 50% is reserved for Qualified Institutional Buyers (QIBs), 15% for Non-Institutional Investors (NIIs), and 35% for retail investors.
The company allotted 43.44 lakh shares to anchor investors to raise ₹250.7 crore. The marquee investors include Nomura, Morgan Stanley, BNP Paribas, Nippon Life, and HDFC Mutual Fund.
Conclusion
The global market for three-point linkage (3PL) systems stood at $360-370 million in 2021 and is estimated to grow by 6-8% between 2021 and 2026. Meanwhile, the market for PMP was ₹648 million in 2021, with 80% demand from China, Japan, Europe, and North America. UIL aims to leverage its manufacturing & warehousing infrastructure and global footprint to expand into new geographies and product verticals. The company hopes to acquire new customers and improve revenue from existing customers.
UIL faces heavy competition from listed peers such as Balkrishna Industries, Bharat Forge, and Ramkrishna Forging.
The company has received significant interest from investors in the grey market. UIL's IPO shares are trading at a premium of ₹71 in the unofficial market. Before applying to this IPO, we will wait to see if the portion reserved for institutional investors gets oversubscribed. Do consider the risks associated with the company and come to your own conclusion.
What are your views on Uniparts India Ltd's IPO? Will you apply for it? Let us know in the comments section of the marketfeed app!
Post your comment
No comments to display