Union Budget 2023-24: Key Highlights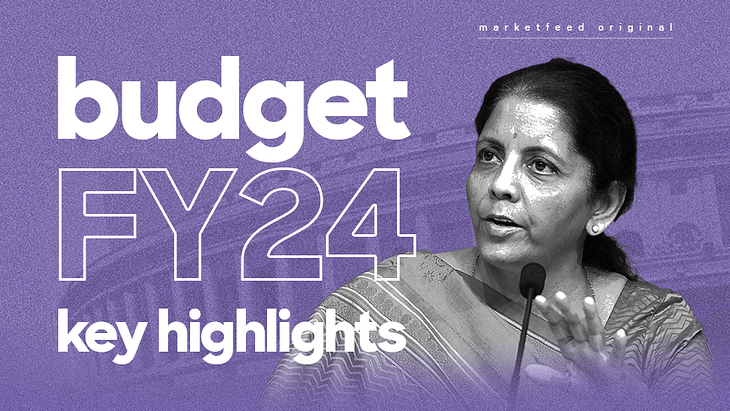 Finance Minister Smt. Nirmala Sitharaman presented the Union Budget 2023-24 in Parliament today (February 1, 2023). The budget has brought some much-needed tax relief for citizens and included a set of important schemes that target different sectors of our economy. Let us take a look at some of the key highlights from the Budget presentation and the sectors that could benefit in the long term!
Relief for Taxpayers?
With inflation on the rise and loans getting expensive, we were all hoping for a relaxation in income tax rates. The Finance Minister made a much-anticipated mega announcement: there will be no tax on income of up to ₹7 lakh a year in the NEW REGIME!
But bear in mind that there are no changes for taxpayers under the old tax regime! (The old income tax regime will continue with existing tax exemptions and deductions).
Here are some of the changes declared under the new tax regime system:
The country's highest tax bracket has been brought down from 42.74% to 39%.
The surcharge on those earning between ₹50 lakh to ₹1 crore has been reduced from 37% to 25% in the new tax regime.
A five-slab structure will apply now under the new regime:
Say, for example, you earn ₹7.5 lakhs a year. Then you'll have to pay 5% tax on your income between ₹3 lakh to ₹6 lakh, and 10% between ₹6 lakh and ₹7.5 lakh.
Salaried people with an income of ₹15.5 lakh or more can subtract ₹52,500 as Standard Deduction while calculating their taxable income in the new tax regime. Till now, a standard deduction of ₹50,000 was available only under the old tax regime.
The new tax regime will be the default choice, but citizens can still opt for the old tax regime. You can make an informed decision after going through the opinions of tax experts.
To read about the current income tax structure for stock market investors & traders, click here!
Huge Jump in Capital Expenditure
The Central government will spend ₹10 lakh crore (up 33% YoY) on long-term capital expenditure (capex) in FY2023-24 to enhance growth potential & job creation and boost private investments. This amount is higher than the ₹7.5 lakh crore budgeted in the previous year and the highest on record!
This push in capex is crucial for India's growth dreams to become the third-largest economy in the world and create sufficient jobs.
Boost for Railways Sector
The Finance Ministry allocated ₹2.40 lakh crore to Indian Railways. This is the largest capital outlay for railways to date and is nine times the amount provided in FY2013-14. This railway budget is likely to prioritise the completion of unfinished projects and development of infrastructure. The govt. will focus on the launch of more Vande Bharat high-speed trains. It will also allocate funds to introduce hydrogen-powered trains and the Ahmedabad-Mumbai bullet train project.
Do look out for stocks related to our railway sector: Indian Railway Catering and Tourism Corporation (IRCTC), Indian Railway Finance Corporation (IRFC), RailTel, Container Corporation of India, RITES, and Rail Vikas Nigam Ltd (RVNL).
Boost for Green Energy Sector
India has targeted to reach net-zero carbon emissions by 2070. In a strategic move, the Finance Minister announced ₹35,000 crore for priority capital investment towards energy transition, net zero objectives, and energy security by the Ministry of Petroleum & Natural Gas.
The govt. will support the development of battery energy storage of 4,000 megawatt-hours (MWh).
In August 2021, our govt launched the National Hydrogen Energy Mission (NHEM) and announced its decision to transform India into a global hub for green hydrogen production and export. This mission will now receive an outlay of ₹19,700 crore to help achieve a target of 5 million metric tonnes (MMT) of green hydrogen production capacity by 2023!
The top 5 companies leading the green hydrogen revolution in India are Reliance Industries Ltd (RIL), NTPC, Indian Oil Corp, and Larsen & Toubro. These firms are also examining methods to bring down the cost of production and find alternate use cases. To learn more about NHEM, click here.
Boost for Agricultural Sector
Around ₹20 lakh crore will be allocated towards agricultural credit targeted at animal husbandry, dairy, and fisheries.
One crore farmers will get assistance to adopt natural farming over the next three years.
An Agriculture Accelerator Fund will be set up to encourage agri-startups by young entrepreneurs.
Nearly 63,000 credit societies across the country will be computerised. The Finance Ministry will allocate ₹2,516 crore towards this initiative.
Smt. Nirmala Sitharman also announced a new scheme to provide incentives for the adoption of alternative and natural fertilisers.
The top companies operating in the agricultural sector include UPL, Coromandel International, Rallis India, Avanti Feeds, PI Industries, and Bayer CropScience.
Boost for Defence Sector
The govt. will increase the defence budget for FY2023-24 by 12.95% YoY to ₹5.94 lakh crore. This will allow the military to develop or buy advanced weapons systems, including new fighter jets, submarines and tanks!
Stocks related to the defence sector include Hindustan Aeronautics Ltd, Bharat Dynamics, Zen Technologies, Bharat Electronics, and Paras Defence & Space.
The Way Ahead
The Indian government continues to focus on getting the economy back on track and speeding up growth. The Budget will provide a boost to the 'Make-in-India' initiative by focusing on infrastructure, power, railways, defence, and agriculture. The Centre's extended focus on digitisation through new-age technologies and electric vehicles is highly commendable. The govt. seeks to launch policies that promote fair growth, reduce inequalities, and build a more inclusive society.
Now, let's look forward to seeing how these strategic policies are implemented!
What are your views on Union Budget 2023-24? Let us know in the comments section of the marketfeed app!
---
Disclaimer: The stocks mentioned in the article are solely for educational purposes. Please do your own research before investing.
Post your comment
No comments to display