Union Budget 2022-23: Stocks Likely to Benefit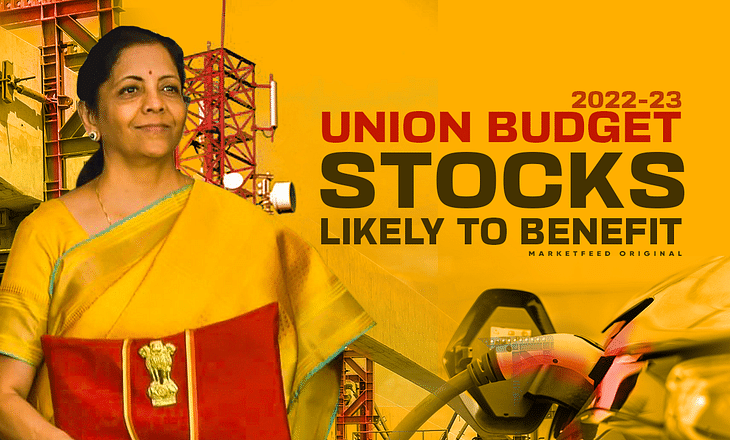 Finance Minister Smt. Nirmala Sitharaman presented the Union Budget 2022-23 in Parliament on February 1, 2022. The budget has included a set of important schemes that target different sectors of our economy. Let us take a look at some of the key highlights from the Budget presentation and the stocks that could benefit in the long term.
Boost for Infrastructure Sector
The Budget has given utmost importance to the development of core infrastructure across the country. Under PM Gati Shakti, the National Highway network will be expanded by 25,000 km in 2022-23. The PM Gati Shakti— National Master Plan for Multi-modal Connectivity is a digital platform that brings 16 Ministries (including Railways and Roadways) together for integrated planning and implementation of infrastructure connectivity projects. It aims to pull forward the economy and lead to more job creation.
As part of the project, 400 new-generation Vande Bharat trains will be manufactured in the next three years. Also, 100 cargo terminals will be established within the same period. The "One Station-One Product" concept will be popularised to help local businesses and supply chains.
Under PM Awas Yojana, 80 lakh affordable houses will be completed in 2022-23. An amount of Rs 48,000 crore will be allocated for this scheme. This initiative will give a significant boost to the steel, cement, paints, and other allied sectors.
The FM has announced an allocation of Rs 60,000 crore under the Har Ghar, Nal Se Jal project. It aims to provide clean drinking water to over 3.8 crore households in FY23.
Stocks That May Benefit:
Prominent highway-infra construction firms such as Larsen & Toubro (L&T), KNR Construction, Ashoka Buildcon, GR Infra are likely to benefit. IRCTC and the Indian Railway Finance Corp (IRFC) may benefit from the developments in the Indian Railways. Other stocks to be watched in this space include Tata Steel, SAIL, DLF, Godrej Properties, UltraTech Cement, etc. You can read marketfeed's analysis of the paint and real estate industries.
Stocks related to pipe manufacturing and water treatment can be watched. This includes Astral Ltd, Prince Pipes & Fittings Ltd, Supreme Industries, Finolex Industries, Va Tech Wabag, etc.
Boost for Energy Transition
The Indian government aims to facilitate domestic manufacturing of 280 gigawatts (GW) of installed solar capacity by 2030. The Finance Minister has announced an additional allocation of Rs 19,500 crore towards a Production Linked Incentive (PLI) scheme for manufacturing high-efficiency solar modules.
The govt's EV30@30 campaign aims to speed up deployment and achieve 30% sales share for electric vehicles (EVs) by 2030. It will also help reduce the import of expensive crude oil. The Centre will introduce an extensive battery swapping policy to promote the sale of EVs. Moreover, special mobility zones for EVs will be established in urban areas.
Sovereign Green Bonds (SGBs) will be issued to mobilize resources for green infrastructure. The proceeds from the issue of these bonds will be deployed in public sector projects that will help reduce carbon emissions in the economy. It will also support the wider adoption of solar and other renewable energy sources across India. SGBs will be part of the government's borrowing program in FY23.
Stocks That May Benefit:
Stocks in the EV and green energy space will benefit the most from these policies. Tata Motors, Tata Power, Adani Green Energy, Borosil Renewables, Tata Chemicals, Motherson Sumi, etc can be watched. Battery manufacturers such as Exide Industries and Amara Raja Batteries could also benefit.
You can also go through our detailed analysis of power distribution and transmission companies here.
Boost for Telecom Sector
Telecom spectrum auction will be conducted in 2022 for the rollout of 5G mobile services by private telecom providers. The Centre will also launch a PLI scheme for design-led manufacturing for the 5G ecosystem to enable affordable broadband and mobile communication in rural and remote areas.
The govt will offer contracts for laying optical fibre cables in villages under the BharatNet project under the public-private partnership (PPP) model in FY23. The project aims to bring rural access to e-services, communication facilities, and digital resources.
Bharti Airtel, HFCL, RailTel Corporation of India, Tejas Networks, Dixon Technologies, GTL Infra, Sterlite Technologies are likely to benefit.
Boost for the Defence Sector
The Finance Minister has stated that ~25% of the total defense R&D budget will be earmarked for opening up defence research & development (R&D) for private industry, startups, and academia.
Private industries will be encouraged to take up the design and development of military platforms and equipment. They can now collaborate with DRDO and other organizations through special purpose vehicle (SPV) model.
68% of the capital procurement budget in defence will be allocated for domestic industry in 2022-23. This will give a boost to the Make in India initiative.
Stocks related to the defence sector include Hindustan Aeronautics Ltd, Bharat Dynamics, Zen Technologies, Bharat Electronics, and Paras Defence & Space.
Boost for Banking and NBFC Sectors
As per reports, HDFC Bank, ICICI Bank, and State Bank of India could be the biggest beneficiaries of the government's push to convert more than 1.5 lakh post offices into banking outlets. These lenders could tap into nearly Rs 15 lakh crores of savings in the post offices to sell other financial products like mutual funds and insurance.
The extension of the Emergency Credit Line Guarantee Scheme (ECLGS) to March 2023 will be beneficial for banks and non-banking financial companies (NBFCS) that focus on micro, small, and medium enterprises (MSMEs).
The Way Ahead
The Indian government continues to focus on getting the economy back on track and speeding up growth. The Budget will provide a boost to the 'Make-in-India' initiative by focusing on infrastructure, housing, power, railways, and agriculture. The Centre's extended focus on digitisation through new-age technologies and electric vehicles is highly commendable. Let us look forward to seeing how these strategic plans are implemented.
Disclaimer: The stocks mentioned in the article are solely for educational purposes. Please do your own research before investing.
Post your comment
No comments to display